Marcos also asks newly-appointed Police General Benjamin Acorda Jr. to protect the people, including journalists and civil volunteers
MANILA, Philippines – President Ferdinand Marcos Jr. told newly-appointed Philippine National Police (PNP) chief General Benjamin Acorda Jr. to be open to public scrutiny as the new head of the national police.
"Finally, serve the people with integrity, with accountability, and genuine justice. Always be open to public scrutiny, and practice restraint and maximum tolerance in the face of harsh criticism," Marcos said on Monday, April 24.
"As a united police force, always strive to win the trust, respect and admiration of our citizenry, through
an efficient, ethical and compassionate brand of police work," he added.
On Monday, Marcos led the PNP change of command ceremony where former PNP chief and retired police general Rodolfo Azurin Jr. relinquished his post to Acorda. It was only on Monday morning that the government announced Acorda's appointment as the 29th chief of the 228,000-strong police force.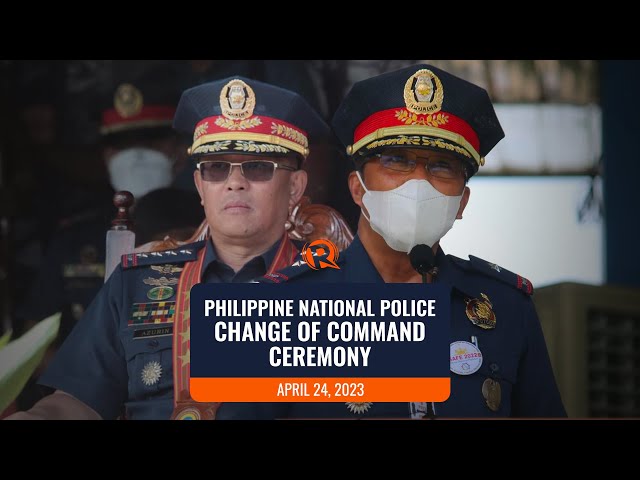 Just like Azurin, the new PNP chief also has Ilocos ties – Acorda's family are from La Union. He also completed his primary and secondary education in Ilocos Norte, before graduating from the Philippine Military Academy. Acorda belongs to PMA Sambisig Class of 1991.
In his speech, Marcos also challenged Acorda to make the police's presence felt in the streets, make public places safer, and defend the people and democratic institutions.
Protect the weak, journalists too
"Protect the people, especially the weak, the vulnerable, and those who indirectly work with us in the same cause, such as journalists, civic action groups, civil volunteers, [and] the like," the chief executive said.
Acorda, in his inaugural speech, said his administration will be transparent.
"To the media, our long-time partners, we welcome critics as our independent source of check and balance. We are allies in bringing out the truth. We need your support to inform the public of our endeavors for peace and order. We will be transparent," the new PNP chief said.
The newly-appointed police chief also challenged his cops to "do the right thing" and "hate crime and fight criminals."
Why Acorda
In explaining the appointment of the new PNP chief, Marcos said Acorda is the best fit amid the situation in the national police.
"Siyempre, naririnig na namin ang pangalan niya at maganda naman ang mga report sa kanya kaya't sabi ko siguro siya ang pinakabagay sa ngayon. Para pakalmahin natin ang situwasyon ngayon na umiiral sa police," Marcos said during his interview with Erwin Tulfo on Monday, adding that Acorda is "well-recognized" in the police force, and even among the civilians.
(Of course, his name is familiar and the reports about him are excellent that's why I said he is probably the best fit to calm the situation that we have now in the police.)
The chief executive added he knows Acorda's reputation inside the police force.
"Dahil sa ngayon, kailangan natin, dahil nga maraming nangyayari sa ating kapulisan, marami tayong tinitingnan, marami tayong…. nagkakaproblema tayo kaya't kailangan na kailangan ay maglagay tayo, 'yung maaasahan natin na commander ay 'yung ating bagong PNP chief si Benjie Acorda is somebody who is well known to me," Marcos said.
(Because now, there's a lot of going on at the PNP, we're looking into a lot of things, we have many problems. So we need to appoint a commander like our new PNP chief Benjie Acorda, who is well known to me.)
Why this matters
As an institution, the PNP has yet to prove its transparency.
For example, the PNP Human Rights Affairs Office is mandated to "undertake information campaigns to project government findings and measures implemented in relation to human rights violations of PNP personnel."
But as of 2020, the PNP unit has not been publishing data and information regarding alleged violations of human rights committed by cops.
With Acorda's appointment, Marcos also continued the trend of appointing PNP chiefs who have Ilocos ties: those who are Ilocano, had worked in the region, or both. His predecessor, former president Rodrigo Duterte, was known for appointing "Davao boys" – police chiefs from his hometown Davao City.
Acorda's designation also came amid turbulent times in the national police.
Recently, Interior Secretary Benhur Abalos, who oversees the PNP, revealed at least 10 that high ranking police officers – including two police generals – are suspected of being part of the P6.7 billion shabu (methamphetamine) mess. Abalos said there was a "massive attempt" to cover up the arrest of Police Master Sergeant Rodolfo Mayo Jr., who was arrested over a drug den that had a ton of shabu.
The PNP also remains as one of the centers of the International Criminal Court's (ICC) probe. The PNP is among the agencies leading the drug war that took the lives of at least 6,252 individuals during police anti-illegal drug operations, based on government data, as of May 2022. But human rights groups estimate that between 27,000 and 30,000 were already killed if vigilante-style killings are included.
Despite Marcos' "slightly different" war on drugs, the drug-related killings have continued in the country. Dahas, a project of the University of the Philippines Diliman's Third World Studies Center, has documented at least 263 reported drug-related killings from July 2022 to April 22, 2023. – Rappler.com