Nobel Peace Prize laureate and Rappler CEO Maria Ressa says: 'Today, facts win. Truth wins. Justice wins.'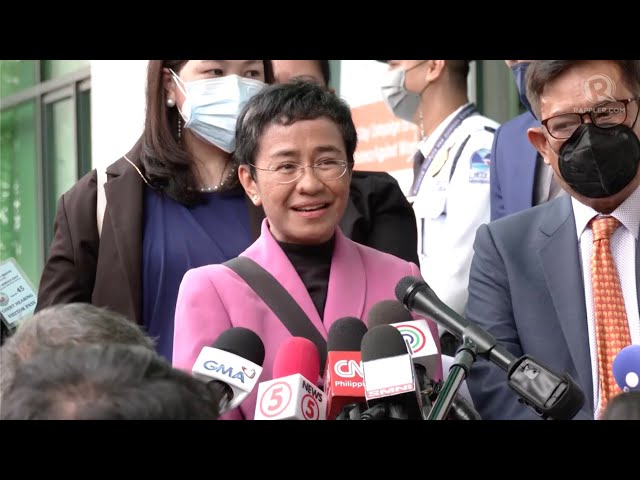 Maraming salamat po! Siguro naman po – para sa mga trolls ng Rappler at mga naniwala sa mga kasinungalingan tungkol sa amin, napatunayan na po namin na hindi tax evader ang Rappler. Medyo matagal nga lang po. Four years and two months pero naging tama na rin. Kasi naman po, about six months before these ridiculous charges, the government gave Rappler a top corporate taxpayer award. So medyo nabaliktad po ang mundo. But…
Today, facts win. Truth wins. Justice wins.
These charges were a brazen abuse of power, political harassment against journalists trying to hold power to account. This is where business, capital markets, and press freedom meet. So this victory is not just for Rappler, it's for every Filipino who has ever been unjustly accused.
It's a ray of sunshine, hope – for those like journalist Frenchie Mae Cumpio, who begins her fourth year in prison in February and Leila de Lima, who begins her seventh year in prison in February as well. 
I had a good feeling about today – not only because not one shred of evidence supporting these charges was presented in court – but also because of the way Justice Catherine Manahan ran the trial. She was tough. When I testified, she was joined by Justice Bacorro-Villena.
But of course, we've lived in the upside down so long that I was prepared for the worst.
So thank you, thank you, Court of Tax Appeals, our shareholders who stood by us during the darkest times – and were themselves harassed, our partners who stuck their necks out, and for all Filipinos who believe in the values that keep a vibrant democracy alive.
We have a lot more work ahead! – Rappler.com