The Nobel Peace Prize laureate also dedicates Rappler's first legal victory to all unjustly accused, including detained former senator Leila de Lima and journalist Frenchie Mae Cumpio
MANILA, Philippines – Nobel Peace Prize laureate and Rappler CEO Maria Ressa said her legal victory and that of Rappler at the Court of Tax Appeals (CTA) marked triple victories.
"Today, facts win, truth wins, justice wins," an emotional Ressa said, as she faced the media on Wednesday, January 18, following her acquittal.
The CTA's 1st Division acquitted Ressa and Rappler Holdings Corporation (RHC), Rappler's holding company, of four counts of tax evasion filed during the Duterte administration on Wednesday. In its 80-page decision, the CTA said the respondents did not commit the supposed violations, adding that the civil liability in the case cannot be awarded "since there is no act or omission punishable by law."
Rappler executives led by Ressa, went to the CTA in Quezon City for the trial, along with Rappler Executive Editor Glenda Gloria and Chief Finance Officer Fel Dalafu. Ressa recalled that she had a vivid memory of Dalafu bursting with joy as the decision was being read.
"…in the court room and of course it was emotional for all of us."
Ressa and the Rappler executives were also joined by their legal counsels, lawyers Francis Lim, Eric Recalde, and Jacqui Tan.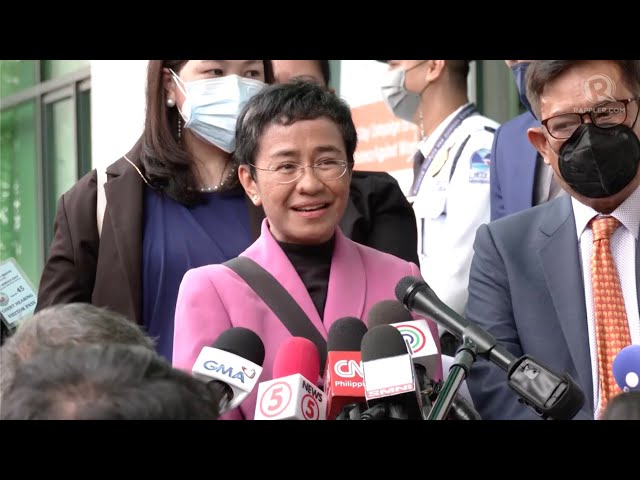 'For all unjustly accused'
The Nobel Peace Prize laureate also dedicated Rappler's first legal victory to all unjustly accused: "So this acquittal, kahit na medyo matagal po (even though it took time) is not just for Rappler, it is for every Filipino who has ever been unjustly accused."
Ressa reiterated that the cases against Rappler are politically motivated and prove there was an abuse of power. She added the harassment was also "meant to stop journalists from doing their jobs."
The court decision is proof that Rappler is not a tax evader, she said.
"Siguro naman po, sa mga trolls ng Rappler at doon sa mga naniniwala sa mga kasinungalingan tungkol sa Rappler, napatunayan na po namin na hindi tax evader ang Rappler (Perhaps, to those who troll Rappler and those who believe the lies against Rappler, we have already proven that Rappler is not a tax evader)."
Former senator Leila de Lima and journalist Frenchie Mae Cumpio, who were both detained under Duterte, were also mentioned by Ressa. De Lima has been detained since 2017, while Cumpio was arrested in 2020. (READ: LIST: Cases vs Maria Ressa, Rappler directors, staff since 2018)
The three were harassed and attacked under the Duterte administration. Most of the cases against Ressa and Rappler were filed under Duterte, who did not take kindly to criticism, including criticism of his bloody drug war. – Rappler.com