While there was plenty of grief Tacloban officials focused on the good lessons from the disaster that killed at least 6,000 people
A religious ceremony and a blessing of a mass grave for those who perished eight years ago when Super Typhoon Yolanda (Haiyan) slammed into Eastern Visayas, especially Leyte province, was the highlight of this year's commemoration of one of the worst disasters in Philippine history.
While there was plenty of grief local officials focused on the good lessons from the disaster that killed at least 6,000 people.
Tacloban City was able to bounce back after Yolanda because residents chose to love each other and come together, its mayor said on the 8th commemoration of the disaster, Mayor Alfred Romualdez said on Monday, November 8, after a Holy Mass at the Holy Cross Memorial Park in Basper village, Tacloban City.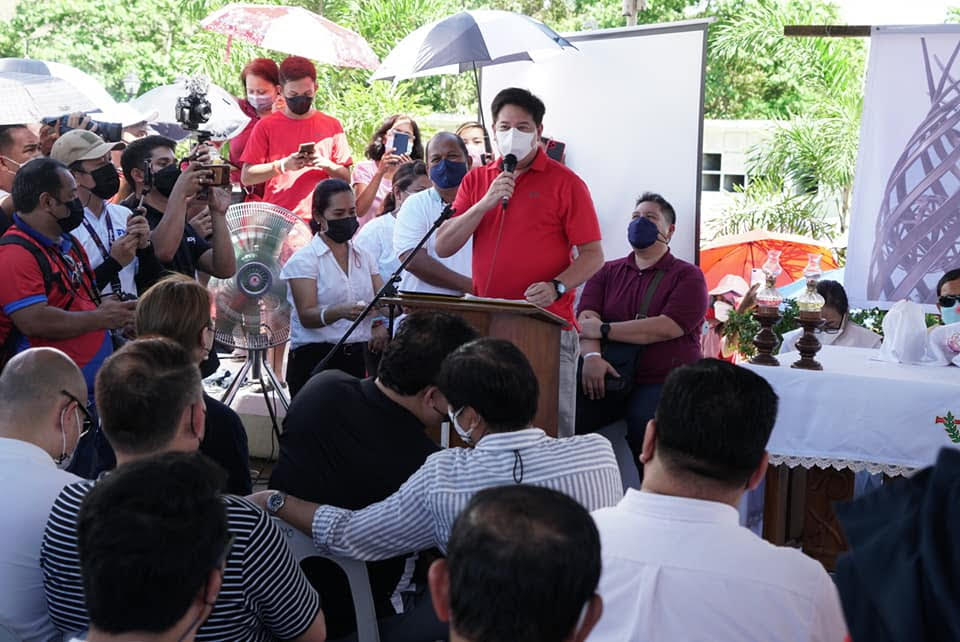 "Minsan iniisip ko kailangan ba laging may Yolanda para tayo nagkakaisa? Kailangan ba na laging may trahedya para gumising tayo? Isipin natin na kaya tayo bumangon dito sa Tacloban dahil inuna natin yung kapwa natin, dahil sa pagmamahal," he said.
(Sometimes I wonder, must there always be a Yolanda to unite? Must there always be a tragedy to wake us up? Remember this, Tacloban was able to rise again because we thought of helping others first because of love.)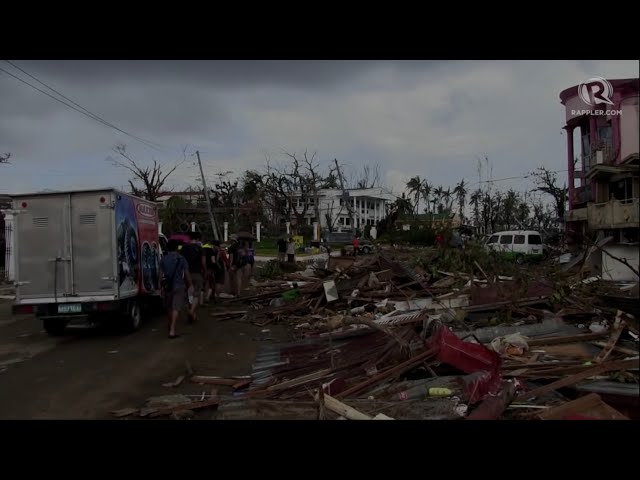 Development workers did not agree with the mayor, saying many of the poor ended up poorer because of lopsided policies.
House Majority Leader Martin Romualdez said the pain of Yolanda will remain because families will continue to "remember our fallen brothers and sisters."
"Hindi madaling burahin sa puso at isipan ang sakit na dulot ng nasabing bagyo (It is not easy to remove from our hearts and minds the pain caused by that super typhoon)," the politician said on a Facebook post. "What eases the pain partly is the collective effort exerted by our fellow Filipinos to help us get back on our feet. Hindi po namin makakalimutan ang lahat ng kabutihan na ipinakita ninyo (We will never forget all the kindness you showed us)."
The mayor recalled the difficulty of having to meet the parents of 500 children lost in the immediate aftermath of Yolanda.
"Many parents lumalapit sakin, anong klaseng diyos 'yan? Bakit 500 na mga bata pati 'yon namatay?," he recalled. (Parents came to ask, 'what kind of God. Why did 500 children have to die?'")
"Alam niyo pinagdasal ko nang pinagdasal 'yon at pumasok talaga sa isip ko sa pagdadasal ko: Hindi miracle na tayo'y buhay kasi balang araw lahat tayo'y mamamatay (I've prayed over that and what entered my mind was, that it is not a miracle that we're alive, because all of us will die someday). It is a miracle that, when you die, you go to heaven because that is the true grace of God," he said.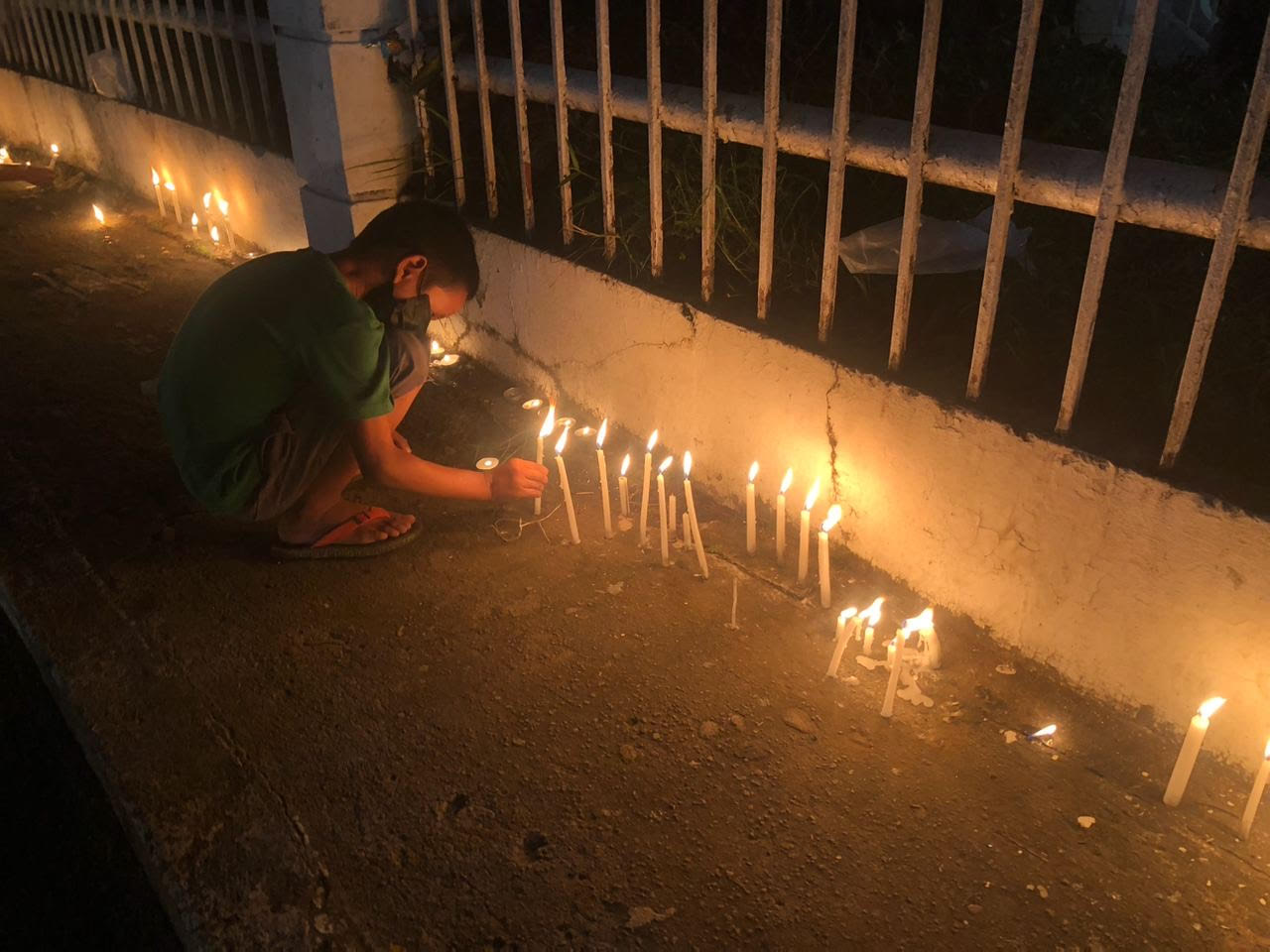 "Kaya ako, sinasabi ko sa inyong lahat, kahit anong trahedya, kahit anong pandemic 'yan (Let me tell you, whatever the tragedy, or whatever pandemic that comes) we always have to look at the light and strengthen our faith. And we all move as one. A community that stands together will live forever," he added. 
The mayor also said that "many came to inspire us to move forward," in the face of tragedy.
"I would like to thank all organizations who helped rebuild our city," Romualdez said.
The city mayor issued an executive order earlier suspending work in the government and classes Monday, to commemorate victims of the typhoon.
'The poor became poorer after Yolanda'
For development worker Jazmin Aguisanda-Jerusalem, however, the national government must address the plight of the poor in the region, which she said has been worsened by the health crisis.
"It has been 8 years since Super Typhoon Yolanda hit hard the poorest regions in the Philippines. Our people have become poorer despite all the help of the INGOs, national government. This poverty has been exacerbated by the COVID-19 pandemic," said Aguisanda-Jerusalem, executive director of Leyte Center for Development.
"The national government must address the root causes of poverty, have a comprehensive poverty and land reform program, otherwise the solutions will just be superficial. The interests of the vast majority of our people must be prioritized instead of personal, selfish interests," she added.
Women Enablers Advocates & Volunteers for Empowering & Responsive Solutions (WEAVERS) president Paulina Lawsin Nayra recognized that although recovery efforts in the region is not perfect, it is progressing in terms of rebuilding of infrastructures and communities.
Malacanang in July said it had turned over 500 homes in Sta Fe town, Leyte and 388 more in Balangiga town, Eastern Samar.
Almost 18,000 homes have been turned over to survivors, according to a mid-year report of the Inter-agency Task Force for the Unified Implementation and Monitoring of Rehabilitation and Recovery Projects and Programs in Yolanda Affected Areas. But the National Housing Authority said as of October 2020, it had completed 37,414 of the planned 53,038 housing units for the region.
Echoing Aguisanda-Jerusalem, Nayra said that if the government is serious about bouncing back, it must address "the existing vulnerabilities populations face and the lack of capacity to prepare and manage the effects of disasters."
"Government has to be serious, otherwise we're still as vulnerable as we were," she said.
– Rappler.com