Governor Roel Degamo orders the provincial police chief Colonel Bryant Demot to look into the case
Negros Oriental Governor Roel Degamo ordered the provincial police to further investigate the killing of Dr Mary Rose Sancelan, city health officer of Guihulngan, and husband Edwin Sancelan, a local government employee.
This was revealed by Provincial Information Officer Bimbo Miraflor, whose statement was read by Assistant Provincial Health Officer Dr. Liland Estacion, health committee chair of the province's IATF, at a press briefing Wednesday afternoon, December 16.
He said the governor had talked with Colonel Bryant Demot, acting police provincial director, and told him to "investigate the matter seriously and bring the perpetrators to justice."
Miraflor said the incident would affect the operations of the local Inter-Agency Task Force considering that the slain doctor was its incident commander.
"But it in due time, the city government will cope up with the loss and eventually appoint" a replacement, he added.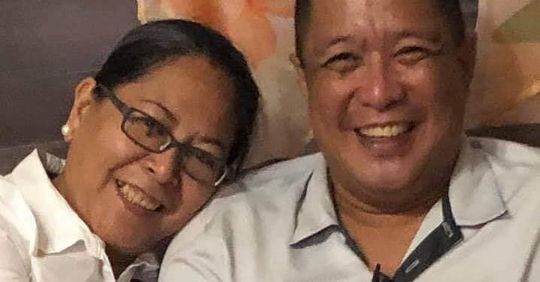 'Shocck, painful'
The Guihulngan City IATF said in a statement, it "mourns the death of its beloved incident commander and her husband."
It said that the task force reels from the loss of a "courageous and dedicated frontliner who was instrumental in placing under control the previous spike of coronavirus cases in the city last November.
"We are confused and in shock of this painful fate befalling our fellow public servants. Even now, we grapple to fill the gaping void Dr. Sancelan left in the service and in the task force," the statement said.
It added: "We ask the public for time, for us to come to terms with our grief and our sense of loss. We lift up everything to God, who only knows what is just and what is right."
Estacion said that she was told by Degamo that Guihulngan Mayor Carlo Jorge Joan Reyes had asked for augmentation for the city.
"The governor is checking on our doctors if who will augment temporarily. It is not easy to hire this time because the year is ending. But the governor is very willing to hire somebody to augment…in due time, there will be a help," she said.
On December 15, the Sancelan couple were on board a motorcycle on their way home when they were attacked by an unidentified suspect.
Dr. Sancelan was the number one on the hitlist of local anti-communist vigilante group KAGUBAK, or Kawsa Guihulnganon Batok Kumunista.
She was said to be the sixth person on the list to have been killed.
The list also included lawyer Anthony Trinidad, who was shot dead in Guihulngan in July 2019.
Task force
Lieutenant Colonel Bonifacio Tecson, Guihulngan City police chief, said a task force had been formed to look into the murder of the couple.
He said that they continue to investigate the case.
He added that it could not be established if the attackers were riding-in-tandem.
He also said that they are looking into all angles as to the motive of the incident. – Rappler.com