Marissa Magsino, a party-list lawmaker representing OFWs, says the bilateral agreement between the Philippines and Kuwait is 'weak' and must be strengthened
MANILA, Philippines – There must never be another case of an overseas Filipino worker (OFW) dying the way domestic worker Jullebee Ranara did, OFW Representative Marissa Magsino said on Friday, February 3. 
In a media forum on Friday, party-list lawmaker Magsino called for a stronger bilateral agreement between the Philippines and Kuwait, and suggested that a Filipino lawyer be sent to collaborate with the Kuwaiti lawyer assigned to Ranara's case.
"Tungkol po dito sa nangyari kay Jullebee, ayaw natin na mangyari uli ito. 'Wag po nating i-add sa istatistika o numero ang karumal-dumal na pagkamatay ni Jullebee," said Magsino. (About Jullebee's case – we do not want this to happen again. Let us not add to the statistics or numbers [cases like] the heinous death of Jullebee.)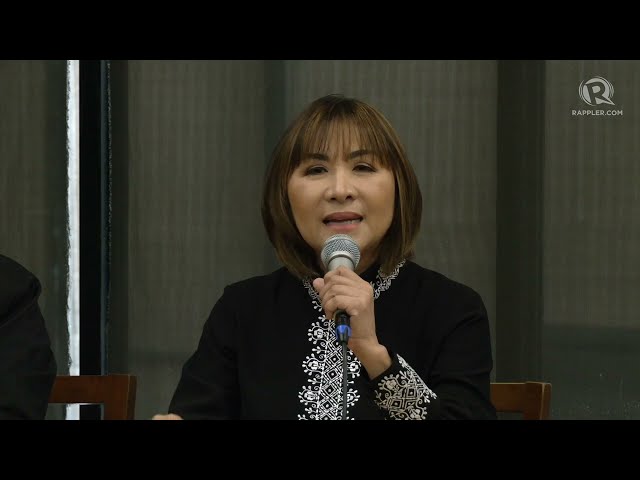 Ranara, 34, was allegedly killed by the 17-year-old son of her employer in Kuwait. Magsino, citing Arab news reports, said that Ranara was allegedly raped, impregnated, run over, burnt, and dumped in the desert. Kuwaiti authorities found her body in the desert on January 21.
Within 24 hours, according to the Department of Migrant Workers (DMW), Kuwaiti police had apprehended the 17-year-old suspect.
Philippine authorities have yet to release official incident reports of Ranara's killing.
After Ranara's remains were brought back to the country on January 27, the National Bureau of Investigation conducted an autopsy, as per request of Ranara's family. Overseas Workers Welfare Administration (OWWA) chief Arnell Ignacio said in the Friday media forum that the results are still with the NBI.
President Ferdinand Marcos Jr., who visited Ranara's wake on Monday, January 30, said that the Philippines was scheduling bilateral meetings with Kuwait to "see if there are any weaknesses in the agreement that allowed this to happen, and to make sure that those weaknesses are remedied so that the agreement is…stronger."
"We hope this will never happen again to anyone of our countrymen," added Marcos.
Ranara is set to be laid to rest on Sunday, February 5.
OFWs' situation in Kuwait
Magsino highlighted the situation of OFW welfare in Kuwait and past instances the Philippines imposed deployment bans to the Gulf state. The Philippines had imposed a ban in 2018 over numerous cases of abuse, including that of domestic worker Joanna Demafelis, whose dead body was discovered in a freezer in an abandoned apartment.
The congresswoman pegged the number of instances of abuse and violence at 4,293. Meanwhile, the Philippine embassy in Kuwait in 2017 logged around 6,000 cases of abuse, sexual harassment, and rape. (READ: DMW to assess OFW welfare in Kuwait following Jullebee Ranara killing)
Magsino said that the lawyer assigned to the case is a Department of Foreign Affairs (DFA)-hired, Kuwaiti counsel who has handled cases with the Philippine post before. She suggested that a Filipino lawyer must be hired to attend to the case as well.
"Sinabi ko dapat magkaroon tayo ng isang Filipino lawyer with the Kuwaiti laywer para mag-collaborate sila, dahil iba po ang batas sa Kuwait. Ang batas natin iba. Ang batas nila iba. Sa ngayon po, hindi pa po natin alam ang tunay na mangyayari kasi governing ng batas ng Kuwait ang mananaig," said Magsino.
(I said that we should have a Filipino lawyer with the Kuwaiti lawyer so they can collaborate, because the law in Kuwait is different. Our law is different. Right now, we don't know what will really happen to the case, because Kuwait law will be upheld.)
Migrant Workers Secretary Susan Ople earlier said that the DMW, the DFA, and the DFA-hired lawyer have yet to further discuss how to go about the pursuit of justice, as questions remained over how Kuwaiti laws penalize minors who have committed crimes.
'Weak' bilateral agreement
The deployment ban that followed Demafelis' murder was lifted in May 2018 after the Philippines and Kuwait signed a memorandum of agreement (MOA) for additional protection for OFWs in the country.
The MOA disallowed employers from confiscating passports, and upheld the right of OFWs to use their cell phones. An employer with a record of contract violations or abuse would also be disqualified from recruiting workers.
Magsino said that this bilateral agreement was "weak" and needed to be strengthened.
"'Yung unang bilateral agreement po ay napakahina pa. So dahil nga po walang takot na ma-violate pa rin po ng gobyerno or mga nationals ng Kuwait, kaya dapat po itong paigtingin, palakasin, i-strengthen, upang sa ganoon lahat ng butas ay maisa-isa bago po sana tayo talagang tuluyan na namang magpadala ng ating mga kasambahay doon kasi po ito 'yung most vulnerable sector – 'yung ating mga kasambahay," she said.
(Our first bilateral agreement is still very weak. The government and Kuwaiti nationals have no fear of violating the agreement, which is why we need to strengthen it and fix all the loopholes ideally before we deploy domestic workers in full swing. Because this is the most vulnerable sector – our domestic workers.)
OWWA Administrator Ignacio added that pre-departure orientations should be strengthened to better prepare OFWs looking to work in the Middle East. "Your mind should be ready to adjust to the entirely strange environment," he said.
Ignacio reiterated some forms of support the OWWA extended to and facilitated for the Ranara family, including around P800,000 in insurance and educational support for Ranara's four young children.
"Not once did they ever mention anything about compensation. All they wanted was their privacy to mourn, and justice," said Ignacio.
There are around 195,584 female domestic workers in Kuwait, comprising 73% of the entire OFW population in the country, according to DMW numbers. – Rappler.com