(3rd UPDATE) 'There is magmatic intrusion at the main crater that may further drive succeeding eruptions,' Phivolcs says on Saturday, March 26
MANILA, Philippines – After around eight months at Alert Level 2, Taal Volcano in the province of Batangas was once again raised to Alert Level 3 due to a phreatomagmatic eruption on Saturday morning, March 26.
Alert Level 2 had meant increasing unrest, while Alert Level 3 signifies magmatic unrest.
The Philippine Institute of Volcanology and Seismology (Phivolcs) said in a bulletin on Saturday that there was first a "short-lived phreatomagmatic burst" at 7:22 am.
It was "followed by nearly continuous phreatomagmatic activity that generated plumes," accompanied by volcanic earthquakes and "infrasound signals." The plumes reached a height of 3 kilometers, Phivolcs later said, while up to 66 "discrete explosions" were detected by 5 out of 7 infrasound stations.
The phreatomagmatic eruption lasted until 8:59 am, recorded by 11 out of 16 seismic stations of the Taal Volcano Network.
"This means that there is magmatic intrusion at the main crater that may further drive succeeding eruptions," Phivolcs explained, referring to the rising of magma toward the surface.
The agency recommended evacuation for the following high-risk areas:
Taal Volcano Island, which has long been designated as a permanent danger zone
barangays of Bilibinwang and Banyaga in the municipality of Agoncillo
barangays of Boso-boso, Gulod, and eastern Bugaan East in the municipality of Laurel
Phivolcs warned of "the possible hazards of pyroclastic density currents and volcanic tsunami should stronger eruptions subsequently occur."
By Saturday evening, around 600 families or 2,000 individuals had already been evacuated.
Phivolcs also said all activities on Taal Lake should be prohibited and communities around the lake must stay vigilant.
Prior to Saturday's unrest, Taal Volcano had been under Alert Level 2 since July 23, 2021. It was downgraded to that after being under Alert Level 3 for over three weeks.
Since the eruption ended at 8:59 am on Saturday, "there has been no further activity," Phivolcs said in an update at 7:45 pm. The agency only recorded 3 low-frequency volcanic earthquakes and 5 volcanic tremors.
But "sulfur-smelling wet ashfall" was reported on Taal Volcano Island, along the Calauit and Alas-as shorelines, and on the lakeshore of Barangay Banyaga.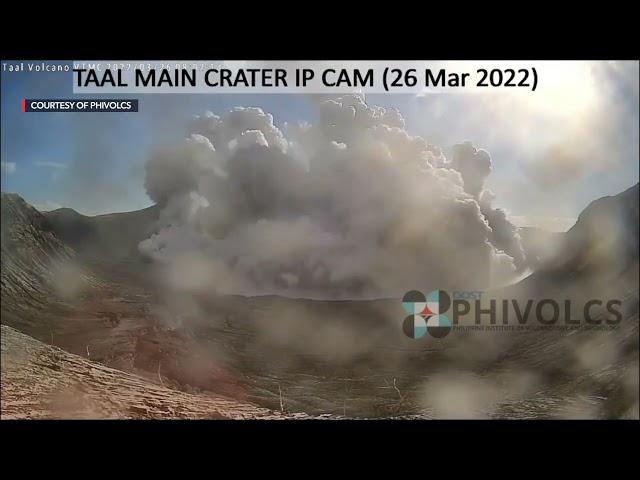 Slower movement of magma
Taal Volcano's last major eruption was in January 2020, when it reached Alert Level 4.
In comparison to the January 2020 eruption, the movement of the magma is slower this time, according to Science and Technology Undersecretary and Phivolcs Officer-in-Charge Renato Solidum Jr. This means there is time for gas to be released, instead of accumulating beneath the surface and causing a bigger eruption.
"Kumbaga hindi na masyadong explosive ang eruptions na nakikita natin compared nung January 2020, kung saan 'yung magma sa ilalim ay mabilis na umakyat, hindi na-release ang gas at naipon doon sa loob ng magma, na sumabog ng malakas," Solidum said in a government briefing on Saturday.
(We don't see eruptions becoming as explosive as the one in January 2020, where magma rose rapidly to the surface and gas accumulated, leading to the strong eruption.)
The situation, however, remains volatile.
"Ang kailangan pa namin gawin, bantayan kung may bagong magma na manggagaling sa ilalim at kung gaano siya kabilis umakyat, kasi 'pag ganito po ang pangyayari na mabilis umakyat ang bagong magma, doon po nagtri-trigger ng mas malakas na eruption," Solidum said.
(What we still need to do is monitor if new magma would emerge and how fast it would rise, because if magma rises quickly, it could trigger a stronger eruption.)
Solidum advised residents living near the volcano to wear face masks as protection against possible ashfall and sulfur dioxide emissions.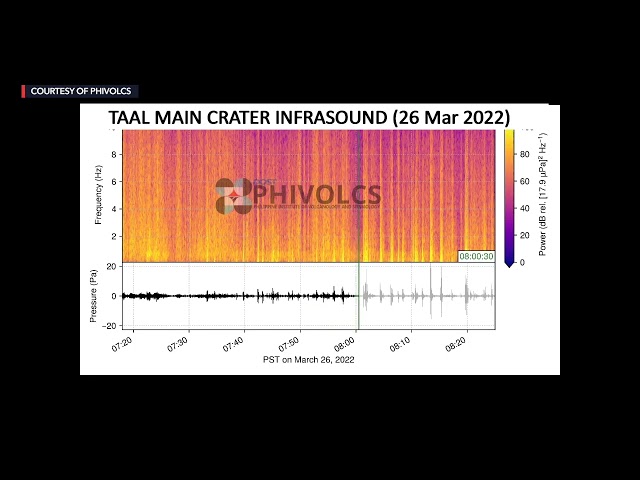 – Rappler.com