(2nd UPDATE) Phivolcs observes decreased unrest at Taal Volcano in Batangas, resulting in the downgrade on Friday, July 23. But this does not mean that the threat of an eruption has disappeared.
State volcanologists lowered the status of Taal Volcano in Batangas from Alert Level 3 to Alert Level 2 on Friday evening, July 23, more than three weeks since unrest had escalated.
Alert Level 3 meant magmatic unrest, while Alert Level 2 indicates decreased unrest.
The Philippine Institute of Volcanology and Seismology (Phivolcs) said in an advisory that "there has been a cessation of eruptive activity at Taal Volcano" following the phreatomagmatic eruption on July 1 and 19 weak phreatomagmatic bursts recorded until July 9.
"Unrest since then has been characterized by renewed seismic activity, generally declining volcanic gas emission, very slight ground deformation, and positive microgravity anomalies," said Phivolcs.
The July 1 phreatomagmatic eruption, or an eruption involving the interaction of magma and water, had prompted the raising of Alert Level 3.
But Phivolcs also stressed on Friday that the downgrade to Alert Level 2 "should not be interpreted that unrest has ceased or that the threat of an eruption has disappeared."
"Should an uptrend or pronounced change in monitored parameters forewarn a potential eruption, the alert level may be raised back to Alert Level 3," the agency said.
"Conversely, should there be a persistent downtrend in monitored parameters after a sufficient observation period, the alert level will be further lowered to Alert Level 1."
Why the downgrade?
Phivolcs said there has been an "overall decreasing trend in the level of monitoring parameters." Below are the data for July.
Volcanic earthquakes: There have been 1,195 volcanic earthquakes since July 1, ranging from magnitude 1.8 to magnitude 4.6. "Of these, 789 volcanic tremor, 365 low-frequency, 26 hybrid, and 3 volcano-tectonic earthquakes were generated by activity in the shallow magma and hydrothermal region" beneath Taal Volcano Island. Most earthquakes occurred beneath the volcano's main crater and the island's northeastern sector, indicating movement of magma, volcanic gas, and/or hydrothermal fluids.
Decrease in degassing: Sulfur dioxide (SO2) emission averaged 12,161 tons per day in the first week of July, then declined to 4,763 tons per day between July 8 and 22. The peak was on July 4, with 22,628 tons per day.
Minimal ground deformation: "Deflation of the caldera centered on the southeastern [Taal Volcano Island] and caldera extension at the southwest Taal Fracture Zone where fissuring occurred in 2020."
Activity at main crater: This was "more often characterized by the generation of moderate steam-laden plumes and periodic but generally less vigorous lake upwelling, consistent with decreased magmatic degassing."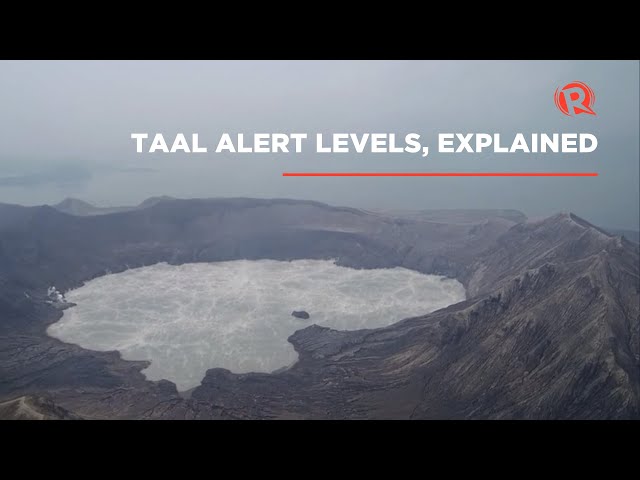 What happens under Alert Level 2?
According to Phivolcs, the following can occur at Alert Level 2:
sudden steam-driven or phreatic explosions
volcanic earthquakes
ashfall
lethal accumulations or expulsions of volcanic gas
State volcanologists still recommend that entry into Taal Volcano Island be strictly prohibited. The island is considered a permanent danger zone.
Phivolcs also advised local government units in areas near Taal Volcano to "strengthen preparedness, contingency, and communication measures in case of renewed unrest."
Based on figures from the National Disaster Risk Reduction and Management Council given on Thursday, July 22, more than 21,000 persons or over 6,000 families were displaced by the Taal Volcano unrest in July. – Rappler.com