Phivolcs on Tuesday, July 6, advises communities around Taal Volcano in Batangas to stay vigilant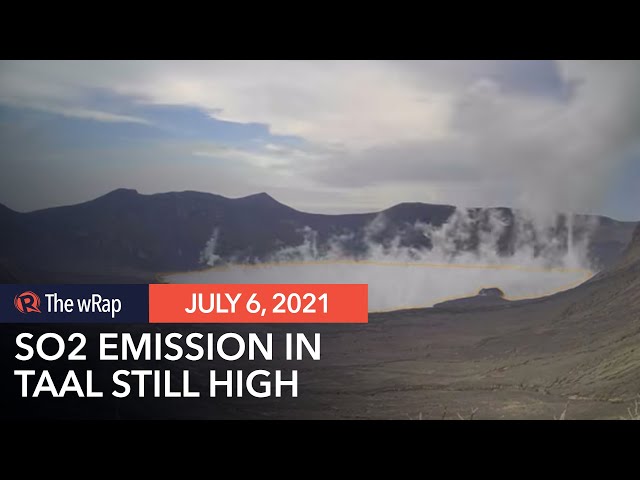 Taal Volcano's sulfur dioxide (SO2) emission dropped to an average of 5,299 tons per day on Monday, July 5, significantly lower than the record high reached the previous day but still at an elevated level.
The current all-time high is the 22,628 tons per day recorded on Sunday, July 4.
For comparison, SO2 emission had averaged at 1,327 tons per day last March 10, a day after the volcano in Batangas was placed under Alert Level 2 due to increasing unrest. At the time, the Philippine Institute of Volcanology and Seismology (Phivolcs) described that level as "significant."
Taal was further raised to Alert Level 3 last Thursday, July 1, after a phreatomagmatic eruption, or an eruption involving the interaction of magma and water.
High levels of SO2 indicate magma is at a shallow level or nearer the surface of the volcano.
In Phivolcs' 8 am bulletin on Tuesday, July 6, it reiterated that at Alert Level 3, the magma "could drive [an] explosive eruption."
In the past 24 hours, added Phivolcs, the Taal Volcano Network recorded 39 volcanic earthquakes.
Steam-rich plumes up to 3,000 meters or three kilometers high also rose from the volcano's main crater, before drifting south and east.
Phivolcs stressed that Taal Volcano Island, Taal Lake, the barangays of Bilibinwang and Banyaga in Agoncillo town, and the barangays of Buso-buso, Gulod, and Bugaan East in Laurel town must remain off-limits to all.
If a strong eruption occurs, there could be pyroclastic density currents, which are clouds of hot gas, ash, and other volcanic debris. A volcanic tsunami is also possible since Taal Volcano is situated within Taal Lake.
"Communities around the Taal Lake shores are advised to remain vigilant, take precautionary measures against possible airborne ash and vog, and calmly prepare for possible evacuation should unrest intensify," Phivolcs said.
The National Disaster Risk Reduction and Management Council said in a situation report at 8 am on Tuesday that 6,045 persons have been displaced due to the Taal Volcano unrest, with 3,480 of them staying inside evacuation centers and the remaining 2,565 outside evacuation centers. – Rappler.com