This is AI generated summarization, which may have errors. For context, always refer to the full article.
Documents presented by Gordon show how, in several purchases, the market survey was dated a day after the contract was already awarded to Pharmally. Manifest partiality is an act of graft.
The Bayanihan law may provide cover for the lapses in procurement procedures by the Procurement Service of the Department of Budget and Management (PS-DBM), but senators pointed out Thursday, September 30, that favoring Pharmally Pharmaceutical Corporation and the substandard supplies by the company are still covered by the anti-graft law, which remains in effect during the pandemic.
"Pharmally was favored and that is the essence of the anti-graft act," said Senator Richard Gordon during the 10th hearing of the blue ribbon committee that lasted six hours on Thursday.
The most common graft charge is under Section 3(e), which is giving unwarranted benefits to a party either by manifest partiality, bad faith, or gross negligence.
Usually, this provision is proven by pointing out lapses under the procurement law, but since Bayanihan suspended the procurement law, the Senate has sought to find other ways to prove liability.
Gordon, for one, showed documents Thursday showing how even the emergency procurement mode seemed rigged for Pharmally.
In lieu of bidding, PS-DBM would send potential suppliers requests for quotation and then choose the best proposal.
For the April 2020 order for P54 million worth of face masks, two other companies aside from Pharmally submitted quotations, and all proposed the same price of P22.50. Documents by Gordon show the purchase order to Pharmally was dated April 14, but the proposals by the three companies were dated April 15.
"You gave Pharmally a purchase order and then as an afterthought, on April 15, two other companies proposed the same price that you've already given to Pharmally. It's like you manipulated it," said Gordon in Filipino.
Former PS-DBM director, now Overall Deputy Ombudsman, Warren Liong said: "I'm sure there is an explanation but I just can't say now – maybe if someone else explains the documents, I can explain better."
Liong said probably the market survey was done just to check.
In another purchase order for P220 million worth of face masks dated April 20 for Pharmally, documents by Gordon said that the proposals show Pharmally's competitors had a more expensive quotation and no stock on hand. However, the proposal documents from the other companies were dated April 15, which Gordon said indicated the PS-DBM used old documents for the others, and new documents for Pharmally.
Liong said it could probably have been a situation where PS-DBM used historical data, "which is allowed even by the Government Procurement Policy Board (GPPB)," the ombudsman executive said.
Gordon said this showed a clear picture of partiality to Pharmally.
"Hindi naman po pinagbibigyan, naghahanap lang po talaga ng supply (It's not like we favored them, but we were really looking for supply)," said Liong.
Pharmally is the biggest winner in pandemic procurements, with P10 billion in contracts so far. Pharmally executives had admitted that to get by, they borrowed funds or were guaranteed to their Chinese suppliers by Michael Yang, President Rodrigo Duterte's former economic adviser.
Substandard supplies
PS-DBM chief Lloyd Christopher Lao and Liong repeatedly invoked the Bayanihan exemption to justify their not checking Pharmally's finances, which would have revealed severe undercapitalization. Lao and Liong said what was important was that the supplies arrived on time.
But senators have established the following so far:
An element of Section 3(e) of graft is causing undue injury to the government.
There is another provision with lesser elements – Section 3(g) which is entering into a transaction that is "manifestly and grossly disadvantageous" to the government "whether or not the public officer profited or will profit thereby."
Senator Francis Pangilinan said the expired test kits and tampered damaged face shields are clear examples of substandard supplies disadvantageous to government.
"How do you explain half a billion worth of test kits expired under your watch? This is not funny," said Pangilinan, who glared at former PS-DBM chief Lloyd Christopher Lao. Lao was visibly smirking as Pangilinan interpellated.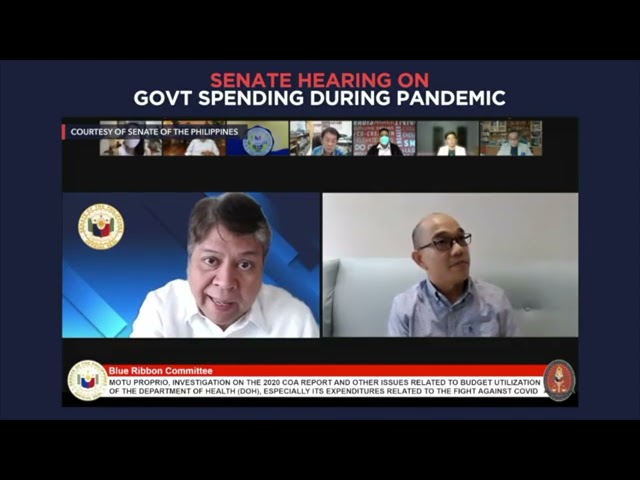 To drive home his point, Pangilinan said: "Where else can you see near-expiry supplies yet you accepted them? Only two months left in shelf life, you accepted them, why didn't you reject them?"
Senator Risa Hontiveros also asked why PS-DBM preferred to buy BGI test kits from Pharmally when other countries like Australia and Chile bought directly from BGI at a lower price.
PS-DBM current chief Jasonmer Uayan said they were told by the Department of Health-Research Institute for Tropical Medicine (DOH-RITM) that they should respect dealership agreements with BGI, which means they should deal with distributors and not the manufacturer.
But the RITM denied this.
"I do not confirm this statement. What we provided was technical specifications for the items especially the kits and no other information, that was only the role of RITM," said RITM chief Celia Carlos.
Uayan retracted and said he was mistaken, and that it was DOH Assistant Secretary Nestor Santiago who told the PS-DBM about the dealership agreements.
Santiago said he would have to check his records to answer it.
Asked for his opinion, Justice Secretary Menardo Guevarra said the anti-graft law indeed remained in effect.
"All acts and omissions that stink of corruption are covered by this law," said Guevarra.
The Department of Justice (DOJ) is still waiting for a complaint to be filed before opening an investigation. The Office of the Ombudsman has triggered its motu proprio power – which the DOJ also has – to already start an inquiry.
The 11th hearing will be held on October 5, starting 11 am.
– Rappler.com