If the bill becomes law, foreigners can fully own telcos, airlines, domestic shipping firms, railways, and subways in the Philippines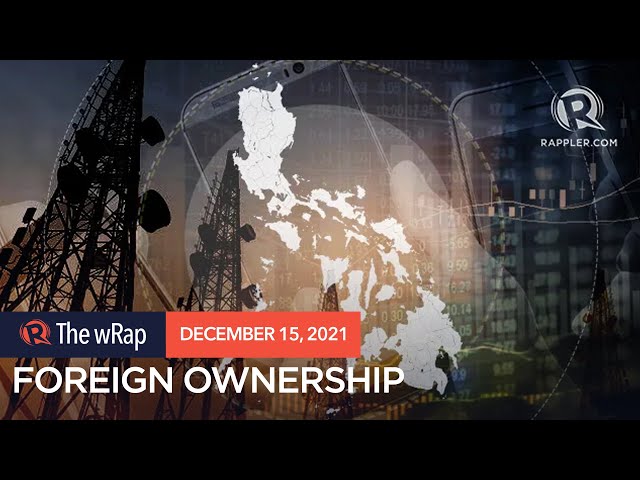 MANILA, Philippines – The bill allowing foreigners to fully own and control firms in key industries in the Philippines like telecommunications and transportation is one step closer to becoming law after getting an approval from the Senate.
On Wednesday, December 15, a total of 19 senators voted in favor of passing on third and final reading Senate Bill (SB) 2094, which would allow 100% foreign ownership of public services like telcos, airlines, domestic shipping, and railways and subways.
Only three senators thumbed down SB 2094: Senate President Pro-Tempore Ralph Recto, and opposition senators Risa Hontiveros and Kiko Pangilinan.
Senators were able to give their final nod to the bill just a day after they passed it on second reading, as it was earlier certified as urgent by President Rodrigo Duterte. This allowed the Senate to waive the three-day mandatory interval between a bill's second and third reading approval.
SB 2094 would liberalize public services in the country through amendments to the Commonwealth Act 46 or the Public Service Act, which would make a distinction between the definitions of public services and public utilities.
The 1987 Constitution requires 60% Filipino ownership if the firm is operating as a "public utility."
But SB 2094 aims to limit the definition of public utilities to just the following: electricity distribution, electricity transmission, water pipeline distribution and sewerage, airports, seaports, and public utility vehicles.
This means that if SB 2094 is passed into law, other industries considered to be public services would no longer be considered as public utilities and would therefore be exempted from the 60-40 constitutional rule on foreign ownership.
Senate public services committee chairperson Grace Poe said SB 2094 would allow the Philippines to be more competitive with its neighboring countries in Southeast Asia, which have long eased restrictions on foreign investors to bring in more jobs and government revenue.
"Th main purpose of this measure is to provide consumers with choices, and I believe that by opening our economy to a diverse set of investors, we could provide our fellow Filipinos with more and better choices," said Poe.
"We are only making our country more competitve in the world stage. Hindi na tayo mapag-iiwanan (We would no longer be left behind)," she added.
Hontiveros, however, raised concerns about national security, noting Congress is seeking to open up industries like telcos to foreigners when "we have tech savvy neighbors as well as rogue non-state elements that are directly targeting facilities in the region."
Hontiveros noted the Philippines does not even have the proper cyber defense mechanisms to protect against possible espionage by other countries.
"By allowing 100% foreign ownership, we are opening our phones, and all our internet-connected devices, appliances, and critical public facilities to foreign state and non-state interests that may have malevolent designs on our national security. This is a fact and the government is aware of the existence of these clear and present threats," said Hontiveros.
Poe, however, said SB 2094 has placed certain safeguards to prevent such cases.
"I would like to point out that in this bid to liberalize our economy, we have taken national security concerns into consideration. We recognize that certain industries are critical infrastructures. Thus, transactions resulting in the control of such industries are subject to several layers of safeguards," said Poe.
The House of Representatives already approved its own version of SB 2094 in March 2020. This means the House and the Senate would have to convene a bicameral conference committee to reconcile the conflicting provisions in their respective versions.
One chamber may also just move to adopt the other's version to fast track the transmittal of the final bill to Malacañang for Duterte's signature. – Rappler.com