The actual T-shirt worn by Manila Mayor Isko Moreno says, 'vaccine nation is the solution'
At a glance
Claim: A photo shows Manila Mayor Isko Moreno wearing a T-shirt that says, "foot spa nation is the solution."
Rating: ALTERED PHOTO
The facts: The actual T-shirt he wore says, "vaccine nation is the solution."
Why we fact-checked this: The photo can be found in posts from several Facebook pages, one of which is "MOCHA USON BLOG."
Complete details
Several Facebook pages posted a photo showing Manila Mayor Isko Moreno wearing a T-shirt that says, "foot spa nation is the solution." The same photo shows people in Manila lined up in floods or under the threat of heavy rains to get COVID-19 vaccine shots.
One such photo can be found in the Facebook page "MOCHA USON BLOG," which shared the post from another page, "Tama na Sobra na." As of writing, it has about 2,700 reactions, 535 comments, and 252 shares.
The text in the photo reads, "ANG SCRIPT: ISISI SA NATIONAL GOVERNMENT ANG KAPALPAKAN NG ALKALDE NG MAYNILA (The script: blame the national government for the shortcomings of the mayor of Manila)," and "LIGHTS, CAMERA, ACTION!"
Other Facebook pages that posted or shared this image include "MindaVote," "DDS News," "Daily Duterte," and "DT." Some of these featured another statement in the photo, which reads, "SA MANILA, MAY LIBRENG FOOT SPA" (In Manila, there is free foot spa).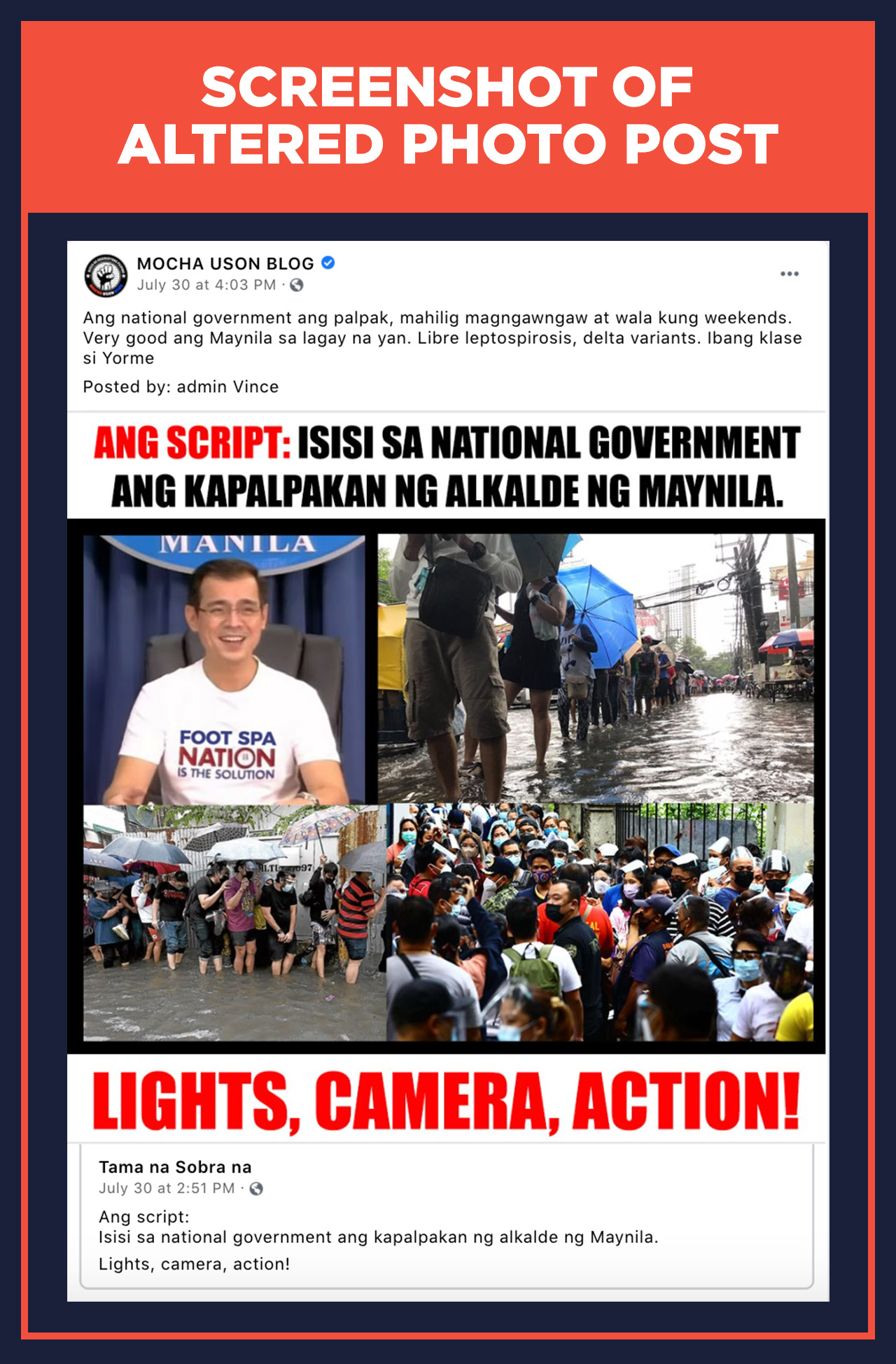 The part of the photos showing Moreno's T-shirt was altered.
The real text of the T-shirt is not "foot spa nation is the solution." Rather, it is "vaccine nation is the solution," as shown in some videos and photos of Moreno wearing the T-shirt, such as in a speech by Moreno on his verified Facebook account on July 22, a post from the verified Twitter account of Moreno on March 1, and an article by the Philippine News Agency (PNA) on March 1.
Moreno has said that COVID-19 vaccination in Manila will continue even in the midst of heavy rains and flooding.
Rappler has done at least one fact-check involving altered images of clothing before, such as a purported photo of Kabataan Representative Sarah Elago wearing a bandana with a hammer-and-sickle emblem. – Percival Bueser/Rappler.com
Percival Bueser is a graduate of Rappler's fact-checking mentorship program. This fact check was reviewed by a member of Rappler's research team and a senior editor. Learn more about Rappler's fact-checking mentorship program here.
Keep us aware of suspicious Facebook pages, groups, accounts, websites, articles, or photos in your network by contacting us at factcheck@rappler.com. Let us battle disinformation one Fact Check at a time.