This is AI generated summarization, which may have errors. For context, always refer to the full article.
Unfortunately, Kulot is not the first and last victim of the recent spate of killings involving teens
MANILA, Philippines – Another family mourned the passing of their loved one, 15-year-old John Frances Ompad, who lost his life after Police Corporal Arnulfo Sabillo fired his gun and hit him.
At past midnight on August 20, Dianne, Kulot's elder sister, said she and her younger brother were in their living room using their phones. After hearing the sound of a motorcycle, Kulot immediately stood and headed to their door.
The familiar sounds of a smoke-belching pipe muffler and a roaring engine signaled that their other brother, John Ace, had arrived.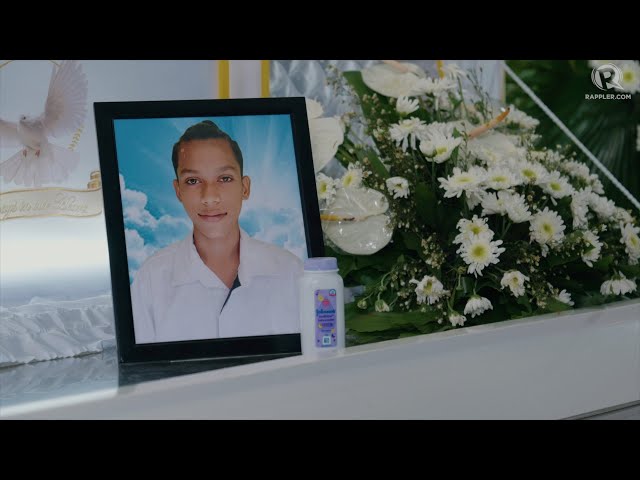 Dianne said she and Kulot saw their brother John Ace – from a distance – looking down on the ground without his usual helmet, and running towards them. John Ace shouted to his siblings to shut the door, adding that he would not enter the house. But Kulot still decided to go out to check on his brother.
Dianne decided to follow her brothers, and as she was near the door, she said she heard several gunshots. Concerned, she immediately rushed outside. Positioned in front of their house, she saw a weak-looking Kulot leaning on their window facing the direction of the shooting.
At the time, Dianne said she thought that another set of gunshots would follow, that's why she immediately brought Kulot inside their living room, turned off the lights, and asked him to duck.
After two minutes, Kulot's plea for help came: "Sumigaw si Kulot ng, 'Tulong! Tulong!' May tama raw po siya ng baril," Dianne told Rappler. (Kulot shouted, "Help me! Help me!" He said he was shot.)
When they turned on the lights, they saw Kulot covered in blood oozing from his wound in the abdomen. Apparently, Kulot was shot when he went outside to check on his brother. Dianne said she covered her brother's wound with a piece of cloth and put him in a sitting position in their living room.
The bleeding Kulot triggered confusion and shock in the whole family, including their father Napoleon.
"Natulala ako, hindi ko alam gagawin ko. Si Dianne pa rin nagsabi sa kumpare ko na dalhin ninyo na sa ospital. Hindi ko alam kung ano'ng gagawin, litong-lito ako sa pangyayari. Bigla eh (I was stunned, I did not know what to do. It was Dianne who told my friend to bring Kulot to the hospital. I did not know what to do, I felt so confused at the time. It was so sudden)," Napoleon recalled to Rappler.
The teenager was brought to Casimiro A. Ynares Sr. Memorial Hospital in the town, but was later transferred to the East Avenue Medical Center in Quezon City. Not long after Kulot was brought to the hospital, he expired.
For days, Napoleon was in shock and could barely talk. When Rappler visited the family on August 26, Kulot's mother was still in shock and unable to face people. Kulot's wake was held in their home in Barangay San Isidro, Rodriguez, in Rizal.
He was brought to his final resting place on Wednesday, September 6.
What really happened
John Ace was on his way home after receiving his salary on August 19 in Eastwood, Quezon City, for construction work he did. When he was at the wet market area, John Ace saw two men on a motorcycle trailing him, Napoleon narrated.
The 19-year-old continued driving his motorcycle and when he reached the poultry area in their village, Sabillo and his civilian companion, Jeffrey Baguio, tried to flag John Ace. Napoleon said his son refused to stop because Sabillo was not wearing a proper police uniform.
John Ace continued heading for home, but the cop and his companion followed him. This was captured by a closed circuit television (CCTV) camera.
The police report said that when John Ace arrived at the front of their house, he threw his helmet at Sabillo and Baguio, prompting the shooting. The report said only a single gunshot was fired – a claim that was refuted by Kulot's family.
According to Dianne, John Ace refused to stop because Sabillo and Baguio appeared to be drunk. The place where the two flagged John Ace was not even a checkpoint area, Kulot's sister said.
"Madilim po 'yong area na 'yon saka alanganing oras na rin po ng gabi. At kung magde-declare man po sila ng checkpoint, sana may barikada po sila at naka-uniporme (That area was dark and it was midnight. And if ever they would declare a checkpoint, they should have a barricade and the cop should have worn proper uniform)," Dianne said, adding that crimes like robbery and hold-up were common in their village.
Dianne also explained that her brother threw his helmet as an act of self-defense because John Ace saw one of the two men drawing a gun.
"Self-defense lang po 'yong ginawa ng kapatid ko kasi nakita niyang bubunot ng baril 'yong back ride. Do'n naman po, natumba. Siyempre mga lasing daw po kasi kaya mabilis natumba." (What my brother did was an act of self-defense because he saw the cop's back ride passenger drawing his gun. The two fell. Of course, they easily fell because they were drunk.)
Dianne also said there were four gunshots, and not one – contrary to the police report. The sound of four gunshots was also captured on CCTV video.
The Philippine National Police manual, which governs all types of police operations, clearly prohibits the police from abusing their power. (See rules below and swipe to the right and click on the rule to read the full text.)
Rule 2.11 in the manual strictly prohibits the use of warning shots in police operations, while Rule 2.8 prohibits the use of excessive force. In addition, rule 1.1 mandates that policemen wear the proper uniform, and rule 2.2 states that checkpoints should be manned by personnel wearing the prescribed police uniform.
Sabillo and Baguio are currently under police custody. The two face homicide and attempted homicide complaints, while Sabillo faces additional administrative complaints. The incident also led to the relief of Rodriguez police chief Police Lieutenant Colonel Ruben Piquero – to facilitate an impartial probe.
Future cop no more
Kulot was the third youngest child among eight siblings. Although he was playful at times, Kulot never failed to do his household duties. He helped in washing the dishes and cleaning their house, Napoleon told Rappler.
Dianne said her brother was also very neat and vain – Kulot wouldn't go outside their house without dusting powder on his face: "Magpu-pulbo po talaga siya, kaya may pulbo 'yong ano (kabaong) niya kasi maarte po 'yan eh. Magsusuklay pa po 'yan 'pag uutusan saka magpupulbo. Hindi po talaga siya lalabas ng bahay nang hindi nag-aayos."
(He would really put on powder, that's why there's powder on top of his casket because he's vain. Before heeding our orders, he would first comb his hair and put on powder. He would not go outside without fixing how he looked.)
To his friends and loved ones, Kulot was charming and kind. Among the siblings, he was the sweetest, according to Dianne.
"Siya po talaga 'yong 'pag darating si Papa, siya po talaga 'yong yayakap kay Papa, sasalubong kay Papa. Siya po talaga 'yon. Sa aming magkakapatid, siya lang 'yong gumagawa no'n kay Papa…Malambing," Dianne told Rappler. (He would hug Papa whenever he arrived, he would welcome him. He was like that. Among us, siblings, he was the only who did that. He's really affectionate.)
Kulot was an incoming Grade 9 student at San Isidro National High School. On the night he was killed, Kulot and his sister were listing the school supplies they needed to buy.
"Kasi nagpapabili siya ng uniform niya, saka notebook, saka sapatos kaya excited po kami. Excited pa siya na sa Linggong darating, sa umaga na 'yon, kasi iyon 'yong time na bibilhan na siya ng gamit. Kaso 'di na niya inabot," Dianne said.
(He was asking for a new uniform, notebooks, and shoes, and we were very excited. He was excited for that Sunday, that morning, because that's when we would buy his new school supplies. But he never got that far.)
Kulot's ultimate dream was to become a cop – he had plans to enter the Philippine National Police Academy after finishing high school.
"Pero 'yon nga po 'yong masakit na ano, na pulis din 'yong papatay sa kanya. Pulis din 'yong nagnakaw ng pangarap niya," Dianne said. (But that's what really painful, a policeman killed him. A cop was also the one who stole his dream.)
Not the first and last
Unfortunately, Kulot was not the first and last victim of the recent spate of killings involving teeners.
Before Kulot, there was Jerhode Jemboy Baltazar, 17, who was shot dead by Navotas cops while he and his friend were cleaning their fishing boat on August 2. The police claimed they mistook Jemboy for Reynaldo Bolivar, the suspect they were pursuing that day.
Kulot and Jemboy are the most recent teenagers killed by the police, but there are also those who were brutally slain by unknown assailants. According to nongovernment organization Child Rights Network (CRN), there were at least three young victims who were recently killed too:
Samuel, 17, was found dead and handcuffed, with a nylon cord wrapped around his neck, on May 26, 2023, in San Ildefonso, Bulacan. As quoted by the CRN, the barangay officials said Samuel was a child in conflict with the law and was placed several times in Bahay Pag-asa in Malolos City. He was said to have been involved with illegal drugs.
AC, 15, was shot by unidentified assailants in the house of their landlord in Navotas City. His landlord had alleged drug violations. According to his neighbors, AC even pleaded for his life: "Huwag po, maawa po kayo sa akin. Ano po ang kasalanan ko?" (Don't shoot me, please. Have mercy. What have I done wrong?). Police also claimed they recovered cartridge cases, illegal drugs, and other drug paraphernalia in the crime scene.
Marian, 15, was shot twice by unidentified assailants in their house where several other families live. She dreamt of becoming a social worker. According to the police, a person living in the same house was an alleged drug suspect.
The most recent case, Daniel Soria, 20, was gunned down in Malabon City exactly a month after Jemboy's killing. Daniel was supposed to meet a woman he met online in Barangay Longos. While waiting for her, a motorcycle parked in front of him and his companion, and started firing.
Daniel was shot in the leg, but was still able to run. He later fell, and the gunman finished him off. His companion was no other than Bolivar – the subject of the August 2 operation where Jemboy was killed.
These recent killings prove anew that killings continue, even under a new president and his new administration. Political scientist Sol Iglesias says President Marcos Jr.'s biggest complicity is institutionalizing impunity by continuing to shield the crimes committed by his predecessor, Rodrigo Duterte. (READ: More killings, no justice: Navigating continued impunity from Duterte to Marcos)
People lose their lives – whether in the hands of law enforcers or unknown assailants. Like in Duterte's drug war, there have been no exceptions. Even the youth – those with dreams to fulfill and still many years ahead – continue to die. – Rappler.com