This is AI generated summarization, which may have errors. For context, always refer to the full article.
Italy head coach Gianmarco Pozzecco says he will forever cherish his encounter with Manny Pacquiao, whom he calls a 'legend in the history of sports'
MANILA, Philippines – Italy head coach Gianmarco Pozzecco no longer has to ask where Manny Pacquiao is.
Pozzecco finally got to meet Pacquiao as the Filipino boxing icon invited the Italian – who is in town for the FIBA World Cup – to his Forbes Park home in Makati, where they shared dinner and played chess.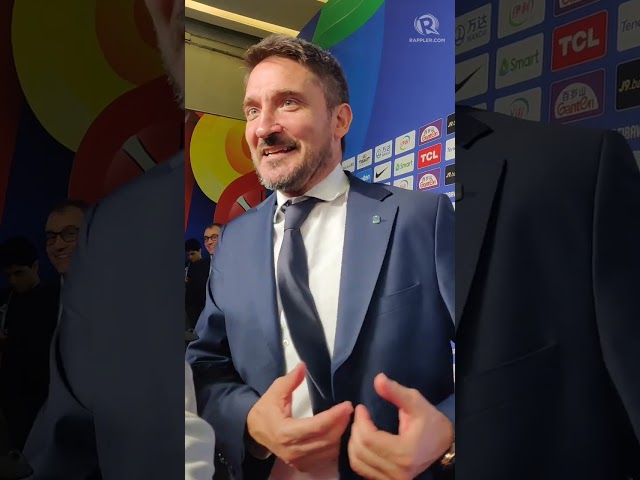 "He is an amazing person. I love him before, [but] now, even more," said Pozzecco after steering the Azzurri to a come-from-behind 78-76 win over Serbia on Friday, September 1, to start the second round.
As soon as Pozzecco and world No. 10 Italy arrived in the country, he made it known to the media that he wanted to meet the only eight-division world champion in boxing.
Pozzecco always opened his press conferences with the question, "Where is Pacquiao?"
His request did not go unnoticed as the two linked up on Thursday, with Pozzecco gifting Pacquiao a custom Azzurri jersey.
It was a humbling experience for Pozzecco, who admitted that he never imagined crossing paths with Pacquiao, much more being invited by the retired boxer himself.
"You're an amazing people. But this is something in our country [which] is not possible that one huge star, legend in the history of sports invites one idiot as myself to his house just because I said something," said Pozzecco.
"He represents you guys [well]. You have to be proud of him and he has to be proud of you. I'll never forget in my life that he invited me to his house."
Pacquiao may have been the lucky charm as Pozzecco and Italy dealt erstwhile unbeaten Serbia its first loss in this World Cup.
The win also kept the Azzurri, who improved to 3-1 in Group I, in close contention for a coveted spot in the final phase.
"I dedicate this victory to Pacquiao," said Pozzecco. – Rappler.com