Juan Gomez de Liaño becomes the first homegrown male basketball player to sign with a European basketball team
MANILA, Philippines – In a trailblazing move for Filipino basketball standouts, Juan Gomez de Liaño signed a one-year contract with the BC Wolves in the Lithuania-based Lietuvos krepšinio lyga (LKL), his club announced on Thursday, October 20.
The development made Gomez de Liaño, who also played in the Japan B. League last season, the first Filipino male basketball player to sign with a Europe-based basketball team.
Last year, Philippine women's basketball standout Jack Animam saw action with ŽKK Radnički Kragujevac of the First Women's Basketball League of Serbia to become the first homegrown player to sign with a professional basketball league in Europe.
Gomez de Liaño, who also starred for the UP Fighting Maroons in the UAAP, last saw action in the PBA D-League where he won the Most Valuable Player award after averaging 18.4 points, 8.4 rebounds, 6.3 assists, and 1.2 steals for Marinerong Pilipino.
While the move made Gomez de Liaño and Aminam the first homegrown players to see action in European pro basketball, other foreign players with Filipino roots have also played in the continent like Stanley Pringle (Belgium, Poland, Ukraine), Matthew Wright (France), and Christian Standhardinger (Germany).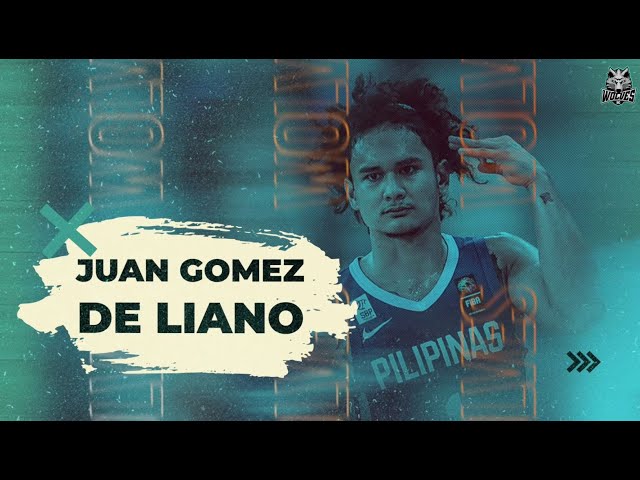 The 22-year-old Gomez de Liaño's contract is guaranteed through the remainder of the LKL's 2022-2023 season, where his new squad, the Wolves, currently rank third in the league standings with a 4-1 record.
Although specific figures of his contract wasn't revealed, sources indicate the salary is comparable to what Filipino ballers would get if they play professional basketball in South Korea.
According to his agent, Marvin Espiritu of Espiritu-Manotoc Basketball Managemen, Gomez de Liaño's contract includes a FIBA call-up clause that would allow the former Fighting Maroon to suit up for the Philippine team if asked to do so, a practice that is encouraged in this Lithuanian basketball league.
The LKL was where current Charlotte Hornets star LaMelo Ball began his professional career before moving to the NBL and NBA.
Gomez de Liaño will learn under the tutelage of renowned tactician Rimas Kurtinaitis, a two-time LKL champion and three-time EuroCup winner as a head coach.
The 62-year-old mentor also played as a national team standout for the Soviet Union and Lithuania from 1985-1996.
While playing for Soviet Union, Kurtinaitis won a gold medal in EuroBasket in 1985, a silver in the 1986 FIBA World Championship, and another gold in the 1988 Olympics.
With the Wolves, Gomez de Liaño will get to play alongside Argentinian national team standout Marcos Delia, who was part of the Argentina squad who placed silver in the 2019 FIBA World Cup.
He will also be teammates with Ahmad Caver, who previously played US NCAA Division I basketball with Old Dominion.
Gomez de Liaño will be classified as a Filipino player in the LKL but will be counted as a normal rostered player in the team lineup and not an import. – Rappler.com