This is AI generated summarization, which may have errors. For context, always refer to the full article.
A report funded by Internews finds that 1,425 influencer accounts were paid to campaign for different candidates for the 2022 polls
MANILA, Philippines – A new study found that an estimated P600 million to P1.5 billion was spent on online political influencers who campaigned for presidential and vice presidential candidates for the 2022 Philippine national elections.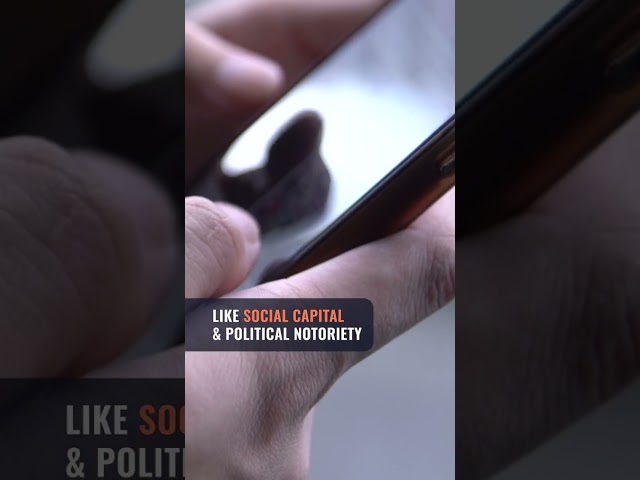 This was among the findings of an Internews-funded report entitled "Political Economy of Covert Influence Operations in the 2022 Philippine Elections," published on Monday, July 31.
The authors of the report are researchers Fatima Gaw, Jon Benedik Bunquin, Samuel I. Cabbuag, Jose Mari H. Lanuza, Noreen H. Sapalo, and Al-Habbyel Yusoph. Gaw and Bunquin previously worked on the Digital Public Pulse report on the online landscape ahead of the 2022 elections.
The study investigated covert political campaigning in the 2022 elections, specifically the involvement of social media influencers promoting these campaigns. It aimed to estimate the unaccounted political spending on these influencers and to look into the behaviors of and relationships between the actors involved.
Researchers used an interdisciplinary, multi-method approach in their study, combining qualitative field work, computational methods, and economic modeling to get a better picture of the economy of political influence operations.
How are these influencers paid?
Based on interviews with influencers, campaign managers, and political consultants, there is no standard rate for paid influencers, and that their compensation rates differ depending on social capital, political notoriety, and ability to promote their clients' agenda.
Political influencer contracts are also less standardized compared to commercial influencers. Some big-name influencers have long-term engagements and are often kept on a retainer basis, while smaller influencers start on output-based agreements and may later be hired for longer engagements. This also means that some influencers do not have an official written contract or non-disclosure agreement.
The P600 million estimate accounts for influencers both on pay-per-post and retainer contracts, while the P1.5 billion estimate exclusively assumes a pay-per-post scheme.
Due to the lack of standard rates for political influencers, the researchers used proprietary data on influencer rates from a public relations firm as proxy. The data contained historical cost information for over 300 influencers who previously engaged with commercial brands. By analyzing this dataset, the researchers then estimated rates and prices for political influencers based on their respective follower counts.
In terms of how much was spent on political influencers per platform, Facebook influencers were projected to top the list, with the total costs ranging from about P311.4 million to P939.4 million. They were followed by YouTube influencers, at around P213.5 million to P460.6 million, and then by TikTok influencers, at around P47.49 million to P94.3 million. Twitter influencers had the lowest amount spent at around P25.7 million to P42.2 million.
The researchers then assigned the estimated costs to the specific presidential candidates supported by the influencers, based on a manual and qualitative analysis of their social media posts. The study's data projected that incumbent President Ferdinand "Bongbong" Marcos Jr. spent the largest amount on covert political influencers, spending around P351 million across platforms.
Marcos was followed by former vice president Leni Robredo, who spent roughly P135 million, then by former Manila mayor Isko Moreno, who spent roughly P42 million. Former senator Manny Pacquiao spent approximately P1 million. Influencers who did not clearly support a specific presidential candidate or only supported a vice presidential candidate accounted for around P69 million.
However, the researchers noted that these estimates per candidate "are not to be taken in absolute terms," as they did not have the data to confirm the relationship between overt political support and commissioned influence work.
Where are these influencers operating?
The researchers found 1,425 influencer accounts involved in covert political campaigning from October 10, 2021 until election day on May 9, 2022. Influencer accounts were determined by number of followers as well as their affiliations, which meant that accounts explicitly linked to media organizations, government institutions or officials, and partisan communities were excluded.
Video-based platforms were among the most popular platforms for influencers, with 587 accounts operating on YouTube and 544 on TikTok. The study also found 207 influencer accounts on Facebook, and 87 on Twitter.
In terms of follower counts, YouTube influencers had a total of 171,112,160 followers, with an average of 293,000 followers per account. TikTok influencers had a total of 92,256,400 followers, with an average of 140,421 followers per account. These were followed by Facebook influencers, with a total of 42,541,172 followers and an average of 205,513 followers per account. Twitter influencers came in last, with a total of 3,097,525 followers and an average of 34,804 followers per account.
When it came to engaging with other users and exerting influence online, these influencers used different platforms for specific purposes. For instance, Facebook influencers frequently shared content from known disinformation actors, which allowed disinformation to reach several communities on the platform. Twitter influencers largely focused on prejudiced and/or misogynistic political interactions with other users.
YouTube influencers prioritized creating hyperpartisan content about trending topics that allowed them more recommendations on the platform, while TikTok influencers posted conspiratorial and manipulative content using trending hashtags.
The study also found seven types of covert influencers who participated in political online campaigning. This included "amateur" commentators and curators, hyperpartisan influencers, "stan" accounts, influencers focused on popular online trends, alternative news and entertainment media accounts, mainstream influencers, and polarizing influencers. (READ: Non-traditional actors overtake mainstream media in election discourse online – report)
Why does this matter?
Data on campaign spending, specifically statements of contribution and expenditures (SOCEs) filed with the Commission on Elections, do not provide the full picture of overall election-related spending. SOCEs only cover expenses during the official campaign period, and it is also difficult to determine how honest candidates are in their reports. (TRACKER: Candidates who spent the most in 2022, based on their SOCEs)
For instance, a Philippine Center for Investigative Journalism report from January 2022 found that by the end of 2021, Robredo had spent the most on Facebook advertisements on her official page. The same report found that Marcos, who was leading pre-election surveys by a landslide, had not recorded any ad spending on Facebook at the time.
But Marcos was reaping the benefits from an extensive disinformation machinery that's been around for years. Myths intended to burnish the Marcos family's reputation circulated online as early as 2011, and Marcos himself previously asked political data firm Cambridge Analytica to "rebrand" his family's social media image back in 2019.
In an interview with Rappler in 2022, Gaw previously said that former president Rodrigo Duterte had "institutionalized" disinformation at the state level, which eventually paved the way for Marcos' 2022 victory. The success of Duterte's 2016 presidential campaign was largely due to his social media campaign, and his false claims were often amplified on different online platforms. Pro-Duterte bloggers were even given government positions, and several celebrities and influencers were paid to promote pro-Duterte propaganda on their official Facebook pages.
"So in the Duterte campaign, of course there were donors, supporters paying for the disinformation actors and workers. Now it's actually us, the Filipino people, funding disinformation, because it's now part of the state. So I think that's the legacy of the Duterte administration and what Marcos has done, is actually to just leverage on that," Gaw said.
The full report is available online here. – Rappler.com