This is AI generated summarization, which may have errors. For context, always refer to the full article.
The growth of e-commerce is hinged on making Filipinos comfortable shopping online, says Lazada co-founder and CEO Inanc Balci
Lazada is perhaps the largest e-commerce company in the Philippines, selling everything from electronics and appliances to clothes and luggage.
Co-founder and Chief Executive Officer Inanc Balci joined the Rocket Internet-backed firm almost on a whim.
Coming from a background in investment banking doing mergers and acquisitions, Balci's focus sector was technology, media, and telecommunications – the perfect preparation for e-commerce.
"One night, I got this call from a friend that Rocket Internet: a German-based company is in need of a professional who might be interested in their Southeast Asian expansion, I gave it a really good thought and the next thing I remember is that I'm on my way to the Philippines as part of Lazada – and the rest is history," Balci said.
The growth of Lazada has hinged on how well the company can make Filipinos comfortable with buying products online.
To this end, Balci said that the Lazada team is always focused on making shopping as effortless as possible.
For instance, Balci said that Lazada offers nationwide cash-on-delivery payment to their customers because credit card penetration in the Philippines is still low.
Providing solutions
Yet such solution comes with its own challenges.
Sometimes the product arrives too soon, so the customer may not have money yet, Balci illustrated. Thus, Lazada returns to the customer's address up to 3 times, so that they have a better chance of the customer having their cash-on-delivery payment ready.
Lazada also offers other incentives to encourage Filipinos to try out their service as well as current customers to come back for more.
For one, they offer free nationwide delivery to any part of the Philippines for orders above P1,000 ($22.60).
They also have a no-questions-asked return policy.
"So this is practically effortless and risk-free shopping that we're offering to our customers," Balci said.
The company recently launched a mobile app, so that people can shop on their smartphones.
Developing the product that is Lazada requires a lot of hard work, of course, which is a staple of Rocket Internet-backed companies.
Because the bar is set very high, Balci said that the pace at Lazada is a sort of hyperdrive.
"I continuously work wherever I'm, running meetings, regional calls, and addressing the day-to-day challenges 24/7," Balci said. "It's always a packed day, especially when you're running a company like Lazada, but it's always rewarding."
Popularizing e-commerce in the Philippines 
Giving credit to his team and meeting customers who use have used Lazada, are the most rewarding part of the job, Balci said.
These customers enjoyed their Lazada shopping experience, and look forward to the company's future developments.
"We're here for and because of our customers, and as much as it is, we want to make sure that we continue to strive toward providing them enviable online shopping experience with Lazada," Balci shared.
Balci does not necessarily consider other e-commerce players in the country as competitors.
Given that e-commerce in the Philippines is still in its infancy, Balci believes that other companies in the space get Filipinos used to the idea of buying things online.
"E-commerce is still in its early days in the Philippines," Balci said. "We believe that more players will accelerate market growth and therefore provide benefit for everyone."
Online shopping habits
One of the curious things about Filipinos who shop online is, they buy items not traditionally bought online, and Lazada's main success drivers is technology products.. "A lot of shoppers are buying fashion items online as well and it is increasing very aggressively," Balci said.
Filipinos also tend to shop most avidly during the gaps of their day. "Most online shoppers would usually purchase during their lunch breaks, then at their afternoon breaks, and then when they are on their way home," Balci said.
And though e-commerce is still very young in the Philippines, the platforms that Filipinos use to shop online is already changing.
"Since we have launched our app, we have noticed that more and more people are purchasing through their mobile phones more than purchasing through desktop and laptops, everything is highly mobile now," Balci shared.
No matter the shopping habits of Filipinos, Balci wants Lazada to be the online e-commerce destination for them, predicated on the promise of effortless and risk-free shopping. With many up-and-coming players in the market, he understands the enormity of the task ahead of him.
"At this point, I would say that there have been great things that have been done in the past years that we have entered the market, but we also realize that there are greater things that need to be done in order to achieve our vision for the company," he said. – Rappler.com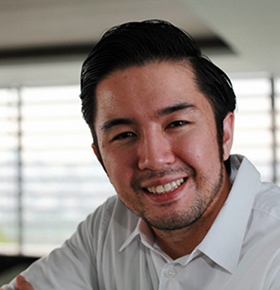 Rappler Business columnist Ezra Ferraz is also the chief content officer at ZipMatch, a tech company backed by Ideaspace Foundation, Hatchd Digital, IMJ Investment Partners, and 500 Startups. He brings you Philippine business leaders, their insights, and their secrets via Executive Edge. Connect with him on Twitter: @EzraFerraz






Shopping cart on laptop image via Shutterstock