From Heart Evangelista to Maricar Reyes-Poon, these Filipina stars get candid about the pressures of motherhood
MANILA, Philippines – By now, people should understand that getting pregnant and having kids is not the pinnacle and purpose of a woman's life.
And yet there are still an alarming number of people who prod women – sometimes those they don't even know well – to get on the motherhood train.
Even celebrities are not exempt from the pressure to have kids, and a number of famous women who are childless by choice or circumstance still have to respond to randos asking triggering and invasive questions on social media.
Here's how some Filipina stars have responded to the pressure:
Maxene Magalona
In an Instagram post on Wednesday, September 28, actress Maxene Magalona, 35, wrote a post responding to the question of why she doesn't have a baby yet, which she said she gets asked often.
She pointed out that the question itself can be triggering for others, not to mention "awkward, invasive, and can be a bit rude."
"Some women (and men) biologically can't have children and some don't even want to have them in the first place. So I encourage those of you who are used to asking this question to try to break the cycle and stop it, if you can. We should all be asking each other, 'How are you?' instead of these personal questions," she said.
Maxene, who married model Robby Mananquil in 2018, said that she is "100% okay" with her life situation and that she has accepted her own "unique journey."
She also encouraged her followers to evaluate themselves and ask if having kids is truly their choice or just something they're pressured into because of society.
Heart Evangelista
Actress and fashion influencer Heart Evangelista, 37, has spoken up many times about her struggles with becoming a mother. The actress, married to Senator Chiz Escudero since 2015, previously suffered miscarriages in 2018 and has been criticized by people on social media for her childlessness.
At the time, she fired back, saying, "Stop telling me to get pregnant unless you really want to hurt me. Nobody knows the real struggle." She also said that her life is good and her loved ones are okay and that getting pregnant would just be a "bonus."
Heart, who is facing rumors of a split with Chiz, recently shared that she underwent in vitro fertilization (IVF), saying that the journey made her reflect on her own struggles with motherhood.
"Am I ready for a child? I actually have a baby boy and a baby girl waiting for me, but I'm really at this stage in my life where (I ask myself), 'Do I want a child because I want a child?' or 'Do I want a child because the environment or culture dictates that I should have a child?'" she said.
Ultimately, she said the process has changed and liberated her: "It's liberating to decide according to what I want and not what other people want. That has changed me dramatically."
Megan Young
Beauty queen and actress Megan Young, 32, shared her take on having kids in an episode of her podcast with husband Mikael Daez, whom she married in 2020.
For Megan, having kids is not imperative, and she and Mikael are not in a rush to do so. She said that earlier in their marriage, having kids was a given and simply a question of "when," but when the pandemic happened, she questioned if having kids was something she really wanted.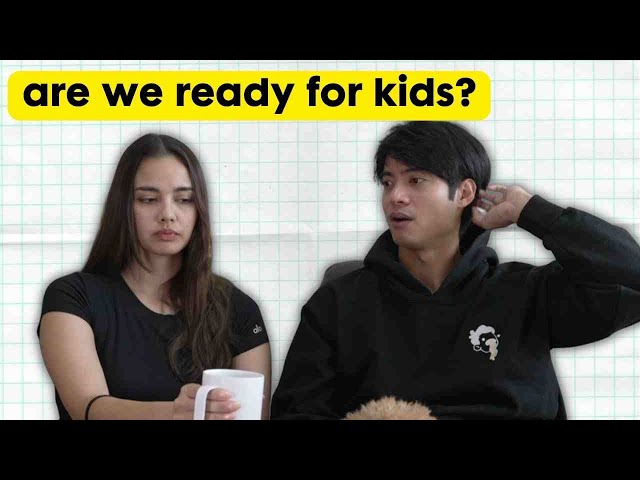 She said that she's really enjoying her current life with Mikael, and she isn't sure if she is ready for that to change with the responsibility of bringing up a child. She added that she's worried about pregnancy complications and the changes her body will go through if she gets pregnant.
Ultimately, Megan said that she and Mikael are going with the flow, and they'd be okay whether or not they have kids. "If it happens that I do get pregnant, I'll be happy. I'll let life take me where it should," she said.
Kim Jones
Kim Jones, 35, has made quite the name for herself as a fashion influencer, but even in the face of her success, she's been hounded with persistent questions about having kids with her husband, actor Jericho Rosales, who she married in 2014.
The couple has been candid about prioritizing their careers and not being in a rush to start a family, with Jericho defending his wife to social media bashers who chastise her for not being a mom.
In a Preview cover story in 2018, Kim spoke at length about the issue, saying she knows people who can't have kids and those who simply choose not to. Either way, she said, "Let us be."
"Let us figure it out on our own, and let us make the decision when the time is right."
Nadine Lustre
Actress Nadine Lustre, 28, is known for challenging traditional takes on relationships, and she is no different when it comes to the topic of having kids.
In 2021, the internet's president shared her views on motherhood in a conversation with celebrity doctor Aivee Teo. In their chat, Nadine said that she currently doesn't want kids "just because there are so many people na (already) on Earth."
She said that if she does get pregnant, she would just go with it, but it is not something she is pursuing. She also said that if she ever wants a kid, she'd rather adopt.
"I do believe there are a lot of kids that don't have parents and who need taking care of," she said.
Maricar Reyes-Poon
Maricar Reyes-Poon, 41, recently spoke up about her struggles to get pregnant and how she has shifted her attitude toward motherhood.
The actress, who has been married to Richard Poon for nine years, said in a vlog that they did try to have kids two years into their marriage but did not conceive. She shared that they even had themselves checked, only to find out that nothing was wrong with either of them.
"Feeling ko (I feel) we did our due diligence naman on our side [as] humanly possible. Pero wala eh (But still, nothing), so what are you gonna do?" she said.
She said that she doesn't feel any envy toward mothers, and that ultimately, she is at peace with not having kids.
"It doesn't make me feel like I'm less of a person or I'm less of a female. Kung wala, wala. Ginawa mo na 'yung part mo eh (if there's nothing, there's nothing. You already did your part), and I rest on that," she said. – Rappler.com