Filipino Moomoos got three full hours of awesomeness from Solar, Moonbyul, Wheein, and Hwasa!
MANILA, Philippines – When I first saw K-pop girl group Mamamoo's The Killing Voice performance on Youtube last year, I was done for. Solar's mindblowing runs; Moonbyul's snark and swagger; Wheein's sweet demeanor, and (my eventual bias) Hwasa's sultriness pulled me right into full-on fandom – something my 37-year-old, rock snob butt never thought would happen. I'd since obsessed over their history and discography, including their solo work, and considered myself a nascent Moomoo.
So when I learned that they were performing in Manila on February 12, I had to be there. Friends and co-workers of varying fandoms have raved about how amazing the whole K-pop concert experience is, and I was stoked that it was finally my turn.
Here are five of my takeaways from the Manila stop of Mamamoo's MYCON World Tour at the Araneta Coliseum: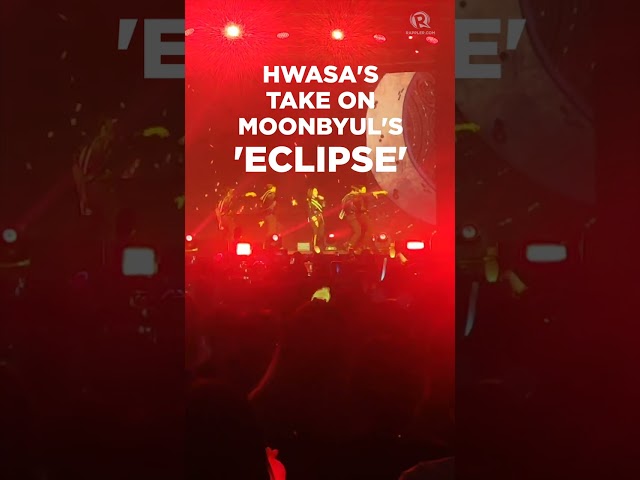 Filipino Moomoos
Since I got into Mamamoo quite late – the girls are third generation idols, debuting all the way back in 2014 – I initially felt out of place as a baby K-pop stan, since there were so many new acts that seemed to make a lot more noise at present. Initially, I thought, were there no other Moomoos out there? I liked acts like Stray Kids and New Jeans, but who could I be an unabashed radish to?
Seeing the droves upon droves of people milling around Araneta City in lime green and white outfits, sporting crocheted radish bucket hats, wielding those adorably bulbous radish Moobongs, and singing along to the Mamamoo songs piping in from mall speakers made me realize, very happily, that I was far from alone.
The pre-concert buzz
Entering the fully-packed Coliseum and watching everyone cheer and sing along to Mamamoo's songs while waiting for the show to start actually got me teary-eyed. To actually experience pre-concert hype first-hand is on a completely different plane. Everyone was loudly, fervently singing along to the songs I'd play on loop at home – "Egotistic," "ILLELA," "Aya," "Décalcomanie," "HIP," "Yes I Am," "Gogobebe," etc. It felt like my world had opened up in a whole new way.
Mamamoo in the flesh
Obviously, seeing Solar, Moonbyul, Wheein, and Hwasa step onstage blew my mind. But what was even more remarkable to me was how true they were to their online personas. Besides having really distinct personalities, together, they did seem like the barkada of dorky, kalog women I imagined them to be. They were not like those cookie-cutter pop stars who talked, sounded, and even looked alike. They seemed so comfortable in their own skin.
At the same time, they were perfect performers. Mamamoo is known for their vocals, and these women truly are singers. Solar belted her long and strong notes like nobody's business; Wheein's pop tone was crystal clear; Hwasa's syrupy vocals were flat-out seductive; Moonbyul's deep timbre fit both her rapping and her singing. (I'd hazard a guess, based on how much people screamed for her then, that Moonbyul is the biggest bias for most Filipino Moomoos, and I totally see the appeal. She killed every rap break that night.)
That stage
There was one set of performances for the MYCON World Tour that had gotten a lot of hype over the past months – the solo stage. But instead of simply singing their respective solo hits, they switched it up, with the members singing and performing each other's tunes. I couldn't wait to see this stage, because I love most of Mamamoo's solo work.
They really delivered. Moonbyul singing and dancing to Hwasa's flirty "Twit" was impressive given how different their solo sounds are; likewise, Hwasa's take on Moonbyul's "Eclipse" still had that epic, hard rock flavor. (Full disclosure: Wheein is my least favorite as a soloist since she's taken on more of that cutesy/romantic pop sound that really isn't my style, but I knew she would pull off Solar's "Honey" amazingly.)
My favorite of the whole stage, though, was when the whole group did Moonbyul's "Lunatic," arguably my favorite solo release from any of the members so far. Catchiest song ever.
Gratitude
Finally, the way Mamamoo reacted to the Filipino Moomoos' outpouring of support really stood out to me, with two moments coming to mind the most. The first was when the girls seemed genuinely bowled over (and, honestly, maybe a bit scared) about how loud the crowd was – especially when people started stomping their feet to accompany their screams. It felt like the Coliseum was going to cave in, and the girls just stared out into the crowd, amazed.

The second moment happened after a special video package by Filipino Moomoos was shown to the girls. They were all visibly touched by the messages, but Moonbyul looked particularly emotional and was soon crying into a towel. As someone who's used to watching bands and acts that adopt a maangas, cooler-than-thou vibe during performances, it was both refreshing and heartrending to see an artist tearing up that way.
Manila was the last stop on the Asian leg of the MYCON World Tour – plus the girls literally arrived in the country just a few hours before soundcheck – so I could only imagine how exhausted they must have been, and how grateful they probably were to see that their efforts for their Filipino fans were more than worth it.
It was a jam-packed three hours that would have made any Moomoo thrilled, and it has further solidified why these four women are true artists to me. I came into the venue a baby Moomoo, and can confidently say that I came out of it a full-grown radish – in a Teletubby costume, with a curled up moustache on my pointer finger. – Rappler.com