This is AI generated summarization, which may have errors. For context, always refer to the full article.
Discussing production issues, fan favorites, and even a 'transphobic' answer, social media users made this year's Miss Universe Philippines the top trend on PH Twitter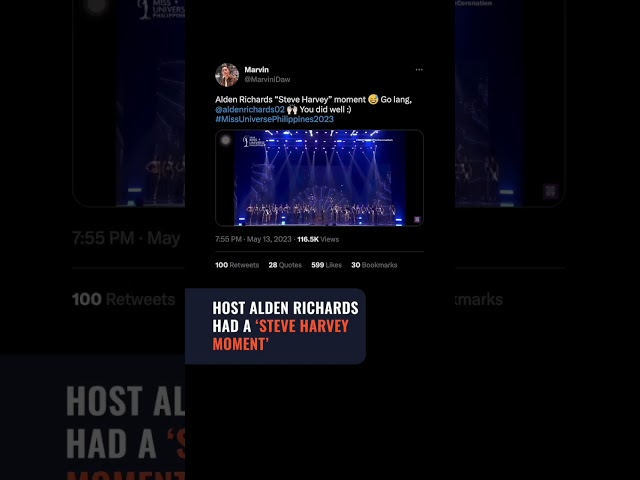 MANILA, Philippines – As new queens reigned supreme at the Miss Universe Philippines (MUPH) 2023 coronation night on Saturday, May 13, social media users had a lot to say about the event, filled as it was with many twists.
During and after coronation night, #MissUniversePhilippines2023 and MUPH topped Twitter Philippine trends. Keywords on the event continued to dominate the trending topics as of Sunday morning, May 14.
Many Filipinos online were disappointed by the results, saying the Miss Universe Philippines organization was "stuck and lost."
Some even questioned the competence of MUPH national director Shamcey Supsup and creative director Jonas Gaffud.
Production blunders
The MUPH coronation night was met with a lot of production issues, which were spotted and criticized by eagle-eyed viewers. One user even said that the organization "peaked" with its first pageant held in 2020.
Twitter user @diwatangatin questioned why MUPH did not get local artists as performers for the event, saying they should be "celebrating Filipino beauty, culture, and talent."
Others also asked why it took so long for pageant fans to see Miss Universe Philippines 2022 Celeste Cortesi, saying she was "disrespected."
Some fans also thanked Celeste for her reign as Miss Universe Philippines, with one user saying that she had "one of the saddest final walks…seen in the Philippine pageant scene."
"To be lost in the memories of the past or to be caught up overthinking about the future is being absent of the only thing really existing, which is right now," Celeste said in her message.
Meanwhile, users said that host Alden Richards had a "Steve Harvey moment" when he mixed up the winners of the Miss Friendship and Face of Social Media special awards.
Richards was praised for handling the mistake "with class" and recovering quickly.
However, the biggest twist of the night, shocking fans, was the tabulation error that forced the cancellation of the top 10, with the top 18 candidates advancing instead to the evening gown competition for a spot in the top 5.
Fans called for an explanation from MUPH organizers during coronation night. Supsup spoke about this year's competition later in the evening, but did not offer an explanation on the blunder.
"I hope they release a statement after just to clear things up so that whoever wins can enjoy her reign without question," said Miss Universe Philippines 2021 delegate Ayn Bernos.
Fan favorites
After the announcement of the supposed top 10, MUPH 2023 second runner-up Angelique Manto from Pampanga shot up as a trending topic due to her being left out of the lineup.
Pampanga's Angelique Manto is one of the top Twitter Philippine trends after she falls short of making it to the top 10 of #MissUniversePhilippines2023. #MUPH2023TheCoronation 📷: ABS-CBN Entertainment #MUPH2023 UPDATES: https://t.co/OajcZEVzLK pic.twitter.com/Vv8he7qBKY

— Rappler (@rapplerdotcom) May 13, 2023
Many were infuriated by the top 10 decision, questioning why she was left out despite her performance in the preliminary rounds. She also was among the top five delegates in all the online contests.
Once Angelique was given another chance to shine in the evening gown competition, social media users said she was "a rising star" who deserved her place in the top 5.
Another candidate who won fans' hearts was Bohol's Pauline Amelinckx, who was praised for her fortitude, as this was her third attempt at the MUPH title.
Fans who were at the Mall of Asia Arena chanted Pauline's name after the MUPH coronation night. She would later be crowned as Miss Supranational Philippines 2023.
'Transphobic' answer
Top five finalist Krishnah Marie Gravidez from Baguio received flak from Filipinos online for her answer during the first Q&A portion of the pageant. Krishnah said that transgender women should not be allowed in women's sports events due to "biological reasons."
One user pointed out that the answer was "very wrong" given that the owner of Miss Universe, Anne Jakrajutatip, is a trans woman.
Meanwhile, Twitter user @ul4ne questioned why transgender rights were being debated in the first place.
Krishnah would later be crowned Miss Charm Philippines 2023.
Humor despite chaos
Despite the chaotic coronation night, Filipinos online also turned to humor to cope with the developments during the evening.
Many said that actress Belle Mariano should have been crowned Miss Universe Philippines for her statement to "learn and excel in what [she] does." Mariano was among the personalities featured in the commercials that were repeatedly shown during the show's breaks.
Why the hate?
As Filipinos online discussed Michelle Dee's crowning as Miss Universe Philippines 2023, some social media users said that the candidate had nailed the Q&A round and didn't deserve the hate she was getting following her win.
Others said that their frustration over the results should lie with the organizers of the event.
Meanwhile, Twitter user @AltheyuhMoves was touched by Pauline and Michelle's "sportsmanship and sisterhood," saying pageants fans should let women uplift and celebrate each other.
– with reports from Ysa Abad/Rappler.com