This is AI generated summarization, which may have errors. For context, always refer to the full article.
The town of San Enrique has shown that a community that understands and appreciates how nature benefits them will act for a cause worth fighting for
NEGROS OCCIDENTAL, Philippines – Mangroves line the coastline of Negros Island, famed for its sugar lands and vivid history. From afar, they look like green clumps floating on brackish water. From December and up to the hot summer months, migratory birds pass by the greens and blues of the coast.
An hour away from the province's capital is San Enrique, one of the coastal municipalities in the province. The town is home to some 24,000 residents.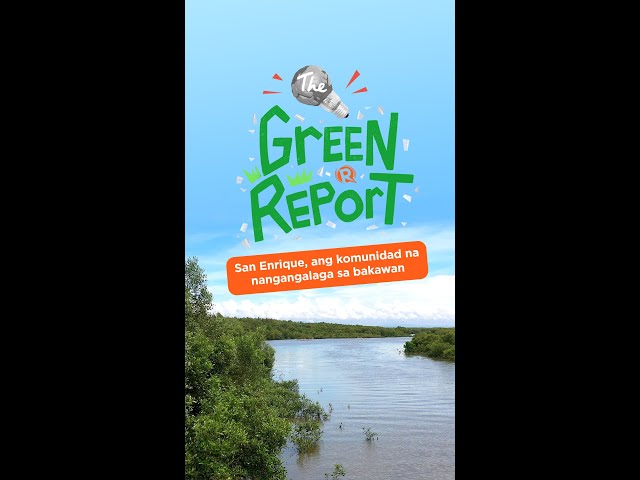 It is also part of the Negros Occidental Coastal Wetlands Conservation Area (NOCWCA), which spans roughly 110 kilometers and 52 coastal districts. Endangered species such as the Irrawaddy dolphin and the Hawksbill turtle are found in this conservation area.
A basketball court in the town beside the main road leads to a mangrove planting site. A thin strip of cement raised above the water serves as the boardwalk and goes through the cluster of bungalon trees – one of the three mangrove species in San Enrique. Their roots are upturned, as if catching their breath from the air above.
There are a few bakhaw trees – another mangrove species – distinguishable because of their roots that seem tightly knit together. The air is cool but unmoving, and the birds have not yet come because of the rainy season. Shafts of light shoot through the broken roof of a bird hide located at the end of the boardwalk, casting bright spots on the water and the thin trunks of the trees. It had stayed dilapidated since Typhoon Odette (Rai) hit the municipality in 2021.
These mangroves were planted in the 1990s, when San Enrique partnered with the Department of Environment and Natural Resources (DENR) to start its mangrove rehabilitation program.
The municipality has since carried on with the planting, San Enrique Mayor Jilson Tubillara told Rappler, setting aside a budget for the program every year.
From women to fisherfolk, from kagawads (councilors) to the mayor, everyone in the small town of San Enrique has had experience in mangrove rehabilitation. Through the years, the coastal life that residents share deepened their appreciation of the mangroves' impact on their livelihood and safety.
"They realize that putting up a good mangrove [site] is helping them in their daily life, especially in their daily catch," said Tubillara.
Coastal life
As a kid, Raffy Matinon accompanied his father whenever he went to the sea to go fishing. He and his siblings had known hard work at a young age.
When he got older, Matinon tried his luck overseas. He worked odd jobs to cover the costs of the renovation of their house back in San Enrique. Now that he's home, he has become one of the Bantay Dagat (Sea Patrol) patrolling their coasts to monitor illegal fishing and mangrove protection.
Gusto ko rin pong makatulong sa environment namin dito kasi nakakatulong din kasi, malaking tulong talaga sa amin.

RAFFY MATINON, FISHERMAN
(I want to help the environment because it's also a big help to us.)
"Kaya pumasok din ako…sa Bantay Dagat. Para makatulong din sa [municipality] namin," he added. (That's why I joined the Bantay Dagat. I also wanted to help our municipality.)
Fisherfolk like Matinon say mangroves have given them bigger catch. Mangrove forests are ecosystems that provide habitat to various marine species, making them bounty sources for any fisherman looking for something to fish and eat.
Not only are they a source of food, but mangroves also provide a shielded area for their boats during typhoons, said Matinon. Mangroves are considered the first line of defense when typhoons come, as they prevent flooding and slow down storm surges.
These benefits are definitely not lost on the residents. Matinon said that growing up poor can make a person better at seeing the positive side of things. This is how he sees his town's mangrove rehabilitation program, too.
"Minsan, sasabihin ng iba, 'Hindi tutubo 'yan.' Pero kami, sinasabi namin, 'Tutubo 'yan. Tingnan 'nyo. Makikita 'nyo. Lalaki 'yan.'" (Some people would say, "That won't grow." But we keep on saying, "That will grow. You will see. It will grow.")
Even if life is hard, this did not deter San Enrique residents from protecting and rehabilitating the mangrove ecosystems. As kids, they were already taught to plant mangroves when their schools would partner up with the local government to organize planting sessions along the coast.
This is a practice they still carry until today, now that they have gotten older, said Matinon. Seeing the mangroves thrive has been gratifying, especially since those efforts are not only for the environment but also for themselves.
Second nature
The NOCWCA was declared a Ramsar site in 2016. Being declared a Ramsar site puts one on the map and draws international recognition.
But the name doesn't matter, the mayor said. It's the work they put in that is at the core of the many awards and recognitions they receive.
"For us, a Ramsar site is a daily routine work," said Tubillara. "So, it doesn't burden us. What we are doing every day is our regular work. It is only an additional recognition rather than [having to actually] work harder for that."
The local government is proactive not only in organizing activities related to mangrove rehabilitation. San Enrique has passed policies establishing a local coastal management action plan and institutionalizing the conservation of coastal wetlands in the municipality.
But this work not only includes public officials, fisherfolk, and Bantay Dagat. Even women and children partake in the community's efforts to uplift their livelihood and protect their mangroves.
For instance, members of the Tibsoc Women Home-Based Association – a women's organization in Barangay Tibsoc, San Enrique – make dried gusaw (mullet) and salt and sell talaba (oyster) for a living.
The organization widened the opportunities for women in Tibsoc to get more involved in the local government's initiatives, said Rosa Aura Jereza, president of the organization. The women's role is no longer confined to the usual domestic affairs.
"Women today don't necessarily rely on their husbands," Jereza said in Filipino. "They are oriented to make a livelihood themselves to help and add extra income for their families."
The association now has over 100 members. Jereza said the right amount of encouragement and motivation help in enjoining women to join their association.
Besides giving more choices to women, the organization also mobilizes its members when the local government calls for volunteers for mangrove planting sessions. Jereza said the members are always more than happy to oblige.
Long way to go
It takes a village to save forests.
On that quiet Sunday, two girls are cutting up the day's catch of gusaw. Some residents are singing praise songs in a small chapel, while some are cheering on a different Christ in a cockpit. Families are sharing a meal at an eatery overlooking a pond and Mt. Kanlaon in a distance. In this town, families consider mangrove plantings as bonding sessions.
Life in San Enrique remains calm. What they are doing with their mangroves has become a role model for other local government units to replicate. For Tubillara, they have come a long way from the 1990s, when the DENR visited their municipality.
"Before, we were the [ones] being lectured," said Tubillara. "Now we [have] become lecturers of other towns and cities."
This is Tubillara's sixth term as mayor. It is his hope that the mangrove work would continue after his long stint in public service.
As typhoons are expected to intensify annually due to the climate crisis, the rest of the country needs to follow suit.
Already, there are ongoing mangrove rehabilitation and conservation programs that hold much promise. Environmental defenders are striving to save hectares of mangrove forests in Bicol, Palawan, and Aklan, among others. In Bataan and Surigao del Norte, the DENR recently signed an agreement with different partners to implement mangrove rehabilitation programs.
Last October 19, 2022, Negros Occidental Governor Eugenio Jose Lacson signed Executive Order No. 22-50, establishing a network of conservation areas and local greenbelt zones in the province. Several lawmakers in Congress are currently pushing bills that declare a similar network but on a nationwide scale.
Mangrove swamps do not only benefit those living in coastal communities, they are also advantageous to the general public as they serve as a nature-based solution to the climate crisis.
"Another aspect of mangrove ecosystems that makes them important aside from being buffer zones for coastal communities and productive ecosystems for different animals is also their capacity to store massive amounts of carbon that is in the atmosphere," said Myron Baring, co-founder of Mangrove Matters PH, a group of young Filipino mangrove advocates.
Wetlands help in capturing and storing carbon emissions. Destroying them would release emissions into the environment, contributing more to the crisis.
There are other persisting challenges to mangrove conservation that are usually tied to development. Environmental groups, advocates, and concerned locals consistently come together to raise the alarm over the illegal cutting of mangroves, the destruction of marine ecosystems, and their social costs.
But the town of San Enrique has shown that a community that understands and appreciates how nature benefits them will act for a cause worth fighting for.
Among the mangrove trees, one can hear the wind murmur. The exposed roots of the trees stand firmly as if in testament to life. It is a sanctuary for the birds, the fish, and whoever wishes to visit.
The local government said they already have the funds to extend the boardwalk further into the natural growth mangroves.
The site holds promise – quiet and enduring through the years – of better things to come. – Rappler.com