Celeste Lapida and Kaj Palanca ruminate on the utopia of queerness and why LGBTQ+ filmmakers should be the first ones to build it
It was Antoine de Saint-Exupéry that said: "All grown-ups were once children, but only a few of them remember it." For most people, that is simply par for the course of life. Unquestioned lives, filled as they are with bad decisions and worse indecisions. For others, that course forks deep into the woods. Inside is a life in which, on the onset, your very existence is questioned, pried into, and more often than not, invalidated. And so, forgetting becomes the only choice.
In Celeste Lapida and Kaj Palanca's short film, Contestant #4, an old man (Joel Saracho) revisits a past he is trying to forget. He smiles as he watches a clip of him cross-dressing for a high school event – an artifact of said past. Hunkered in the dark, he relishes the victory of being in a state of doubtless elation, of freely being, of being, period.
'Contestant #4' is a queer coming-of-age story. But perhaps more importantly, it is a coming-of-age story of queerness.
From the shadows come the hard questions. "Huy, ikaw yun?" (Hey, was that you in the clip?) The old man scrambles for answers. He fumbles his words, unsure of what to say. Worse, the questions come from someone seemingly close to him, a young boy (Elijah Canlas) with whom he had struck an unusual friendship and whose freer spirit would help him get out of the proverbial woods.
So begins the story of Contestant #4, a rich, ruminative piece about coming to terms with one's identity, even if that comes much later in life.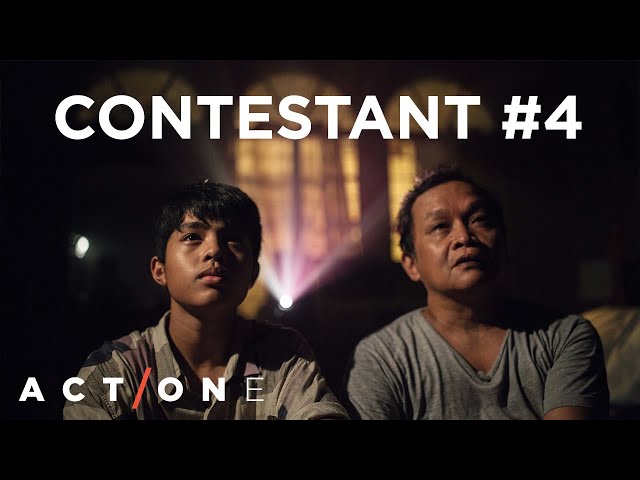 Meeting kindred spirits
Celeste, Kaj, and I agreed to chat virtually, given our circumstances. Had fate permitted, I would have preferred to meet them in person rather than in pixels. Our whole conversation felt easy and light. It felt like chatting with film buddies over coffee.
Kaj carried with him a captive charm; he would always end his sentences with a chortle that widened to a shy smile. He seemed assured about everything other than his hair, which he saw to fix every few minutes or so. Congruently, Celeste presented herself with a unique kind of radiance. As she volleyed with my questions, I noted her openness with how she shared anecdotes, seemingly unconcerned with sounding smart, which I found comforting.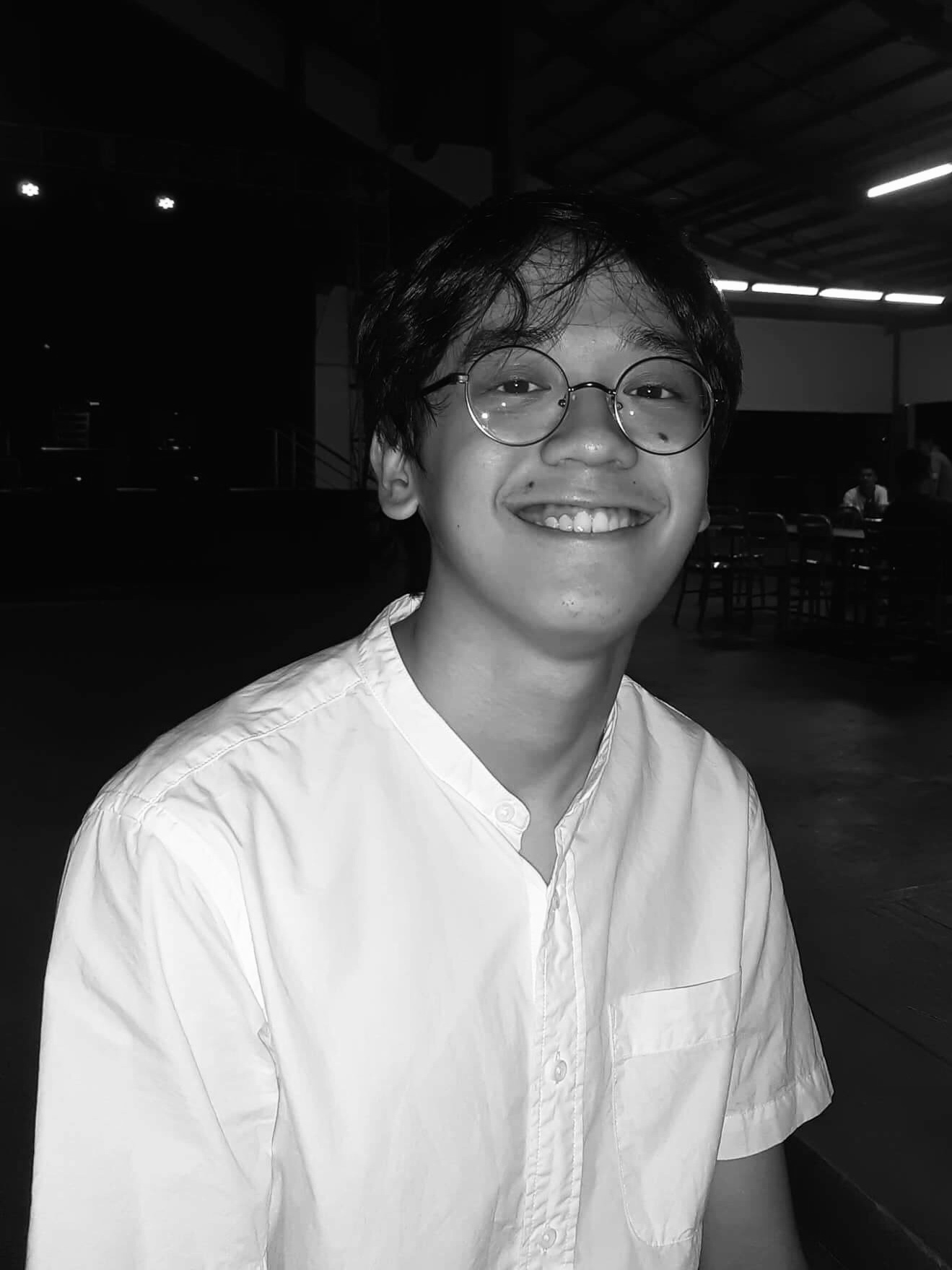 "Celeste had this great, interesting concept of an old man watching a dated clip of himself as a cross-dressing boy," Kaj recalled. It was a very specific image, one that sprouted into this broader, decidedly less defined story about a relationship between an old man and a young boy.
That vagueness is essential. In one scene, the old man massages the young boy's back deftly as though sensitive to the same soreness of the body, the same tiredness of the soul. Are they lovers? Friends? Are they kindred spirits, keeping company in shared misery? Or are they one and the same?
It could be that the young boy represents the freedom that the old man didn't have in his younger years. The film neither favors nor disproves any of these possibilities because each is real, true, and valid.
"Kahit kami, 'di sure e (Even we weren't sure)," Kaj admitted, jovial but assertive as he spoke to the ambiguity center to the film and why it was crucial given their limited worldview at the time. "Ayaw naman namin 'yung presumptuous na, 'ah, this is what the film is about,' (We didn't want to be so presumptuous as to go 'ah, this is what the film is about') We were sixteen. So, for us, the ambiguity was the point."
A coming-of-age story
The curious thing about coming of age is that it is not about age at all. It is about outgrowing one's self-imposed, destructive notions about what type of person you're ought to be. It's about awaking to your worth and dispelling everything that hinders you from living your truth. In the case of the old man, that awakening is prompted by a cautious nudge from someone a fraction of his age.
That is no coincidence. The old man and the young boy's kinship reflect the dichotomy of what it is like being queer today and what it is like obscuring that part of you in decades past. The freedom that younger LGBTQ+ people enjoy today is yielded on the burdened backs of an older generation that had been refused the space to flourish in their time.
Contestant #4 is a queer coming-of-age story. But perhaps more importantly, it is a coming-of-age story of queerness. It champions a community whose members take it upon themselves to advocate for change. As queer filmmakers and LGBTQ+ persons themselves, Celeste and Kaj have done right in cultivating queer ideals on relationships and identity, uncommonly depicted in media.
Celeste and Kaj consider Contestant #4 their dream project. They told me this with an earnestness that has yet to escape them, yet to be battered by time. "Actually, high school pa lang, dream na namin makapag-direct. Kasi… love namin 'yung isa't-isa," Kaj bashfully said. (Actually, directing films together has been our dream since high school. Because…we love each other.)
I gathered they were closer friends; best ones, they would point out. Realizing they had similar things to say, it made perfect sense to make films together. "We were both coming of age. We went out and went places together. So, it felt right to do this film together," Celeste shared.
Paving unique paths
The film served as a turning point for Celeste and Kaj. It was a point at which they began to have a deeper understanding of themselves as artists and individuals – their own coming-of-age story. They sought to enrich their perspectives as filmmakers and LGBTQ+ persons. Kaj took Sociology; Celeste stuck with Film.
Naturally, it forked their paths. Without, as Kaj was quick to note, ever drifting apart. "'Yung queer sensibilities namin nagkaiba, (Our queer sensibilities have evolved)," he added.
"Si Celeste, sobrang lalim na ng understanding niya of womanhood. I can't even begin to imagine 'yung journey niya from Contestant #4. Ako, especially with the short film I'm making now, I'm still interested in the problem of masculinity and male friendship." (Celeste's understanding of womanhood is so deep. I can't even begin to imagine her journey from Contestant #4. As for me, I'm still interested in the problem of masculinity and male friendship, especially with the short film I'm making now.)
A degree in Sociology deepens Kaj's insight on human connection, especially concerning men having relationships with other men. I thought him keenly interested in expounding on what he and Celeste started with Contestant #4, with upcoming projects such as Henry and past ones such as How to Die Young in Manila.
Finding oneself in found families
Celeste's coming of age didn't happen until college.
"Coming from an exclusive, all-boys high school, medyo mahirap talaga for my own coming of age (Coming from an exclusive, all-boys high school, it was difficult for my own coming of age)," she shared. "It kind of happened later in college with feminine queer people and women. I think that's also where I get my stories from now."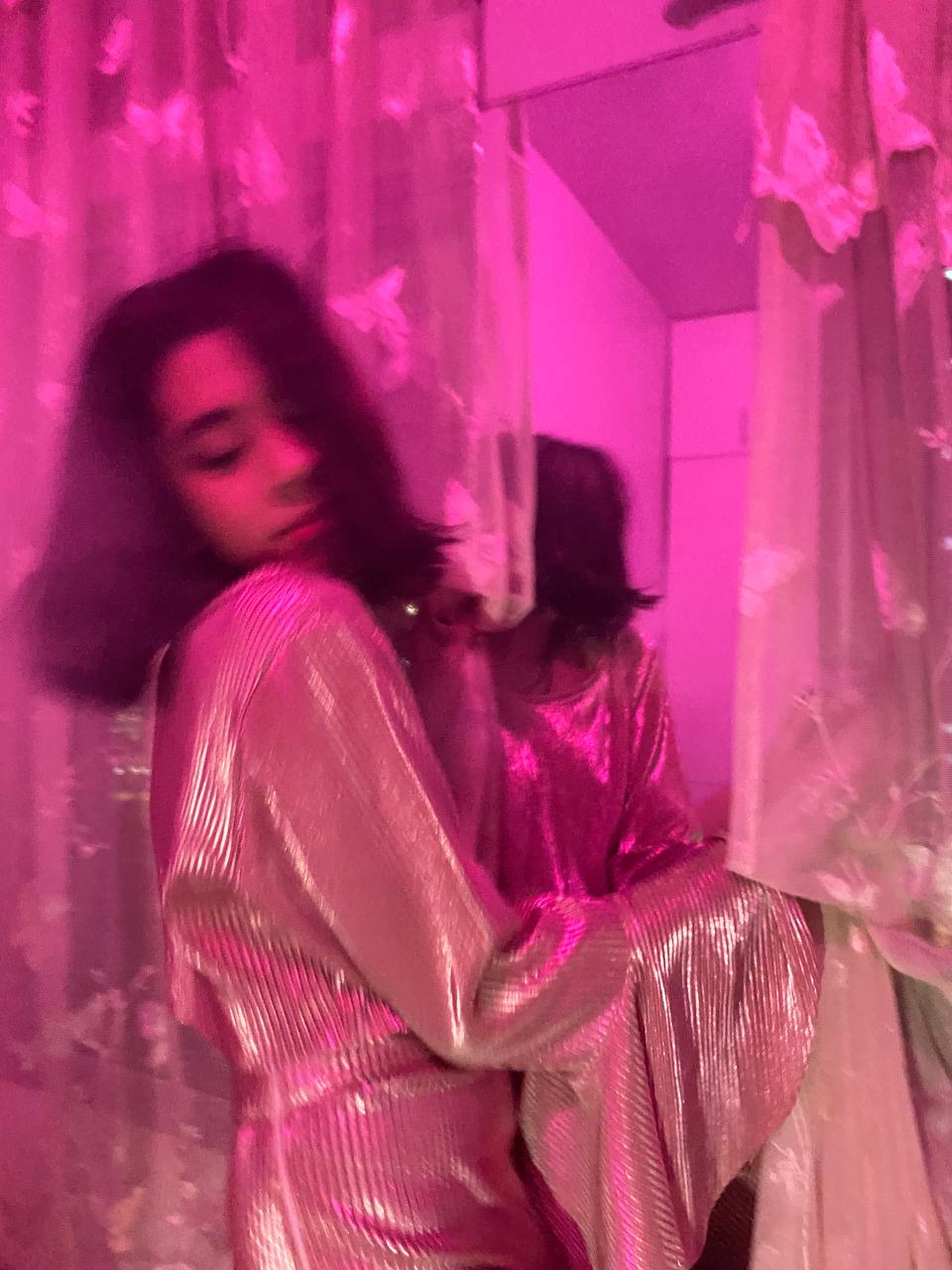 There, she met people who have helped her attune to her transhood and womanhood. She had eventually found a home in drag; Isola Tong, whom she briefly met at the premiere of Contestant #4, introduced her to the world of drag, where she met more queens and queers like Elijah and Gabriella Moi.
And there it was. The old man's nudge from her film was much the same one she got from her drag family in real life.
Found families play an important role in queer culture. Queer people who are unable to find love and support from their real families find respite in the bruised arms of other queer people. They provide some semblance of home, which rejects the need for needless questions, baseless prejudices, and ugly implications.
Queerness as utopia
It's fascinating to map out Celeste and Kaj's evolution as queer filmmakers. Though young and still positively wide-eyed, both seem prepared to move forward with complete abandon. To eschew the needless asking and declaring, in favor of being.
"I think it's high time that we move on from a binary understanding of things," Kaj said. "Kelangan 'yung queer cinema mag-surrender to this idea of multiplicity of identities, alam mo 'yun? Kelangan may abandon, eh." (Queer cinema has to surrender to the idea of a multiplicity of identities. There needs to be abandon.)
If it sounds idealistic, it's because it is. What is queerness, after all, but a utopia for us to build? Queer filmmakers should challenge norms and surrender antiquated conventions in depicting queerness in cinema. Paint a picture, as Celeste put it, of "a reality that we haven't seen yet." If seeing is believing, we have to see the changes for ourselves. "We can see it first in our movies."
"Sana i-seize 'yun ng filmmakers natin," Kaj said. "Sana may gano'ng sort of spirit na mabuo 'yung queer filmmaking community here in the Philippines. Yung parang alternative spirit talaga – I think that's important." (I hope our filmmakers seize that. I hope for our queer filmmaking community in the Philippines to create that alternative spirit – I think that's important.) – Rappler.com
Kaj and Celeste are now working on their next films. 'Taking My Time' to Dance is Celeste's love letter to the local queer community. While in the works for Kaj is 'Extra Festive,' a Christmas movie; and 'Henry,' his "confessional city" film. If you're interested in supporting their films, you can follow the instructions here.