Amnesty International secretary-general Agnes Callamard says national investigations into extrajudicial killings under the Duterte administration 'should not shy away from going as high as it must be into the chain of command and chain of responsibilities'
MANILA, Philippines – Former president Rodrigo Duterte should not be left out in local investigations into human rights violations during his administration, including the thousands of killings in his war on drugs, according to Amnesty International secretary-general Agnes Callamard.
Callamard said that there is "little, minimal, to no progress" in the Philippines, even if President Ferdinand Marcos Jr. and his government's rhetoric say otherwise. If he was genuine in his respect for human rights, the first step must be the conduct of genuine investigations into the killings that must not spare no one, she said.
"Those investigations should not shy away from going as high as it must be into the chain of command and the chain of responsibilities," she said in a Rappler Talk on Tuesday, March 28, adding that Duterte's incident and repeated calls for violence has been thoroughly documented.
"These must be the subject of proper investigations to determine whether President Duterte actually committed a crime under international law and if he did, he should be indicted," Callamard added.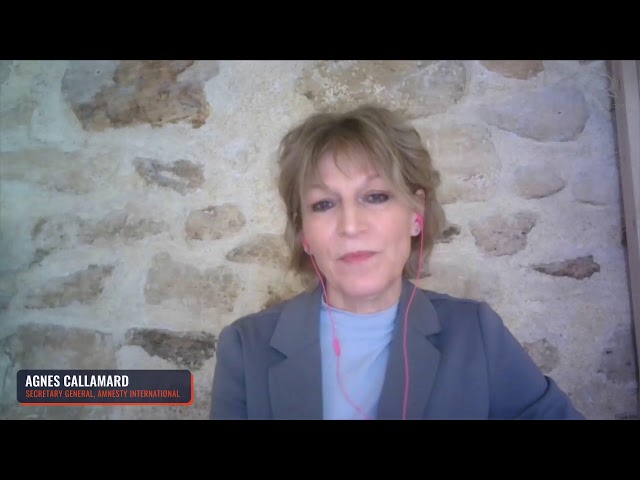 Duterte's drug war led to at least 6,252 killed in police operations alone by May 2022, a month before he left office, according to government data. This number does not include those killed vigilante-style, which, to human rights groups, bring the estimated number of victims killed to between 27,000 and 30,000.
There is no significant development on the families' quest for justice. Out of the thousands killed, only three have been convicted so far in relation to the drug war, including policemen involved in the killing of 17-year-old Kian delos Santos and the deaths of Carl Angelo Arnaiz and Reynaldo "Kulot" de Guzman.
"All of these must be thoroughly, effectively, and independently investigated and that so far has not happened," said Callamard, a former United Nations special rapporteur on extrajudicial killings.
"As long as we do not see effective steps taken, we cannot suggest that the administration is taking effective steps to protect human rights," she added.
Amnesty's recently-launched report on the global human rights situation pointed out that "unlawful killings under the 'war on drugs' continued and impunity for thousands of past killings remain entrenched" in the Philippines.
Dahas, a project of the University of the Philippines Diliman's Third World Studies Center, monitored at least 234 drug-related killings from June 30, 2022 to March 23.
"[The Marcos] administration should make a radical step away from what happened from the Duterte government," Callamard said.
ICC warrant vs Putin sends message to PH officials
The killings committed under Duterte's drug war is the subject of proceedings before the International Criminal Court (ICC). Its pre-trial chamber has authorized the resumption of Prosecutor Karim Khan's investigation, a move that the Philippine government has appealed.
In a decision dated March 27, the ICC appeals chamber junked the Philippine government's bid to suspend Khan's probe while appeal proceedings are ongoing. It also allowed victims' families to comment on the government's appeal, saying that it is "appropriate for victims to be involved" in the proceedings.
Callamard said that the chamber's decision to allow Khan to continue his investigation came as "no surprise" as it "clearly demonstrates the lack of progress on accountability" under both the Duterte and Marcos administrations.
"The pretense that criminal investigations were conducted under the Duterte administration, it has continued under the Marcos administration," she said. "It is a pretense; nothing is happening."
The chamber's rejection of the Philippine government's appeal came a week after the ICC issued a warrant of arrest against Russian President Vladimir Putin for war crimes, specifically on the alleged unlawful deportation of children and unlawful transfer of people from Ukraine to Russia.
While the actual implementation of the warrant is up in the air, Callamard said the issuance sends a "very strong signal to dictators and autocrats around the world that they cannot escape international justice."
The Marcos government, including staunch allies of Duterte, had opposed the ICC proceedings, anchored on the issue of "sovereignty." Several lawmakers have also proposed resolutions urging Congress to declare the "unequivocal defense" of the former president.
"I hope it is a message that Filipino heads of state and other high-level officials have heard because it means that nothing can really protect them if they are found to be guilty of having ordered, incited, and turned a blind eye to massive human rights violations," Callamard said.
"We want to believe that international justice will eventually catch up with those who committed the crime under international law in the Philippines," she added. – Rappler.com