(1st UPDATE) Dictator's son Ferdinand Marcos Jr. is ascendant in Metro Manila where he now enjoys a lead against Mayor Isko Moreno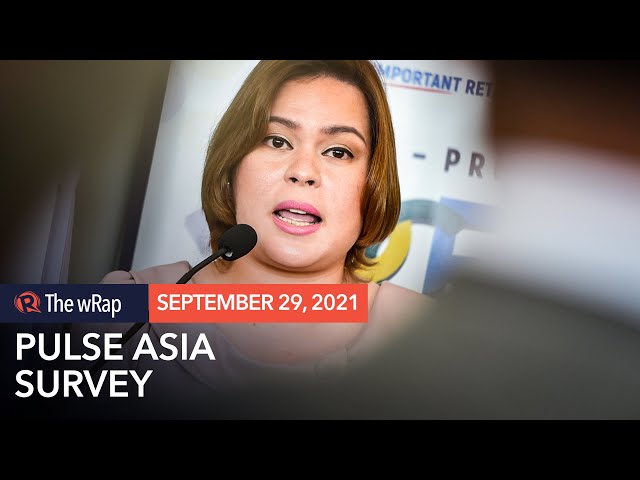 Davao City Mayor Sara Duterte continues to lead among possible 2022 presidential candidates but saw a significant drop in voter preference, according to a new Pulse Asia survey.
The poll, conducted from September 6 to 11, showed President Rodrigo Duterte's eldest daughter garnering a 20% preference rating, an 8 percentage-point drop from her 28% score in June.
This is statistically significant as Pulse Asia pegs its error margin for national percentages at ± 2% and reported a 95% confidence level.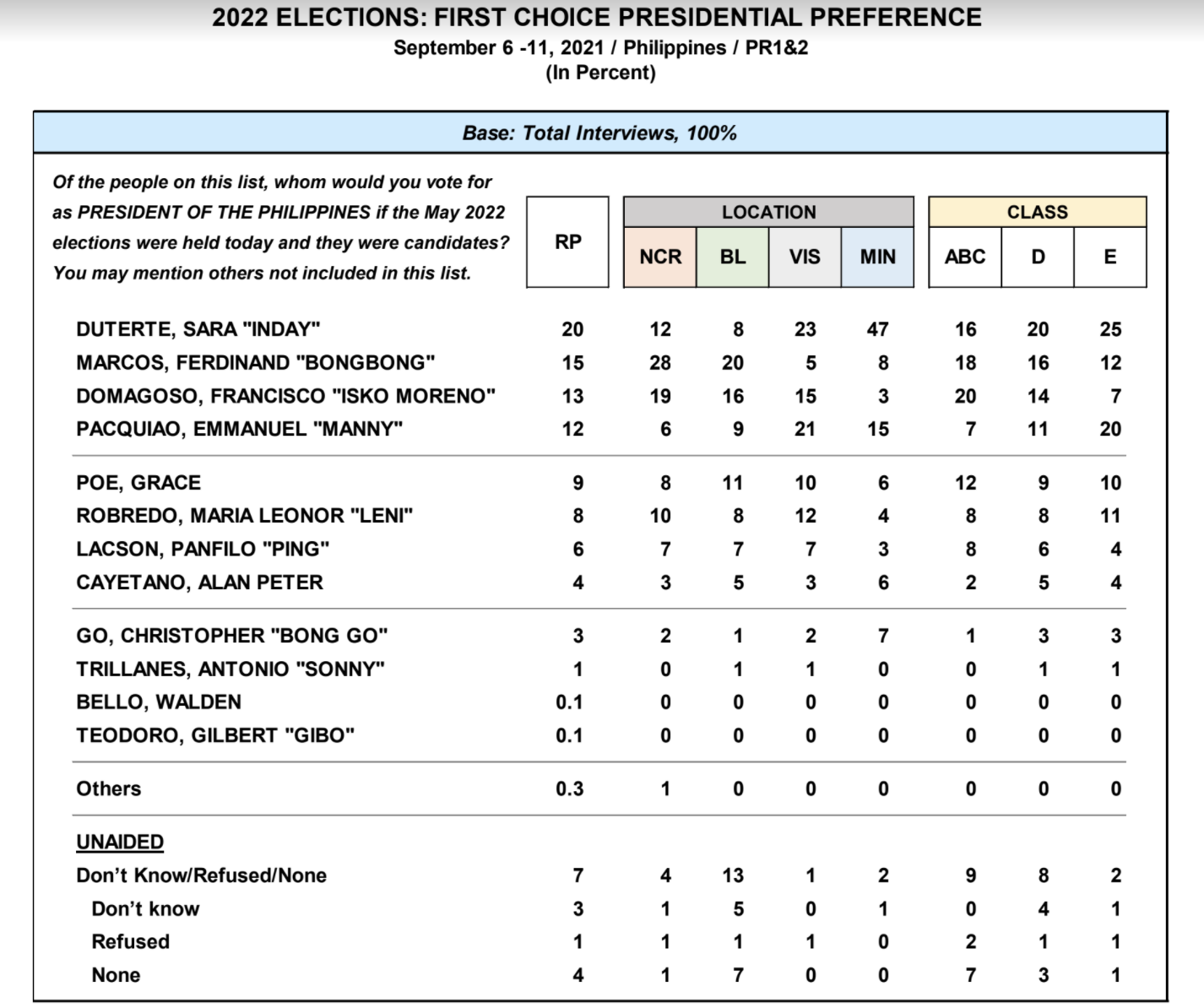 Meanwhile, the second placers remain unchanged. Due to the error margin, three politicians are virtually tied for second place – former senator Ferdinand "Bongbong" Marcos Jr. (15%), Manila Mayor Isko Moreno (13%), and Senator Manny Pacquiao (12%).
They are followed by Senator Grace Poe (9%), Vice President Leni Robredo (8%), Senator Panfilo Lacson (6%), Senator Alan Peter Cayetano (4%), and Senator Bong Go (3%).
Timing
However, this survey was conducted when most of the politicians in the survey were yet to officially declare their bid. On the week the poll was done, on September 8 to be exact, Lacson and his running mate Senate President Vicente Sotto III formally launched their candidacies.
Pacquiao declared a week later, on September 19, while Moreno launched his tandem with doctor Willie Ong on September 22.
Sara Duterte, meanwhile, has said she would not be running for president and would seek reelection as Davao City mayor instead. Robredo has also not yet declared concrete plans for 2022. Poe is likely not running for president or vice president next year.
Marcos ascendant in Metro Manila
The namesake of dictator Ferdinand Marcos appears ascendant in Metro Manila, based on the survey.
If in June he and Moreno were virtually tied as the top presidential candidate of the capital region, scoring 22% and 23%, respectively, Marcos has widened his lead by a lot. He now has 28% to Moreno's 19%, a 9-point difference.
Pulse Asia reports a regional percentage error margin of ± 4%.
There's good news for Pacquiao in the Visayas where he saw a 7-point rise in support, from 14% in June to 21% in September.
Sara, meanwhile, appeared to have lost support in her bailiwick Mindanao. From a dominant 62% rating in June, support for her is now at less than half of respondents, 47%. Support may have gone to fellow Mindanaoan politician Pacquiao who saw a 5-point increase – from 10% in June to 15% this month.
Vice President Robredo's preference rating is virtually unchanged from June. From 6%, it became 8% in the more recent survey. However, she saw support rise in Metro Manila, from 5% to 10%, and in the Visayas, from 6% to 12%, even taking into account the error margin. – Rappler.com