'Yes, totoo 'yan, 'di ako nag-prepare. Pero 'yang intention, debatable 'yan,' says presidential bet Bato dela Rosa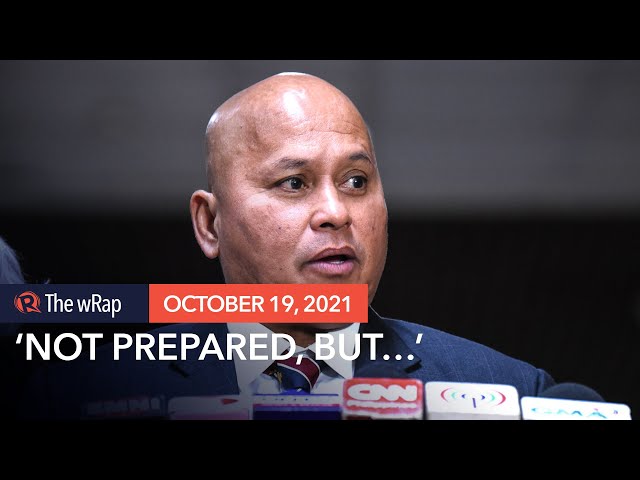 Senator Ronald dela Rosa, the 2022 presidential bet of the ruling PDP-Laban faction led by Energy Secretary Alfonso Cusi, defended himself from criticism that he's a mere placeholder for Davao City Mayor Sara Duterte, saying that his intention should not be "judged."
"Bakit, ang intention ba kinakailangan, long-term intention? Hindi tayo puwede makakabuo ng immediate intention?" Dela Rosa said in an interview on ANC's Headstart on Tuesday, October 19.
(Does intention need to be long-term? Can't one have an immediate intention?)
He added: Kinukwestyon nila 'yung aking bona fide intention to run for president, dahil nga wala akong preparation. Yes, totoo yan, 'di ako nagprepare. Pero 'yang intention, malaking debate 'yan. Hindi ako abogado, pero debatable issue ;yan. Who are you to judge my intention? It's only me na makakasagot niyan."
(They're questioning my bona fide intention to run for president because I had no preparation. That's true, I did not prepare. But [the matter of] intention, that's a huge debate. I'm not a lawyer but that's a debatable issue. Who are you to judge my intention? It's only me who can answer that.)
Dela Rosa, former chief of the Philippine National Police (PNP), was the surprise standard-bearer of the Alfonso Cusi-led faction of the ruling PDP-Laban.
The faction, backed by President Rodrigo Duterte, had gone into a tizzy in the week certificates of candidacies (COCs) were filed after Senator Bong Go, a long-time Duterte aide, decided to run for vice president even after he was nominated to run for president. Duterte, who had accepted the party's nomination to run for vice president, announced he was going to "retire" from politics.
The party went back to "square one" in its search for a presidential candidate with less than a week left before the deadline to file candidacies. Sara Duterte, the President's daughter, had been considered as the ruling party's standard-bearer even if she insisted repeatedly that she would be gunning for her third term as Davao City mayor in 2022.
Dela Rosa learned from Cusi that he would be their standard-bearer two hours before the deadline to file.
Asked by Rappler's Dwight de Leon then if his candidacy – and the perception that he was a mere placeholder – was making a mockery of the elections, Dela Rosa responded by pointing out that he garnered over 19 million votes when he ran for senator in 2019.
On October 19, Dela Rosa again insisted that he was serious about running for president, echoing statements he made in the past. "The mere fact that I filed my COC is an overt manifestation of my clear intention to become the next president of this republic," said Dela Rosa.
But while he's made these assertions, the senator, in previous interviews, had also made it clear that he would be willing to step down should Sara change her mind.
"I was not told that I am going to be a placeholder but I know that the substitution law that we have; I can be substituted anytime depending on the party decision. I am a team player," he said on October 19.
The Cusi faction had earlier defended substitution as a "political strategy" following calls from politicians – some of them erstwhile allies – to change the law that allows for substitutions.
The Omnibus Election Code of 1985 allows parties to substitute a candidate if its original bet "dies, withdraws, or is disqualified for any cause." Based on Comelec Resolution No. 10717 released on August 18, substitution due to withdrawal is allowed until November 15. Substitution due to disqualification or death is permitted until midday of election day, as long as the substitute has the same surname as the original candidate.
PDP-Laban has yet to announce its platform for 2022, with Dela Rosa and Go as its tandem, but both candidates have promised "continuity" – of Duterte's policies and programs – as a main motivation for running.
Dela Rosa has rejected an International Criminal Court (ICC) investigation into extrajudicial killings in the name of Duterte's so-called "drug war" and during the President's time as Davao City mayor. Asked if he would protect Duterte, Dela Rosa said that he's named in the ICC report himself.
"Hindi lang si President Duterte protektahan ko, pati sarili ko. Dahil dalawa kaming co-accused sa kaso na 'yan, 'di ba?" he said.
(I wouldn't protect just President Duterte but myself. The two of us are co-acsused in this case, right?)
There are no "accused" in the ICC case into the drug war, as it is still in the investigation phase. Dela Rosa, however, is named in the report as part of the state's alleged "policy" to perpetuate extrajudicial killings. The senator, who was PNP chief when the bloody campaign against illegal drugs began, has insisted that the country's judicial system is "perfectly functioning."
Dela Rosa has, so far, promised to continue the Duterte approach against illegal drugs, but has not given details on how he would tweak it. – Rappler.com