President Rodrigo Duterte blames the senator for the party rift and lobs insults at the party stalwart
For the first time, President Rodrigo Duterte directed disparaging remarks at Senator Aquilino "Koko" Pimentel III amid a rift in his political party PDP-Laban.
During the PDP-Laban national assembly on Saturday, July 17, which Pimentel boycotted, Duterte said it was the senator who made the mistake of naming Pacquiao as party president in his stead back in December 2020.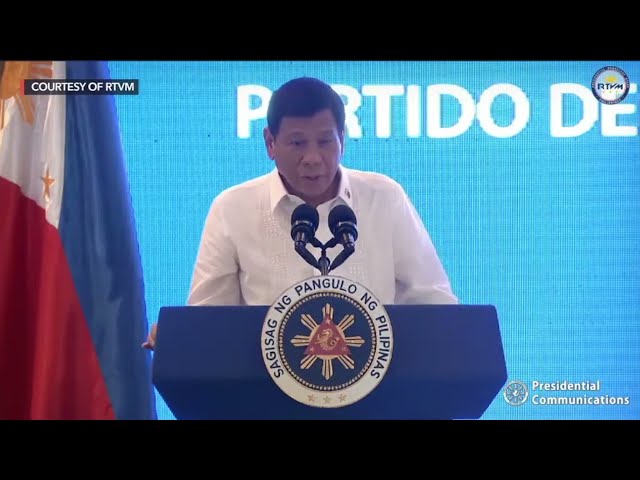 "Ang nagkamali diyan si Koko, hindi si Pacquiao (It was Koko who made a mistake, not Pacquiao)," said Duterte, even adding an underhanded comment about the boxer-turned-lawmaker "not knowing anything."
"Siya 'yung nag-umpisa ng ruckus eh (He started the ruckus). That is not the way how to run a party," said Duterte.
"Hindi naman bobo mga member, mas bright sa iyo. 'Yan lang ang topnotcher na nakita ko na tttssk (The members aren't stupid, they are brighter than you. He's the only topnotcher I saw who is tttssk)," he continued.
Duterte, whose presidential bid was made possible by PDP-Laban allowing him to run as their standard-bearer, said the party owes him a lot.
"May I just remind Koko that this party, PDP, was asleep for a hundred years. It only woke up during the election when I ran for the presidency under the ticket," said Duterte.
Pimentel is executive vice chairperson and namesake of one of PDP-Laban's founders, Aquilino "Nene" Pimentel Jr.
Duterte, who had previously been respectful when mentioning the older Pimentel, spoke slightingly of the former Senate president for the first time in public.
"It was a father and son party period, wala nang iba (just that). And they are not even recognized in Cagayan de Oro City, totoo 'yan (it's true)," said Duterte.
Pimentel has slammed party vice chairman and Energy Secretary Alfonso Cusi for keeping Pacquiao out of the loop of meetings, despite his position as party president.
Pimentel said Cusi's group was allowing party "newcomers," including persons who just joined the party when Duterte came into power and never completed membership requirements, from hijacking the party.
He was particularly opposed to the Cusi group's call for Duterte to run as vice president in the 2022 elections and take his pick of the party's standard-bearer, even if that person is not a party member. – Rappler.com