(1st UPDATE) 'Kung below 50% ang boto sa darating na eleksyon, magkakaroon ba ito ng kredibilidad at magiging katanggap-tanggap sa ating mga kababayan?' asks Senate Majority Leader Juan Miguel Zubiri
Nearly half of Filipinos are unwilling to go out and vote on May 9, 2022, should their barangays log a high number of COVID-19 cases at the time.
That finding came from a Pulse Asia Research, Incorporated survey conducted in June 2021, commissioned by Senate Majority Leader Juan Miguel Zubiri. Pulse Asia executive director Ana Tabunda confirmed the veracity of the survey to Rappler on Wednesday, July 28.
The survey results, presented by Zubiri in a Senate privilege speech earlier in the day, showed that only 35% of respondents were willing to cast their ballots on the day of the elections. Some 46% would rather skip the polls, while 19% were undecided.
The number of people who would rather not vote if the COVID-19 threat persists in their localities on election day was highest at Metro Manila and Balanced Luzon, where 57% and 50% of respondents, respectively, said they wouldn't participate in the electoral process if coronavirus cases are high in their areas.
Metro Manila has repeatedly grappled with COVID-19 surges since early 2020, and is now also facing the threat of the highly infectious Delta variant.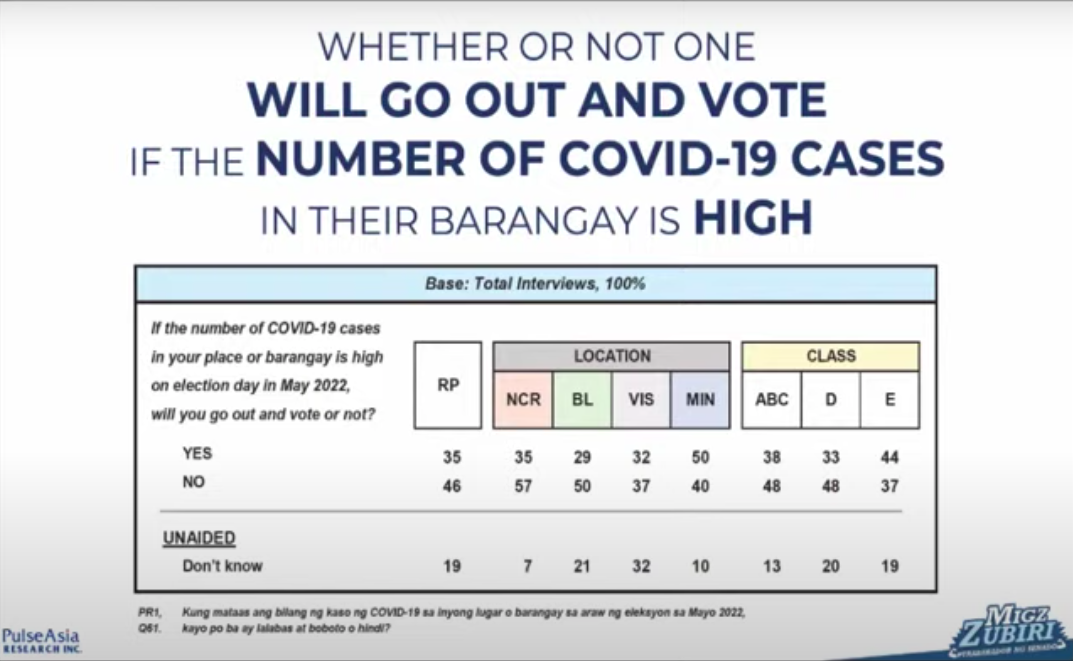 "Hindi natin sila masisisi kung ganoon ang kanilang pangamba at posisyon. Inaalala lang po nila ang kanilang kaligtasan at kaligtasan ng kanilang pamilya," Zubiri said.
(We cannot blame them if that's their fear. They just worry for the safety of themselves and their families.)
Zubiri expressed fears that a low turnout in the 2022 polls would mar the credibility of the results.
"Kung below 50% ang boto sa darating na eleksyon, magkakaroon ba ito ng kredibilidad at magiging katanggap-tanggap sa ating mga kababayan?" he added.
(If less than 50% of the population vote in 2022, will our countrymen find the results credible and acceptable?)
The lawmaker proposed the following as "Plan B" should the coronavirus continue to pose a threat on election day:
Issuance of Commission on Elections (Comelec) resolutions on observance of COVID-19 protocols at election sites
Approval of measure extending the elections by one day to avoid overcrowding
Speeding up vaccinations to reach the 70-million target by the end of 2021
In response, the poll body said it "remains confident of a sizable voter turnout despite COVID-19 fears."
"This projection is borne out by international experience – most, if not all, elections in other jurisdictions showed a higher than average voter turnout – and local experience in the Palawan Plebiscite last March 2021," Comelec spokesman James Jimenez said.
"In any case, voter turnout is in no way determinative of the validity of electoral exercises," he added.
There were already 60 million voters registered for the 2022 national elections as of June, according to the Comelec, just two million short of its projected 62 million registered voters before the voter registration deadline on September 30.
Comelec Commissioner Antonio Kho Jr. said in May that suggestions to conduct elections on multiple days are impossible to see the light of day, unless Congress passes a law. The poll body, however, noted that voting hours will most likely be extended by up to four hours.
Comelec has constantly dismissed fears that the elections would not push through in 2022, and has asserted that it can conduct safe elections. – Rappler.com