This is AI generated summarization, which may have errors. For context, always refer to the full article.
(1st UPDATE) The LP endorses former senator Bam Aquino, who has yet to announce his candidacy, as well as human rights lawyer Chel Diokno, and reelectionist senators Leila de Lima, Francis Pangilinan, and Risa Hontiveros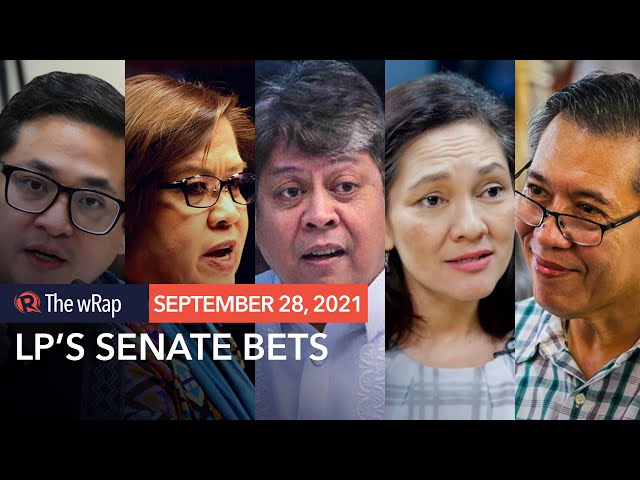 The once-ruling Liberal Party (LP) wants to field old but familiar names for the senatorial race in the high-stakes 2022 elections.
In a closed-door meeting on Tuesday, September 28, LP's National Executive Council formally nominated former senator Paolo Benigno "Bam" Aquino IV as part of the party's initial senatorial slate.
Aquino – the nephew of the late former president and LP chairman emeritus Benigno "Noynoy" Aquino III – has yet to announce another Senate run after his heartbreaking failed reelection bid in the 2019 polls. His office told Rappler Aquino would be "deciding on his own run after the presidential race is in place."
Aquino has been helping LP's chairman, Vice President Leni Robredo, in her efforts to forge a united opposition coalition in 2022. Robredo has yet to decide if she would mount a presidential bid and has asked her LP allies to continue having faith in her "deep discernment" process. Aquino was Robredo's campaign manager in the 2016 vice presidential race.
As expected, the LP also nominated two of its stalwarts who are hoping to to be reelected: senators Leila de Lima, President Rodrigo Duterte's fiercest critic; and LP president Francis "Kiko" Pangilinan.
The LP also adopted a separate resolution endorsing the reelection bid of its ally Senator Risa Hontiveros of Akbayan and human rights lawyer Chel Diokno, a guest candidate in the LP-led Otso Diretso Senate slate in 2019.
The LP is the party of Duterte's predecessor, Noynoy Aquino, who died in June after a two-year battle with various illnesses. For six years under Aquino, LP had dominated Philippine politics, with members holding key appointed and elected positions across provinces.
Following Duterte's victory in 2016, many LP members jumped ship to the political party of the new president – a normal occurence in Philippine politics.
Under Duterte's presidency, his supporters used the term "dilawan" – in reference to the signature yellow color of the LP – to describe all critics of the President and his policies.
Challenge ahead for LP bets
The pressure is on for the senatorial bets of the Liberal Party, whose Otso Diretso slate suffered a blow against the Duterte's candidates in the 2019 elections.
The opposition's defeat in the Senate midterm polls was unusual even in Philippine politics, as the last time prior to 2019 that the opposition failed to win a single legislative seat was in 1938, during the time of then-president Manuel L. Quezon, in the unicameral National Assembly.
Bam Aquino ranked 14th in the 2019 elections with 14,117,528 votes, which he still considered as a "feat" then because of the popularity of Duterte.
A known champion of free education and legislation aimed at jobs generation, Aquino focused on his social entrepreneurship activities in the following his defeat in 2019.
Pangilinan, for his part, had earlier said he would continue championing the agricultural sector should he stage a successful reelection bid in 2022.
As president of the LP, Pangilinan is among the key opposition figures leading the charge to forge a united front against the Duterte administration in 2022.
With Pangilinan at the helm, the LP has rebranded itself as a "party of the people" and has intensified its push to recruit more non-politicians.
De Lima will have to run her campaign from her detention cell in Camp Crame, as she continues to be on trial over what she and her supporters have described as trumped-up drug charges against her. She has been detained since 2017.
De Lima became Duterte's primary target after she led a Senate investigation into the killings in his bloody war on drugs just months into his term.
Despite her detention, De Lima has continued to lambast Duterte's abusive policies through dispatches she would write from her Camp Crame cell.
While in detention, De Lima has received a number of prestigious recognitions, including the 2018 Prize for Freedom award by Liberal International, the 2016 and 2017 Global Thinker Award by Foreign Policy, one of the Top Most Influential People for 2017 by Time magazine, one of the notable Women Human Rights Defenders for 2017 by Amnesty International, and 39th World's Greatest Leader by Fortune magazine, among others.
Champions for equality, human rights
Hontiveros won a Senate seat on her third try in 2016. She has carved a name for herself in the upper chamber as a champion for women's rights and gender equality.
At the Senate investigation into the Pharmally scandal, Hontiveros was among the senators who had presented key witnesses and documents that have helped uncover more alleged anomalies in the pandemic scandal rocking the Duterte administration.
Diokno is the son of anti-Marcos icon Jose W. "Ka Pepe" Diokno. He is a respected human rights lawyer and the chairman of the long-running human rights group the Free Legal Assistance Group (FLAG).
FLAG drew the ire of Duterte early in the pandemic when Diokno provided legal service to a Filipino who was summoned by the National Bureau of Investigation for posting a comment critical of the government's pandemic response.
Under Duterte, Diokno and FLAG have also been at the forefront of legal challenges to the bloody drug war, filing one of the two petitions in the four-year pending case at the Supreme Court. – Rappler.com