'There is a better way to defend not just me, but all of us, and that is to be calmer, and to have more heart,' Vice President Leni Robredo tells supporters
Vice President and 2022 presidential aspirant Leni Robredo did not hide her surprise with the many people that turned out for her arrival in Negros Occidental on Friday, November 5.
Robredo and her running mate, Senator Kiko Pangilinan, were greeted at the Bacolod-Silay Circumferential Road with lines of vehicles clad with collaterals and supporters standing by.
At their People's Assembly with supporters at the Acacia Hotel, the Vice President was awed by the big crowd which showed up for them.
"When Senator Kiko and I came here, we were told that there would be someone meeting us at the airport. But what greeted us was all of you [supporters]. We couldn't think how you were all able to pull that off. I just wanted to emphasize that the reason why my and [Pangilinan's] hips are in pain is because you were many, so thank you," Robredo said to supporters.
She also noted the variety of gimmicks that she and Pangilinan saw on their way, noting that this was, indeed, a "people's campaign."
"There were families with their dogs, the cars were decorated, the tarpaulins and shirts had different faces, there was a variety of gimmicks, and the dances and songs were all different as well. In those variations is the beauty of our movement," she said.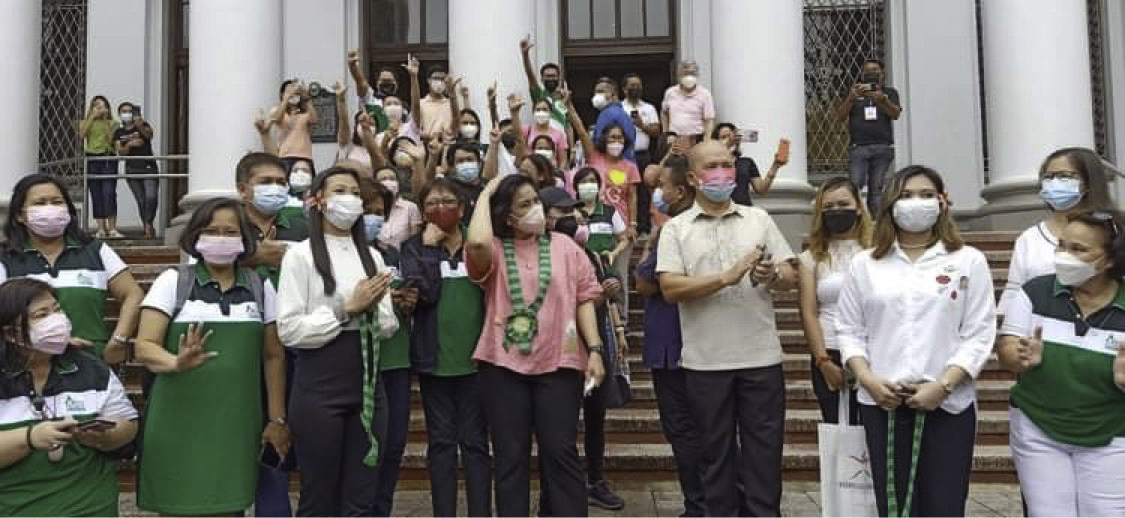 She also recalled how she decided to run for the presidency at the last minute, almost preparing for a local post.
Her decision to run was due to the nomination of the opposition group 1Sambayan, whose Negros Occidental chapter co-organized her visit.
"For two months, I exerted efforts to have unity even if we come from different places… to have the willingness to talk, so we can only have one fight, especially since we know that these are harder times. When filing neared, talks collapsed, and my first decision was to assess who I would help, but all of a sudden, 1Sambayan nominated us, and my decision changed after that," she narrated.
"In the beginning, I was weak because I've gone through a lot in the last five-and-a-half years. For me and my daughters, I deserve to rest, because as I describe it, it's like I entered a fraternity where I'm being hazed [for that long]. I've just been trying to stand with the left-and-right punches, and finally, here is 2022. At the back of my mind, I was like, 'Finally, I'm almost done,'" she added.
About social media exchanges between candidates' supporters, she reminded them not to fight with other supporters.
She suggested other campaign activities at the community level, "to make people feel what a Leni presidency would feel like."
"We have to recognize that other candidates have prepared, and because of their preparation, many have believed in propaganda and false information. Let's help each other on that. I always reprimand supporters not to fight. Let's be very understanding. I know some of you fight to defend me, but for me there is a better way to defend not just me, but all of us, and that is to be calmer, and to have more heart," she said.
Robredo and Pangilinan were joined in Bacolod by their senatorial bets former representative Teddy Brawner Baguilat and Alex Lacson, as well as former senatorial candidates Gary Alejano and Erin Tañada.
They were welcomed by former Negros Occidental Governor Lito Coscolluella, one of the convenors of Negros for Leni.
She visited incumber Governor Eugenio Jose Lacson to sign a P500,000 fund transfer for medical assistance grants for eligible clients at the Teresita L. Jalandoni Provincial Hospital in Silay City.
She also met with Bacolod Bishop Patricio Buzon, reiterating her request for the Catholic Church's help to combat disinformation.
Issues
In a press conference after the people's assembly, the Vice President said that among her priorities for Negros if she wins is to push to make permanent the short-lived Negros Island Region, stating that it could help the provinces of the island.
She said that there should be reforms in government policies affecting the sugar industry as well as Negros Occidental's move towards renewable energy.
"For me, the problem is more systemic. It's not just the function of leadership, but really making sure the moving parts could be replaced. There's a sugar road map done right now, and what is needed is support from the government, like in electric power," she remarked.
As to the province's votes, she said that she would work harder to gain more votes than she did in 2016.
"In every election, I'm never confident. I'm never entitled to anything, and I should work hard for it. The sheer number of votes that I got in Negros was a big blessing, but I worked very hard for it. It would be the same for this election. I am still hoping that not only will I duplicate that feat, but we will get more," she said.
She also addressed rebel insurgencies, saying that the ultimate solution should be to address the root causes, including poverty, injustice, and abuse.
"If the economic environment for everyone is good, the number of insurgents goes down. If there is greater upheaval, if there is greater sorrow, there are more insurgents. There needs to be a more holistic approach in combating insurgencies. We cannot just deploy police and military to stop them. For me, you have to go back to the reason why they are many," she shared.
On Saturday, November 6, Robredo is set to visit the Murcia Sustainable Livelihood Training community, one of the Office of the Vice President's Angat Buhay beneficiaries, and inaugurate their campaign headquarters in the province – Rappler.com
Joseph B.A. Marzan is a Visayas-based journalist from Iloilo City and an awardee of the Aries Rufo Journalism Fellowship.