This is AI generated summarization, which may have errors. For context, always refer to the full article.
Officials also confirm that 20 human trafficking 'victims' flee from the crypto scam hub after their May 4 rescue
CLARK FREEPORT, Philippines — The Department of Justice (DOJ) said on Friday, June 9 that it struck out two Chinese nationals from the initial Clark Freeport Zone list of 12 human trafficking suspects as victim witnesses could not pinpoint their identities or roles in the crypto scam that used 1,000 illegally recruited Asians.
At a press briefing to announce the creation of a Clark Security Advisory Council, DOJ provincial prosecutor Ramoncito Ocampo, head of Clark Task Force, confirmed that eight respondents have been indicted.
Ocampo said case build-up continues and that new complaints may be filed against other respondents.
He said the pre-trial for the the case of violation of Anti-Trafficking in Persons Act of 2003, as amended by RA 10364 and further amended by RA 11862, will be on June 21 at the Angeles City RTC Branch 114.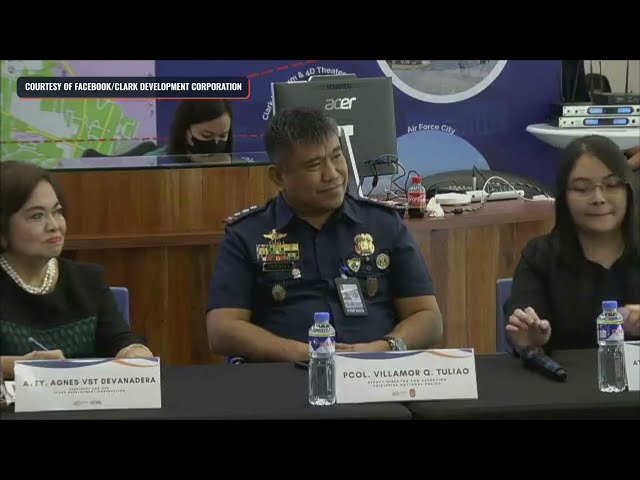 The final 8 foreign nationals indicted are five Chinese nationals, two Indoensians, and one Malaysian: namely Hong Li Ji, He Feng, Tan Yong, Zhang Suo Hua, Zhao Jiang Ming, Ifandy, Fendy, and Lee Swee Wah respectively in violation of the "Anti-Trafficking in Persons Act of 2003 as amended by RA 10364 and further amended by RA 11862.
Awaiting repatriation
A total of 12 persons were initially arrested during the raid.
Two Indonensians, Rizki Zaini Habibi and Vincen, were removed from the list as they had been inadvertently included as respondents.
The last two dropped as respondents are Lui Yue and Liu Gang, both Chinese nationals.
Philippine National Police Anti Cybercrime Group (PNP-ACG) Col. Villamor Tuliao said the two Chinese nationals have gone back to the Sun Valley Clark Hub Corporation (SVCHC) to await repatriation.
Inter-agency Council Against Trafficking (IACAT) representative Hannah Lizette Manalili said the investigating prosecutor's resolution noted that complainants did not identify the two Chinese respondents during the inquest and that there was insufficient basis to include them among respondents.
Escape
Tuliao confirmed reports that 20 Chinese nationals, all reportedly victims, escaped from the Sun Valley hub in three incidents.
He explained that the first incident happened during the first three days after the raid. Another escape happened during heavy rains, he added.
The police official said the fence in the whole compound was not well-secured but has since been adjusted.
"During the first incident, hindi pa kasi ganun ka-ano fortified yung bakod nung the whole compound and our personnel, hindi pa namin masyadong na-secure lahat yung whole ground and nag adjust kami after the incident," he said. (During the first incident, the fence around the compound was not yet fortified and we had not yet secured the whole ground, so we had to adjust after that incident.)
Clark Development Corporation president and chief executive officer Agnes Devanadera said she was also puzzled why the victims escaped.
"The incident here is that the people inside asked for help from the government for them to be rescued and the government responded. It is ironic that some of them escaped," she said.
In the days following the May 4 raid that rescued around 1000 human trafficking victims, reports of perpetrators managing to hide among the victims swirled around Clark.
Police sources initially told Rappler they were looking into the possibility but later said they could not confirm the reports.
Almost 500 foreign nationals have been repatriated, according to IACAT. Manalili said they are on track to finish the repatriation within two to three months, as earlier committed during a Senate hearing.
"So far we are almost more than 50% sa target so hopefully we will accomplish the target," she added.
Devanadera emphasized that those awaiting repatriation are not respondents but victims. se are not respondents, they are victims. She said that they were not deported but repatriated.
"They have not been accused or charged in court but they are victims of human trafficking and therefore the process is called repatriation," the Clark CEO stressed. "If they are accused, then they will be deported after a process. But so far the numbers that have been referred, got out through repatriation." – Rappler.com