This is AI generated summarization, which may have errors. For context, always refer to the full article.
(2nd UPDATE) Four of 11 suspects retract their confessions of involvement and statements tagging Congressman Arnie Teves in the murder of Negros Oriental Governor Roel Degamo
Trigger warning: This article contains descriptions of violence and torture.


MANILA, Philippines – Four of the 11 suspects in the assassination of Negros Oriental Governor Roel Degamo recanted their previous confessions that they allegedly participated in the massacre, according to their lawyer, Danny Villanueva.
The first suspect to recant was first identified by authorities as Osmundo Rivero in March 2022 shortly after his arrest. But the sworn counter-affidavit, affidavit of recantation, and writ of habeas corpus, which were released to the media on Monday, May 22, identified the accused as Jhudiel Rivero.
Aside from retracting his confession, he also recanted his statement tagging Negros Oriental 3rd District Representative Arnolfo "Arnie" Teves as the mastermind in the slay. (READ: NBI files murder complaints vs Arnie Teves over Degamo slay)
Villanueva represents four of the 11 suspects in the case.
His three other clients – Rogelio Antipolo Jr., Romel Pattaguan, and Daniel Lora – had already previously recanted their confessions of involvement and statements tagging Teves as the mastermind.
Villanueva told Rappler on Tuesday, May 23, that they had also filed their affidavits of recantation to the DOJ on Monday. Rappler requested copies of their affidavits from Villanueva, who said he would provide them.
"The three others Mr. Lora, Mr. Pattaguan and Mr. Antipolo executed already affidavits of recantation," Villanueva said. 
He also denied that his clients apologized and asked for forgiveness from Degamo's widow Janice, the mayor of Pamplona, when she was allowed to face them at the NBI.
"Hindi rin totoo na ang aming kliyente ay sinabi sa biyuda ni governor Degamo na nagsisisi sila, humihingi sila ng patawad. Wala pong katotohanan po iyon (It's also not true that our clients told Governor Degamo's widow that they regret what they did and asked for forgiveness. There's no truth to that," Villanueva said.
Villanueva said he began representing the three through Rivero, who was referred to him through mutual distant relatives in General Santos City. 
According to a copy of Rivero's counter-affidavit obtained by reporters, he was allegedly tortured by policemen into confessing and identifying Teves as the mastermind.
Rivero said in his counter-affidavit he was shocked that he was brought to the provincial headquarters on March 5 to be investigated for the assassination because he had stopped a Philippine National Police (PNP) vehicle to report his missing motorcycle.
"Noong araw at oras ding iyon, ako ay hinuli at pinasakay sa PNP vehicle at dinala sa PNP headquarters na nasa Provinicial Intelligence Unit sa Negros Oriental," it read. "Nagulat na lamang ako na ako pala ay iimbestigahan tungkol sa pagpatay kay Gov Degamo."
(Right there and then, I was arrested and made to ride a PNP vehicle, and I was taken to the PNP headquarters at the Provincial Intelligence Unit of Negros Oriental. I was shocked to find out I was being investigated for the killing of Governor Degamo.)
Rivero alleged he was tortured and suffocated with a plastic bag over his head, and a wire was used to choke him.
"Ako ay nahimatay, at nang ako ay nagkamalay na, aking napansin na lumubo ang aking leeg hanggang ngayon ay aking dinamdam," the affidavit said.
(I passed out, and when I regained consciousness, I noticed my neck swelled, and until now I'm minding it.)
He also said he was kicked and told to say that Teves was the mastermind behind Degamo's killing.
"Sinasabi rin sa akin na kung hindi ko ituturo si Cong Teves ay mapapahamak ang aking pamilya. Dahil sa takot na baka ako at ang aking pamilya ay patayin, sumunod na lamang ako sa kanilang gusto kahit na ang totoo ay hindi ko kailanman nakita o nakausap si Cong Teves," Rivero said in his sworn statement.
(I was told that if I didn't point to Cong Teves, my family will be in danger. Because I was afraid that I and my family would be killed, I followed what they wanted even if the truth is I have never spoken with nor seen Congressman Teves.)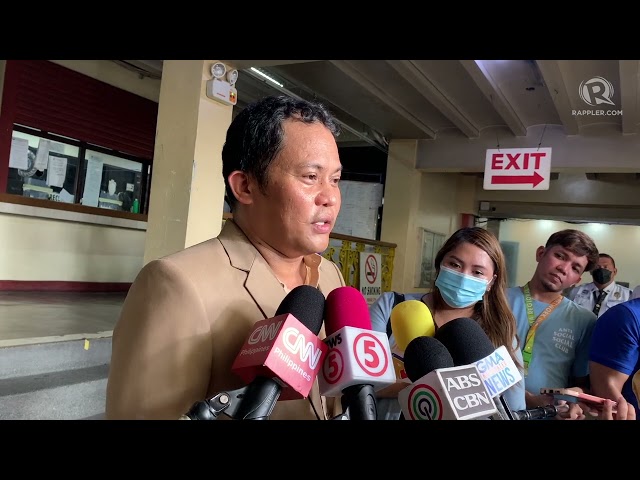 The National Bureau of Investigation filed murder complaints against Teves on Wednesday, May 17, after several delays.
One reason for the delay was the expected recantation of six of the 11 suspects – almost all ex-military men – who had tagged Teves as the mastermind. It's unclear who are the other two now allegedly uncooperative with the government's investigation.
The Department of Justice (DOJ) previously denied the suspects were coerced into confessing or testifying against Teves.
"The statements had been given freely with CCTV cameras [around] and in front of other witnesses. This is all taken into consideration, so the complaints will have an accurate number," DOJ Secretary Boying Remulla told reporters on May 15.
They DOJ also said they were confident prosecutors had a strong case against Teves and the other suspects.
Teves has not returned to the country, citing alleged threats to his life. He recently applied for asylum in the Southeast Asian nation of Timor-Leste, but his request was denied, according to the Philippine Department of Foreign Affairs.
Writ of habeas corpus
Aside from Rivero's recantation, Villanueva also filed a petition for the writ of habeas corpus on behalf of his client for the appearance of his wife Queenie Apale Lago Rivero, his stepson Christian King Apale Lago, 15, and his son Jophiel Kieth Lago Rivero, 2.
Villanueva said the family was taken from their home in Zamboanga, without informing Rivero.
"According to the best information available to our client, the members of his family were taken from their house in Bayog, Zamboanga del Sur. They were taken by the municipal police of Bayog, with some elements from the armed forces," the accused's private lawyer said.
"Nasabi namin ng kanyang salasay inaktuhan ng kapulisan at ng NBI sa pamamagitan ng pananatkot. Yun ang nakarating na impormasyon sa kanya, na ang kanyang asawa at dalawang anak, dinukot sa kanilang bahay sa municipality of Bayog in Zamboanga at dinala rito sa Manila. Yung ang pinaka uunahin nag udyok sa kanya na baka may mangyari at may mamatay sa kanyang pamilya," Villanueva said.
(We said in our [Rivero's] statement that the police and NBI got his admission through intimidation. The information that got to him is that his [Rivero's] is that his wife was kidnapped in Bayog, Zamboanga, and brought here to Manila. The reason he was insistent about filing the writ of habeas corpus was that something might happen and his family would die)
Why it matters
Political killings are not new in the Philippines, but it's rare that a sitting governor is killed in his own home, with dozens of others massacred, mostly ordinary people who were just caught in the crossfire.
Degamo's killing also brought national attention to the long-running problem of unsolved killings in Negros Oriental and Negros Island. It has stirred conversations on ending impunity and protecting human rights in Negros Oriental – issues that are rarely talked about in the province.
The Senate committee on public order and dangerous drugs held marathon hearings to investigate the Degamo assassination and other killings in Negros Oriental from April 17 to 19, and from May 10 to 11.
The committee heard dozens of families of victims of unsolved killings, survivors, and police officers who were once assigned – or are currently assigned – to Negros Oriental. (READ: Tensions rise during Senate inquiry into Degamo assassination)
The Senate investigation concluded after five sessions on May 11. – Rappler.com