A fourth suspect has been arrested. Two people are placed under witness protection, according to the Department of Justice.
MANILA, Philippines – Police filed multiple murder complaints on Monday, March 6, against three suspects in the killing last Saturday of Negros Oriental Governor Roel Degamo and eight others in Pamplona town.
In a press conference, Department of the Interior and Local Government Secretary Benjamin Abalos Jr. said police filed murder complaints before the Office of the Provincial Prosecutor against the following:
Joric Labrador, 50 years old, a former Philippine Army personnel and a resident of Cagayan de Oro
Joven Javier, 42 years old, a former Philippine Army ranger and a resident of La Castellana, Negros Occidental
Benjie Rodriguez, 45 years old.
Separate complaints for illegal possession of firearms were filed against them before the Office of the Bayawan City Prosecutor.
Interim Negros Oriental Provincial Administrator Richard Enojo said four suspects have been arrested as of Monday. No complaint has yet been filed against the fourth suspect, Lieutenant Colonel Gerard Ace Pelare, spokesperson of Philippine National Police Central Visayas, told CNN Philippines on Monday.
Degamo was killed on Saturday morning, March 4, at an event with 4Ps beneficiaries in Barangay 9, Pamplona town, where his wife Janice is the mayor. (READ: Negros Oriental Governor Roel Degamo killed in attack)
PNP Central Visayas said the assassins used long firearms and fled the scene aboard two SUVs.
Police said there may have been 10 people – possibly more – involved in the ambush, which killed eight others, aside from Degamo. Seventeen people were injured, Enojo said.
When asked about the victims' families pleas for help, he said the Degamo family was already helping the other victims.
Witnesses under protection
Two people have been placed under witness protection, according to the Department of Justice (DOJ).
"Two witnesses to the case have already been referred to witness protection. We are working closely with the PNP and DILG for the transfer of the respondents, who are currently detained, to the NCR [National Capital Region], for protective custody. The DOJ is ready to take on this case for further investigation," Justice Undersecretary Nicolas Felix Ty told reporters.
Authorities are keeping mum so far on the motive and the suspected mastermind.
"Maraming angulo yan. Posible may naka-away nung araw, o pulitika, lahat naman 'to pinag-aaralan nang maigi. Pasensya na po kayo, pero mahirap po mag-komento eh. One thing is for certain that maganda ang progreso, is what I can tell you…May nahuli tayo. Maganda ang imbestigasyon at baka may mahuli pa ito. Matuturo natin ang mastermind nito," Abalos said.
(There are many angles. It's possible he had a fight back in the day, or politics, all of these angles we are studying comprehensively. We ask for your patience, but it's difficult to comment. One thing is for certain – the investigation is progressing well, is what I can tell you. We've caught some of the suspects. The investigation is doing well so we might catch more. We'll pinpoint the mastermind of this.)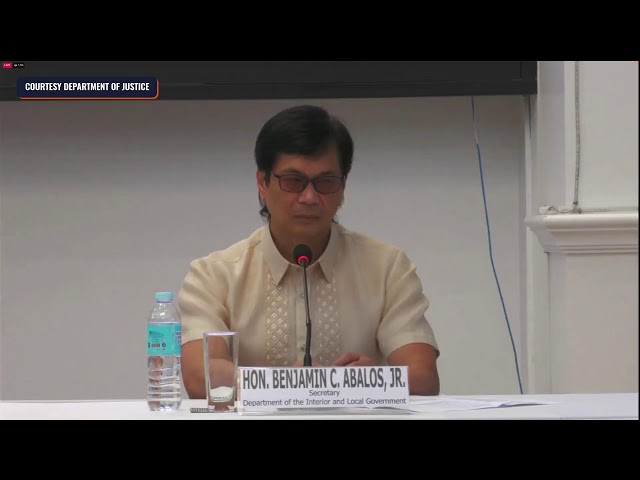 Degamo is the latest local government official to be killed under the administration of President Ferdinand Marcos Jr.
Justice Secretary Jesus Crispin Remulla is offering a reward of P5 million for any information that would lead to arrest and prosecution of Degamo's killers. The National Bureau of Investigation will conduct its own investigation into the incident, he said.
Abalos urged the remaining suspects who are still at-large to surrender.
"Ako ay nanawagan sa inyo, nahuli na yung mga kasama ninyo. Kung ako sa inyo it's better for you to surrender dahil bukod sa nahuli na meron pang pabuya lumalabas para sa inyo. Kung susuko kayo mas gagaan ito," the interior chief said.
(I am calling out to you to surrender as your co-suspects have already been caught. If I were you, it's better for you to surrender because there is still a reward out for your arrest. If you surrender, this will be easier.)
Local matters
Meanwhile, Enojo explained that his position as provincial administrator is co-terminus with Degamo.
But, he said, the new Negros Oriental governor Carlo Jorge Joan Reyes, who took his oath late night on March 4, told him to stay on.
Reyes, then vice governor, was in Manila for medical treatment when Degamo was killed.
Enojo said he doesn't know when the new governor will return to the province.
"He is recuperating from a recent illness," he told reporters.
Abalos swore in the new vice governor, former provincial board member Manuel Sagarbarria, on March 5.
"As of this time, there is no instruction for the new vice governor to act as governor," Enojo said. – Rappler.com