This is AI generated summarization, which may have errors. For context, always refer to the full article.
The Vice President's natural instincts to lead surface when disaster strikes – and earns her the ire of the man in Malacañang
In the darkness of the night on Friday, November 13, desperate cries for help were heard from the village of Linao East in Tuguegarao City. Floodwaters submerged large swathes of Cagayan province, forcing residents to climb on their rooftops. "Rescue! Rescue!" they shouted.
It's a haunting footage that quickly went viral on Twitter in the wake of the onslaught of Typhoon Ulysses (Vamco). Vice President Leni Robredo was still monitoring tweets like this even after a long day of visiting other communities severely hit by the typhoon.
As people began retweeting addresses of trapped residents, Robredo and her staff collated whatever they could find on their timelines. At least 200 people needed to be rescued in Cagayan, so the Vice President relayed their information to local officials and rescue teams on the ground, including the military and the police.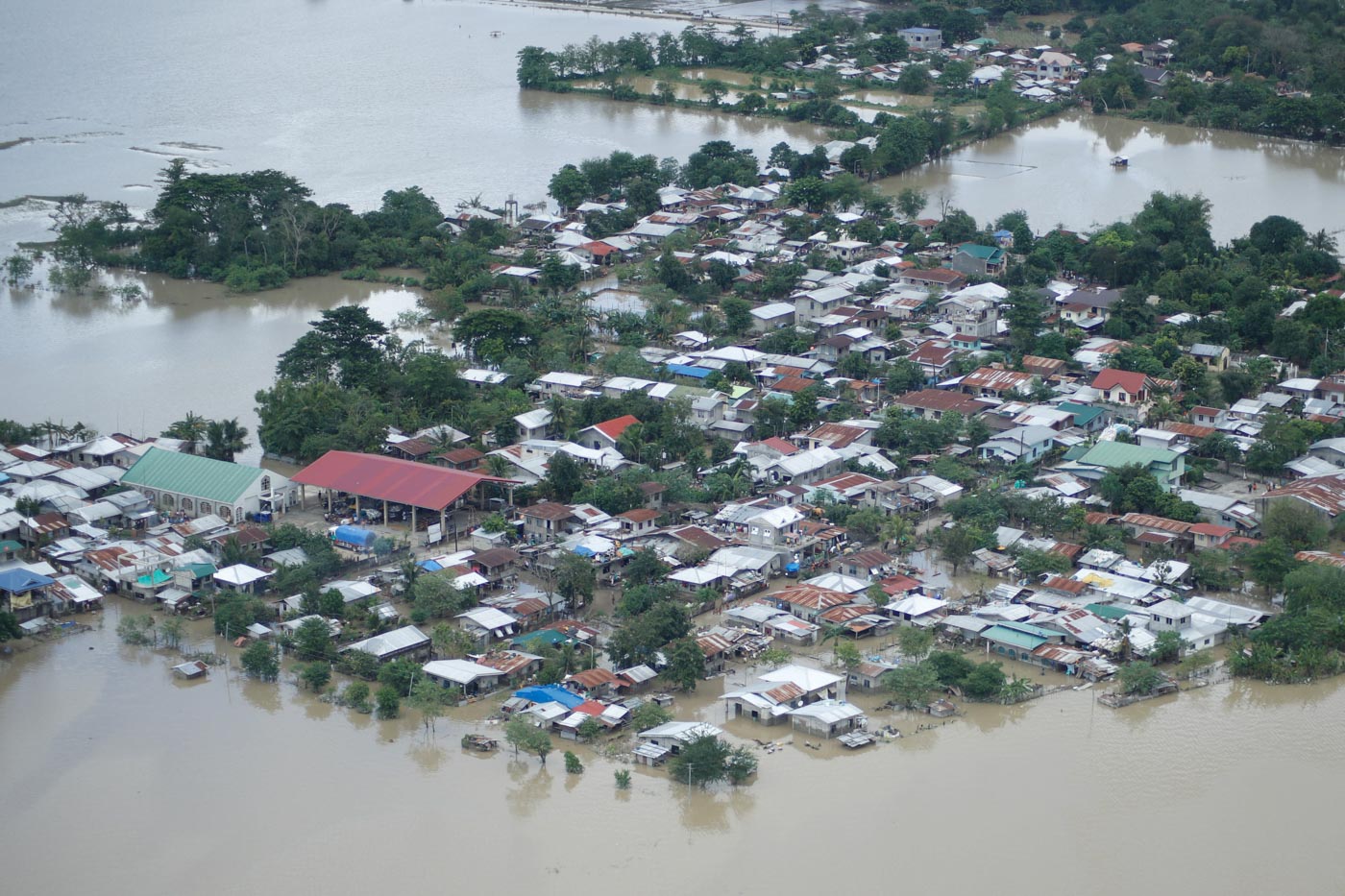 For several hours, Robredo's Twitter account became the main source of information for the massive flooding in the province. She relayed updates from government responders, who were battling the elements to reach Linao East.
When the water level started subsiding, Robredo assured affected residents that help was finally on the way.
An Office of the Vice President (OVP) team was later sent to Cagayan to track down every person on their rescue list. The OVP was able to find most of them, including the woman who had the loudest screams for help in the now-viral video.
It's a similar scenario across Robredo's social media pages, which are now filled with images and videos of her visits to communities that had to endure the destruction from Ulysses and the two typhoons before it: Quinta (Molave) and Rolly (Goni).
The logic was simple for the Vice President: When people are calling for help, their leaders should tell them that they have been heard, that help is on the way, and that everything would be done to save them. 
And yet Robredo's actions angered President Rodrigo Duterte, who spewed one lie after another and accused her of "competing" with him. The unfazed Vice President immediately debunked Duterte's lies and told him upfront he was being fed the wrong information. She went back to work the next day.
For former Ateneo School of Government dean Tony La Viña, the Vice President did not overstep. Any other official could have done what she did – because it is what is expected of them in times of crises.
She's not the only one who stepped up either. There's Mayor Marcy Teodoro, who waded through floodwaters to oversee rescue operations in Marikina City, and Alcala Mayor Tin Antonio, who was able to understand early on that a combination of interventions anchored on science would help address the flooding in Cagayan Valley.
The difference, argued La Viña, is that Robredo is the Vice President.
"Any politician could do that. Any senator could do that. The difference is that she does it very well and she has a good world-class staff that does that and the coverage is good," La Viña said. "But the President can do much more. The President can order things to move, can order money to be disbursed, can order all of those things. I haven't seen that kind of command."
Long praised for her coronavirus recovery programs despite the OVP's measly budget, Robredo showed up when disaster struck precisely because it was her duty to do so – and not because she wanted to upstage the Commander-in-Chief.
Swift, organized relief
The lobby of the Vice President's headquarters in Quezon City – where she usually welcomes guests and holds events – now looks more like a warehouse than the office of the second highest official in the land.
Boxes lie in heaps across the hall: a mix of relief goods, COVID-19 test kits, and materials for the OVP's learning hubs for students. At the center, several tables are pushed together to serve as a station for the repacking of goods. 
Robredo was quick to do a callout for donations through her flagship anti-poverty program Angat Buhay in early November when weather forecasts showed 3 successive typhoons are likely to hit the country.
They once again tapped the private foundation Kaya Natin! Movement to solicit funds for the relief efforts because the OVP, as a government office, is not allowed by law to receive money from private individuals.
Working hours were also changed for the staff, who were divided into 3 shifts of 6 hours each so the relief operations would continue until midnight every day. The relief packs, housing materials, and face masks for evacuees were loaded onto a delivery service truck, which brought the supplies to the communities in need.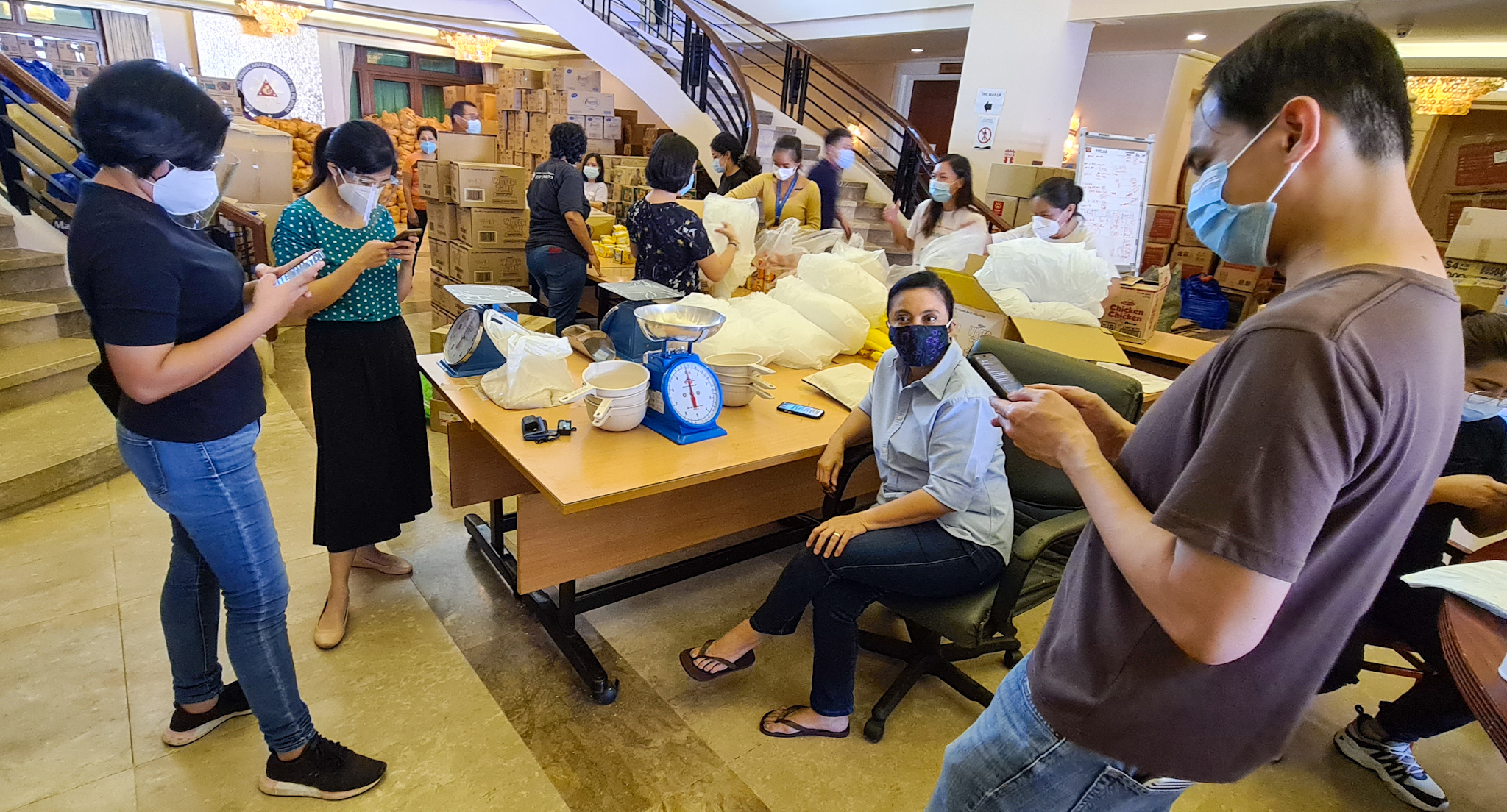 The Vice President would later find a silver lining in Duterte's misogynistic attacks against her. Before the President's taped address on November 17, donations to Kaya Natin! were only at P36 million. By November 20, this ballooned to P55 million.
Robredo has since received praise for her office's quick response. But she credits the OVP partners and her hardworking staff – not herself – for making the operations possible.
"Wala kaming weekend. Kapag may sakuna naman, ganun 'yung ginagawa namin. Pero sobrang suwerte namin kasi 'yung mga staff namin, hindi mo pa sinasabihan, tinatanong na kung ano puwede nilang gawin," Robredo said in one Facebook Live video. 
(We don't have weekends. Whenever they are calamities, this is what we usually do anyway. But I am very lucky because we have staff who already ask us what they can do to help even without being told.)
Beyond providing immediate relief, however, Robredo's visits to disaster-hit communities are aimed at determining the longterm assistance the OVP can give to residents.
This includes livelihood opportunities like the Omasenso sa Kabuhayan program, where farmers affected by past typhoons have become beneficiaries.
Under the program, the OVP gives them free technical training and equipment to innovate on their agricultural products. The farmers are taught how to sell online and are also linked with commercial establishments where they can directly market their goods.
Farmers from Pili who endured several calamities last year, for example, are now able to earn every day by selling pandesal, squash chips, and chili paste they learned to make themselves through Omasenso.
Accountability down to the last centavo
When Robredo is not in typhoon-hit villages listening to the stories of evacuees, she is back at her office, making sure that every single donation is accounted for. She thanks individuals who drop off their donations and she helps with the repacking operations, too.
"That springs from the desire to be accountable," Robredo's spokesperson Barry Gutierrez told Rappler. "One thing that she has actually taken things to emphasize ever since we started here is that we have to make the office accountable. And being accountable means being responsible for the donations we actually receive."
Robredo's instinct to show up, to be hands-on, and to be transparent is rooted in her decades-long experiences working with communities, first as a pro-bono human rights lawyer in Naga City, then congresswoman of Camarines Sur, and now as Vice President.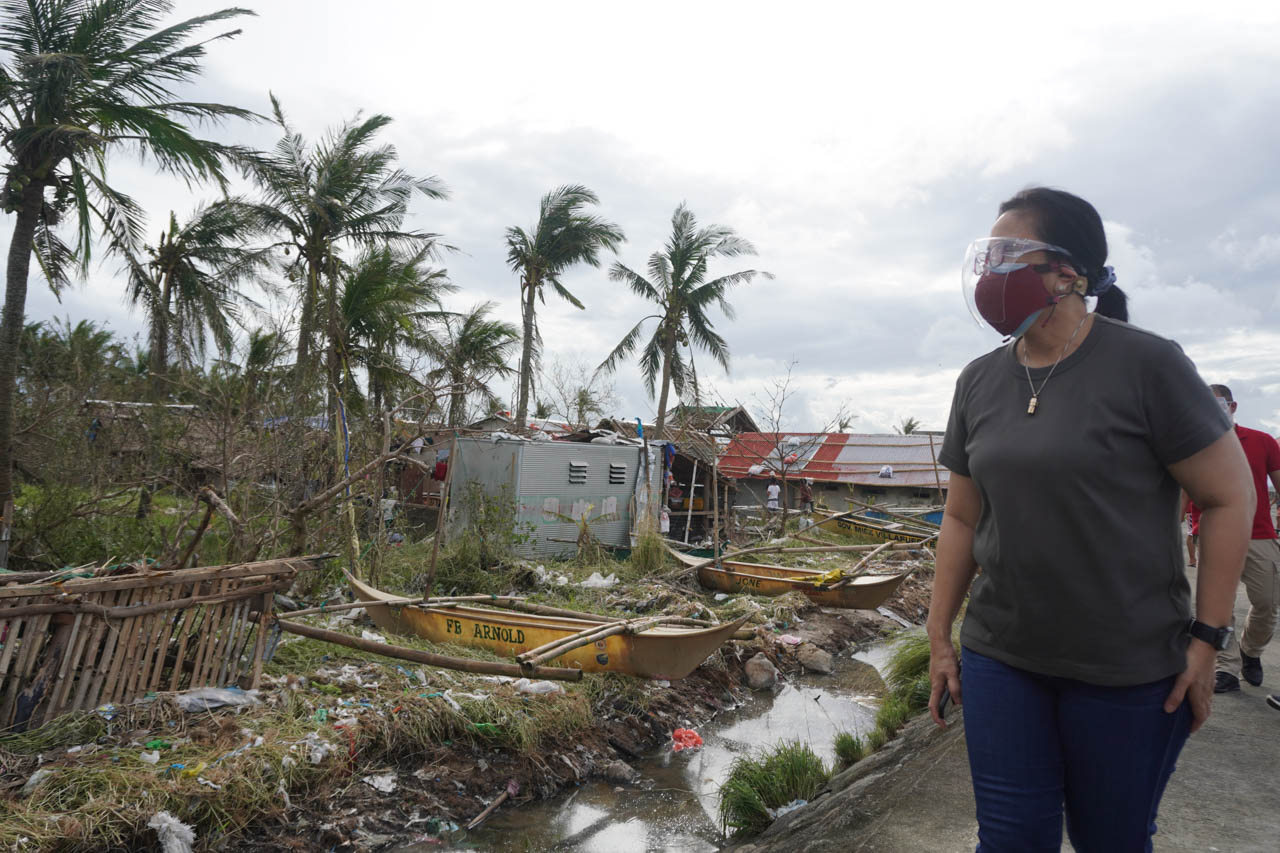 Robredo has long stressed the importance of making people see and feel the presence of government when disaster strikes – a trait that she shared with her late husband and longtime Naga City mayor Jesse Robredo. He, too, was known to be among the first officials on ground zero once a typhoon passed.
"'Yung style of leadership na nabuo sa local 'di ba, 'yung very, very hands-on, very, very close 'yung link do'n sa mga taong kailangang tulungan, ginawa niya 'yun when she was in Congress," Gutierrez said.
(The style of leadership she was able to form at the local level, of being very, very hands-on, having very, very close links with the people who need help, she was already doing that in Congress.)
"And when she became Vice President, she brought that sensibility, she brought that kind of perspective, that kind of leadership to the office," he added.
Effort to understand the big picture
Robredo also has a clear grasp of scientific research and is able to laymanize these concepts so ordinary Filipinos can understand why the tragedies happened and what could be done to prevent them from happening again.
In an interview with ANC's Headstart, Robredo said a "confluence of factors" – the over saturation of mountain ranges from successive calamities before Ulysses and Magat Dam's controversial release of water – led to the massive flooding in Cagayan and its neighboring province Isabela. 
She backed calls to investigate whether there were protocol lapses in the release of the dam water. But she knew the problem goes beyond Cagayan Valley. 
"There was definitely an oversight kasi dapat na-anticipate eh. Dapat na-anticipate, considering na nagkaroon tayo ng Quinta, nagkaroon tayo ng Rolly. Iyong tinatanong ko nga kahapon: Were we able to estimate the amount of rainfall?" said the Vice President.
(There was definitely an oversight because they should have been able to anticipate it. They should have been able to anticipate it, considering we had Quinta, then we had Rolly. My question yesterday was: Were we able to estimate the amount of rainfall?)
She then noted that officials from other flooded areas – such as Marikina City, and the municipalities of Rodriguez and Cainta in Rizal – also failed to estimate the extent of the deluge that Ulysses would bring. 
If several factors caused massive flooding in parts of the entire island of Luzon, then Robredo said disaster planning should be comprehensive and subject of a constant collaborative effort among local government units and national agencies.
"Magkakasama para planuhin nang sabay-sabay kung papaano ito gagawin kasi it's not just the problem of one municipality eh (Planning how to address these issues should be done together because it's not just the problem of one municipality)…. Number two is really to invest in disaster proofing," the Vice President told ANC. 
Not about who gets there first
As the hashtag #LetLeniLead trended online, President Duterte was heavily criticized for being caught flat-footed by Typhoon Ulysses despite having full command over the nation's coffers and the entire bureaucracy. 
And so Robredo was accused of making it appear as if she was the one in command. The irony of it all, said Robredo's spokesperson Gutierrez, was that the Vice President's updates on the flooding in Cagayan became proof that the Duterte government was, in fact, working.
"Because who was moving? Not the private entities, not the partners of OVP's Angat Buhay. It was the AFP and the PNP," said Gutierrez. "So in the end, her updates provided the clearest basis that there were responses from government agencies at that time, and that these responses, in all likelihood, saved the lives of people."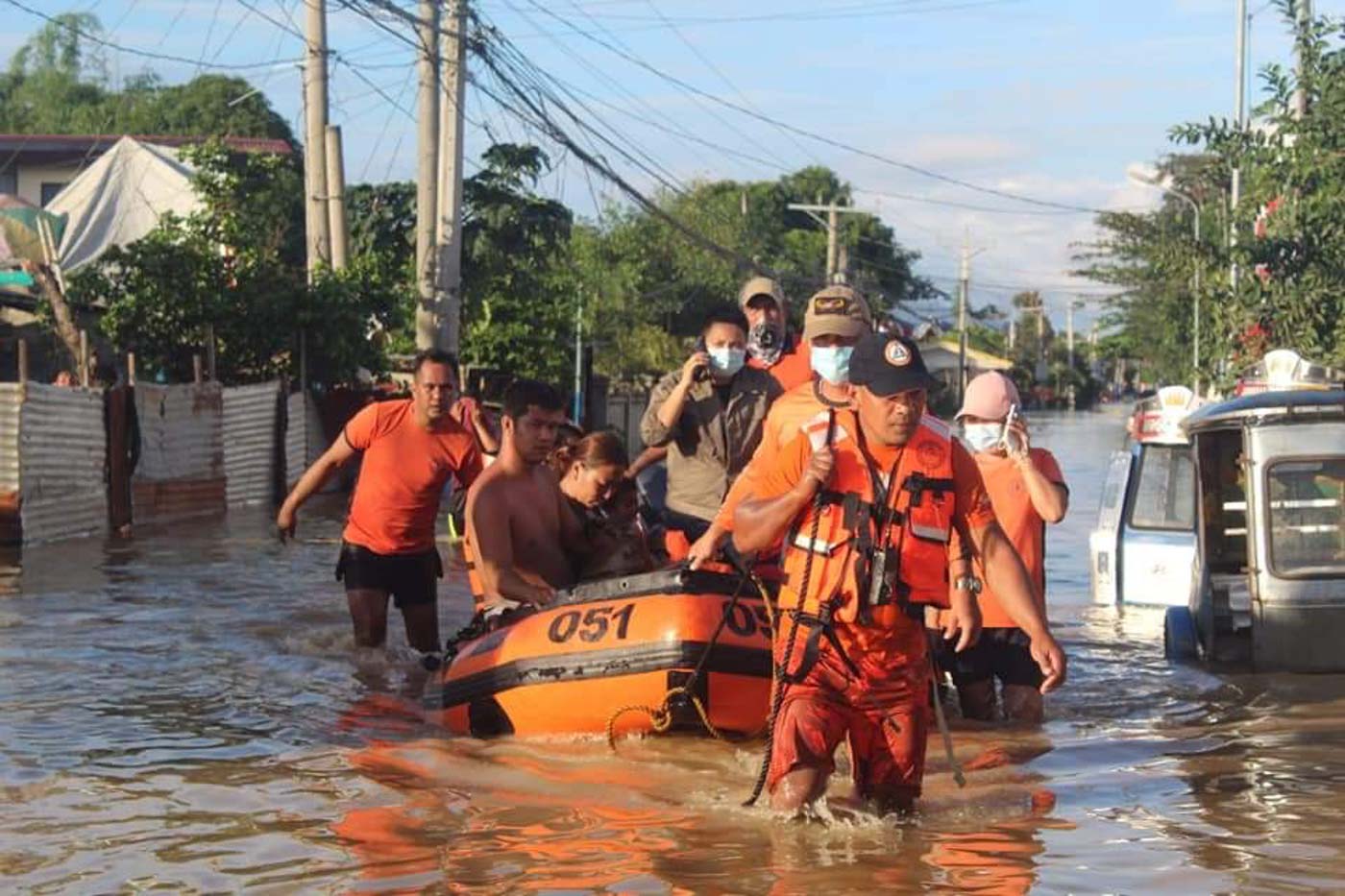 But the President clearly doesn't see it that way. As he threw a tantrum in Malacañang, Duterte warned he would turn Robredo's possible presidential bid in 2022 into a living "nightmare."
This is a similar line echoed by his supporters, whose reply to every post praising Robredo was that her underlying purpose was to campaign early.
"If I was politicking, I would not have bothered to go to those oft forgotten coastal towns that have very few voters or go to Cagayan and Isabela, which are known Marcos bailiwicks," Robredo told her critics in a Facebook post. "If I was after votes, I would have spent my time elsewhere."
Still, Professor La Viña argued that Robredo's ability to show empathy and to get things done even with limited resources shows the people that "she's presidential material."
"But that, for me, is an unintended consequence in doing the right thing, which is the best form of campaigning," La Viña said. "And I always go back to what Jesse Robredo used to say: that the best way to campaign is to govern well, to do your role well."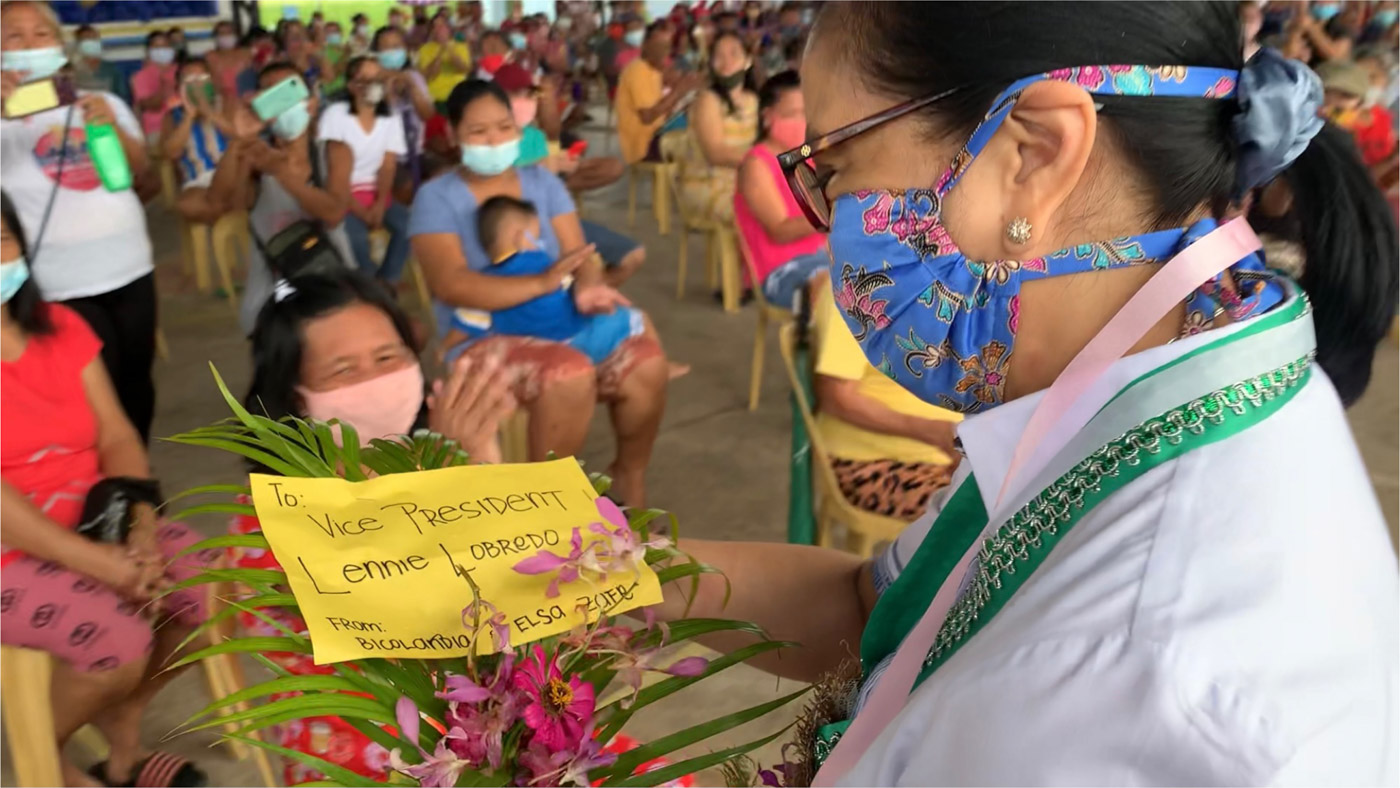 This is not enough to win an election, of course, and the presidential race is still far from Robredo's mind. She would rather focus on the task set before her: that of helping fix the thousands of lives ripped by typhoons that ravaged the country right in the middle of a pandemic. 
For now, the Vice President would rather just show up – and she hopes the man in Malacañang would do the same. And she shouldn't be put on a pedestal for doing what she's supposed to do. Robredo doesn't want that, anyway.
"This is not a contest. It's not about who gets there first," Robredo tweeted minutes after Duterte's address aired live on national TV. "We're supposed to be working together for our people." – Rappler.com