BuCor official Ricardo Zulueta goes AWOL and then goes into hiding, according to the NBI
The near-end of the Percy Lapid case has gone like most other crimes in the Philippines: missing masterminds not yet in the custody of authorities.
On Monday, November 7, the Department of Justice and Department of the Interior and Local Government (DILG) filed complaints against suspended Bureau of Corrections (BuCor) chief Gerald Bantag, another BuCor official, and 10 persons deprived of liberty. The complaints are in relation to the deaths of Percival Mabasa (Lapid) and Jun Villamor, the alleged middleman in the killing of Lapid.
The filing of complaints over the highly sensationalized case could indicate partial success, but authorities disclosed that one of the alleged masterminds, BuCor Directorate for Security and Operations Superintendent Ricardo Zulueta, has gone into hiding.
"I'm calling out to Zulueta. Zulueta, sumuko ka na. Just like ito no'ng una, sumuko itong gunman because of fear [for] his life. Hindi malayong mangyari sa 'yo ito, so you think things over," DILG Secretary Benhur Abalos said in his closing message during the Monday presscon.
(Zulueta, just surrender. Just like the first one, the gunman surrendered because of fear for his life. This could also happen to you, so you think things over.)
Abalos also called on people who might have information about Zulueta's whereabouts to share these.
"So again, I plead to Zulueta to just surrender right now. Just like the gunman who surrendered, napag-isipan niya na in danger ang buhay niya (he thought about it and realized his life was in danger)," Abalos appealed. "And I'm asking each and everyone who's watching right now to give any information [about] the whereabouts of Zulueta. Napaka-importante po niya rito (He is really important to this case)."
A few days after hard-hitting broadcaster Lapid was gunned down in Las Piñas on October 3, self-confessed gunman Joel Escorial surrendered and implicated others, including Villamor. Brothers Edmon and Israel Dimaculangan and a certain "Orly," who are also considered persons of interest, are still at large.
For days, Bantag's name has been dragged into the case. But on November 4, Escorial's affidavit revealed that a certain Bantag ordered them to kill the broadcaster.
Finding Zulueta
After identifying the alleged masterminds and filing complaints against them, the next challenge now is to find one of them.
Zulueta first went AWOL or absent without leave and then went into hiding, according to National Bureau of Investigation (NBI) Director Medardo de Lemos.
"Nag e-exert ng effort ang NBI para ma-locate si Zulueta and we were informed he went AWOL. Wala na siya pero hindi humihinto 'yong efforts to locate him (The NBI is exerting effort to locate Zulueta…. He has disappeared but the NBI is not stopping its efforts to locate him)," De Lemos said.
"As mentioned earlier, si Mr. Zulueta, he has [gone] into hiding a few days ago pa po (already)," Philippine National Police chief Police General Rodolfo Azurin added.
As for Bantag, Azurin said authorities are yet to determine the suspended BuCor chief's exact location. De Lemos, meanwhile, added that the NBI is already monitoring Bantag.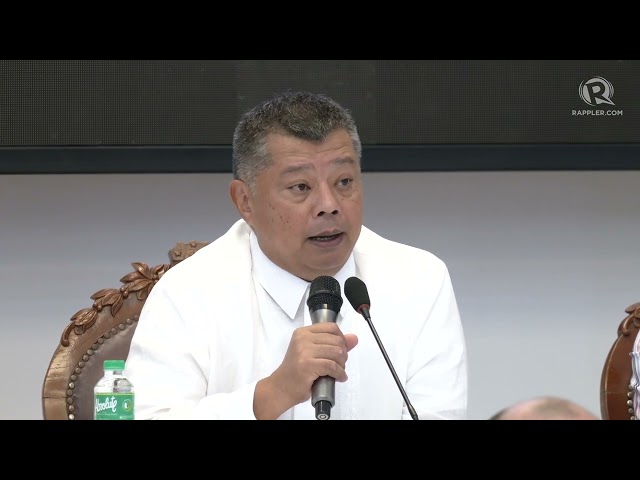 "Si [Director] General Bantag naman, wala pa naman siyang warrant of arrest kaya mino-monitor lang natin para malaman natin later on kung nasaan ang kanyang whereabouts." (For Director General [DG] Bantag, there is no warrant of arrest yet for him, that's why we are just monitoring him so we'll know his whereabouts later.)
The chronology of events presented during Monday's briefing solidified the roles of Bantag and Zulueta in the killings. The DOJ and DILG's joint statement also narrated how the BuCor delayed the confirmation of Villamor's death, noting how the bureau kept mum about Villamor.
"This sequence of events implies that the conspirators planned all along to silence Jun Villamor and cover up the crime, perhaps even before Joel Escorial's surrender."
Bantag and Zulueta ties
Bantag and Zulueta's ties date back to as early as 2016 when Bantag was still a jail warden of Parañaque City Jail, while Zulueta served as senior jail officer 2. The two are among the BuCor officials who were acquitted of homicide charges over the death of 10 prisoners in the Parañaque City Jail explosion. (READ: Who is Gerald Bantag, among the accused in the murder of Percy Lapid?)
The authorities' joint statement revealed that acting BuCor chief Gregorio Catapang Jr. suspended all of Bantag's appointees because the suspended chief allegedly violated a Civil Service Commission (CSC) memorandum.
"When the order of the President was effected on October 21, 2022 and Director-General Bantag was suspended and General Catapang Jr. stepped in on October 24, 2022, the latter immediately suspended all of Director General Bantag's people," the DOJ and DILG said.
"It was found that DG Bantag's people were from BJMP. They were absorbed from BJMP (Bureau of Jail Management and Penology) into BuCor and were given very high ranks despite their low ranks in BJMP," they added.
According to the authorities, what Bantag did was a violation of item 15 in the CSC Memorandum Circular No. 3, series of 2001, which bans the promotion of a government employee to a position more than three grades higher than his/her former post in relation to salary, pay, or job.
As a former jail officer, Zulueta worked in the BJMP and then later on BuCor under Bantag. He could very well be among the BuCor officials who were suspended and mentioned by the DOJ and the DILG.
Question now is, given what had been disclosed in the press conference, will these BuCor officials just surrender, as Abalos wants them to? – Rappler.com