This is AI generated summarization, which may have errors. For context, always refer to the full article.
'Limitations' in some of the airport's screening machines may be the reason why passengers are still asked to take off their shoes despite the announced policy change
As the 10-day Undas break gets underway, airports across the Philippines will bustle with millions of travelers, all subject to strict security screenings. But with the recent change in rules, here's a question you might be wondering about: do you still need to take off your shoes at these checkpoints?
According to the Office for Transportation Security (OTS), the no-shoes policy was suspended for all security checkpoints starting October 13. But based on the experience of some passengers – and Rappler's own monitoring – mandatory shoe removal is still being implemented at some checkpoints.
"They lied to you," one passenger flying from Manila to Narita, Japan told Rappler.
"I just went through security at Terminal 1 at NAIA this morning. I had to take my shoes off, my belt off, go through the see-through X-ray machine, and take my laptop out of the bag," the passenger added. 
Rappler also visited the OTS security checkpoint in Terminal 3 of the Ninoy Aquino International Airport (NAIA) on Monday, October 30. There, we confirmed that some passengers were still being required to remove their shoes while passing through the screening area, obstructing the flow of foot traffic.
So, what's going on?
OTS, the government agency managing security at airports, first made the removal of footwear at security checkpoints mandatory on July 10, 2023. Although it did manage to thwart some acts of suspected drug smuggling, the policy was recently suspended while the Department of Transportation (DOTr) is reviewing its necessity.
If the policy is now suspended, why are some passengers still being asked to remove their footwear?
OTS spokesperson Kim Marquez explained that the suspension of the no-shoes policy is still in effect. In fact, passengers passing through the walk-through X-ray machines no longer need to take off their shoes.
But some of the OTS' screening machines have "limitations" that prevent them from properly detecting concealed items in footwear. That means passengers will have to take off their shoes to subject them to X-ray screening.
In particular, the limitations are for the advanced imaging technology (AIT) machines – the large, circular screening machines at the final security check areas. It's also the same "see-through X-ray machine" mentioned by the passenger that reached out to Rappler.
The AIT machine is described by the Manila International Airport Authority (MIAA) as a "breakthrough in full body scanning" that "ably detects dangerous devices concealed under clothing."
Since November 2021, there have been six AIT units spread across NAIA's different terminals – one unit at Terminal 1, two at Terminal 2, and three at Terminal 3. However, not all passengers are required to pass through an AIT machine.
"Some will be requested to go through the walk-through. Depende sa pila para hindi mag-clog sa checkpoint natin, and also kasama po 'yan sa mga unpredictability measures natin para hindi tayo mapag-aralan ng mga terrorists at lawless elements," Marquez told Rappler.
(It depends on the queue so that we can prevent our checkpoints from getting clogged, and it's also a part of our unpredictability measures to prevent terrorists and lawless elements from figuring us out.)
Aside from the AIT machine and its limitations, there are also other reasons why passengers might still be asked to remove their footwear. Travelers may need to take their shoes off when an alarm is triggered during the screening process, during periods of heightened security levels, or during random screening.
Passengers flying to destinations that impose redundancy screening – such as the United States – may also be asked to remove their footwear at airline-manned checkpoints. (READ: More routes to the US: United's first direct US-Manila flight lands in Philippines)
If you'll be traveling to the airport anytime soon, watch this video by the OTS to find out how to prepare for security checkpoints.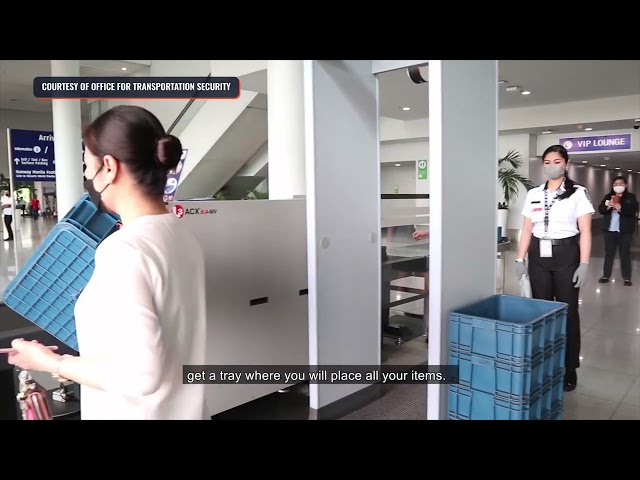 So, what happens to the no-shoes policy?
Airport authorities are still figuring out a way for passengers to pass through security checkpoints without the hassle of removing their shoes. That might mean having to buy new screening machines that don't suffer from the AIT machine's limitations.
"Hopefully, kung mabigyan po ng budget, baka po maka-procure naman ng security equipment na may capability na mag-detect ng concealed items sa shoes para no need na magtanggal ng shoes," Marquez told Rappler.
(Hopefully, if we're given the budget, maybe we'll be able to procure security equipment with the capability to detect concealed items in shoes so that there'd be no need to remove shoes.)
But upgrading to new machines might be a faraway dream. The six AIT machines in NAIA right now weren't even procured by the government to begin with; they were donated by the US Transportation Security Administration in 2021.
Buying new machines using the government's budget will be tough too, given the massive infrastructure projects taking up most of the DOTr's spending. Out of the P214.3 billion allocated for the transportation department under the proposed 2024 national budget, the OTS will have P993.7 million to purchase machinery and equipment.
In the meantime, the OTS may have to balance passenger security and convenience, tweaking the policy implementation as necessary.
"Adjustment talaga sa policy ang puwede nating gawin to ensure 'yung security ng ating mga pasahero (What we can do right now is to adjust the policy to ensure the security of our passengers)," the OTS spokesperson told Rappler.
MIAA is also figuring out its way around the issue as part of a broader push by airport authorities to streamline security procedures.
"Some of the machines will be requiring you to remove footwear. But we are working with the OTS to reduce the possible build-up of passengers in that area," MIAA Officer-in-Charge Bryan Co said in a press conference last October 26. – Rappler.com