This is AI generated summarization, which may have errors. For context, always refer to the full article.
Sara Duterte walks the aisle with Bongbong Marcos, who turns out to be a last-minute inclusion in the list of wedding sponsors
An idyllic farm in Silang, Cavite, is a perfect venue for a wedding, and it's where the Revilla clan threw a wedding bash for Gianna Revilla and longtime boyfriend Jed Patricio on Thursday, November 11.
Yet, the cameras rolled not for the couple but for the big names of traditional politics that witnessed their exchange of vows, invited by the bride's father, Senator Bong Revilla, chairperson of the once-ruling Lakas-CMD party.
From a whirlwind visit to posh Balesin resort in the morning, Davao City Mayor Sara Duterte not only led the entourage of ninongs and ninangs of the Revilla daughter, she took her oath as a member of Lakas right there at the wedding venue.
She walked the aisle with presidential aspirant Ferdinand "Bongbong" Marcos Jr, a pairing that was also being cooked behind the scenes: for them to run as a tandem in the May 22 presidential elections. Marcos, in fact, was not even listed in the wedding invitation's original lineup of sponsors.
Another ninong is another presidential aspirant, a willing placeholder for Sara Duterte, Senator Ronald "Bato" dela Rosa.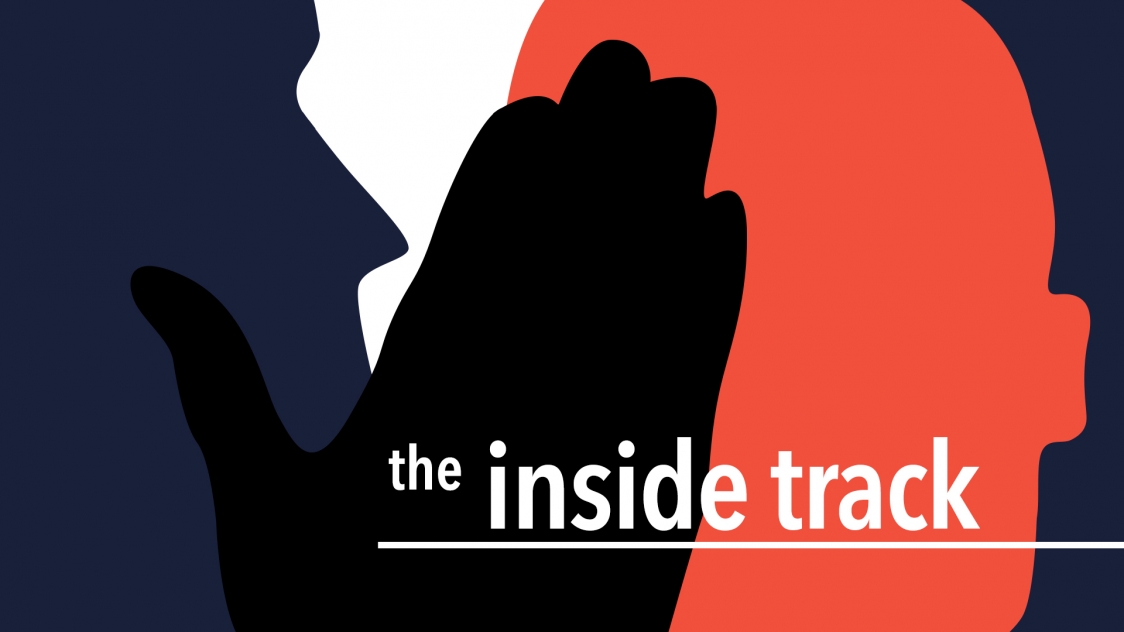 Marcos Jr. is the standard-bearer of Partido Federal ng Pilipinas (PFP) while Dela Rosa is the standard-bearer of the Cusi-led faction of the ruling PDP-Laban. Sara, who recently withdrew her bid for reelection in Davao City, has yet to announce her 2022 plans, but her father has publicly declared his wish for her presidential run.
When asked about his plans, Marcos told reporters at the wedding that he has not changed his mind about anything. What if Sara Duterte decides to run for president as well, he was asked. "Then she will run. What can I say?"
Dela Rosa made light of the palpable tension between the two, posting on Facebook a photo of himself with Marcos. "Presidentiable kumpadres (presidentiable godparents)," said Dela Rosa in the caption. 
In another post, Dela Rosa, Marcos, and Duterte posed for a photo. "Pili lang kayo (You choose)!" he wrote.
Earlier in the day, Duterte visited Balesin island to say hello to House Speaker Lord Allan Velasco, who is celebrating his birthday in the exclusive resort.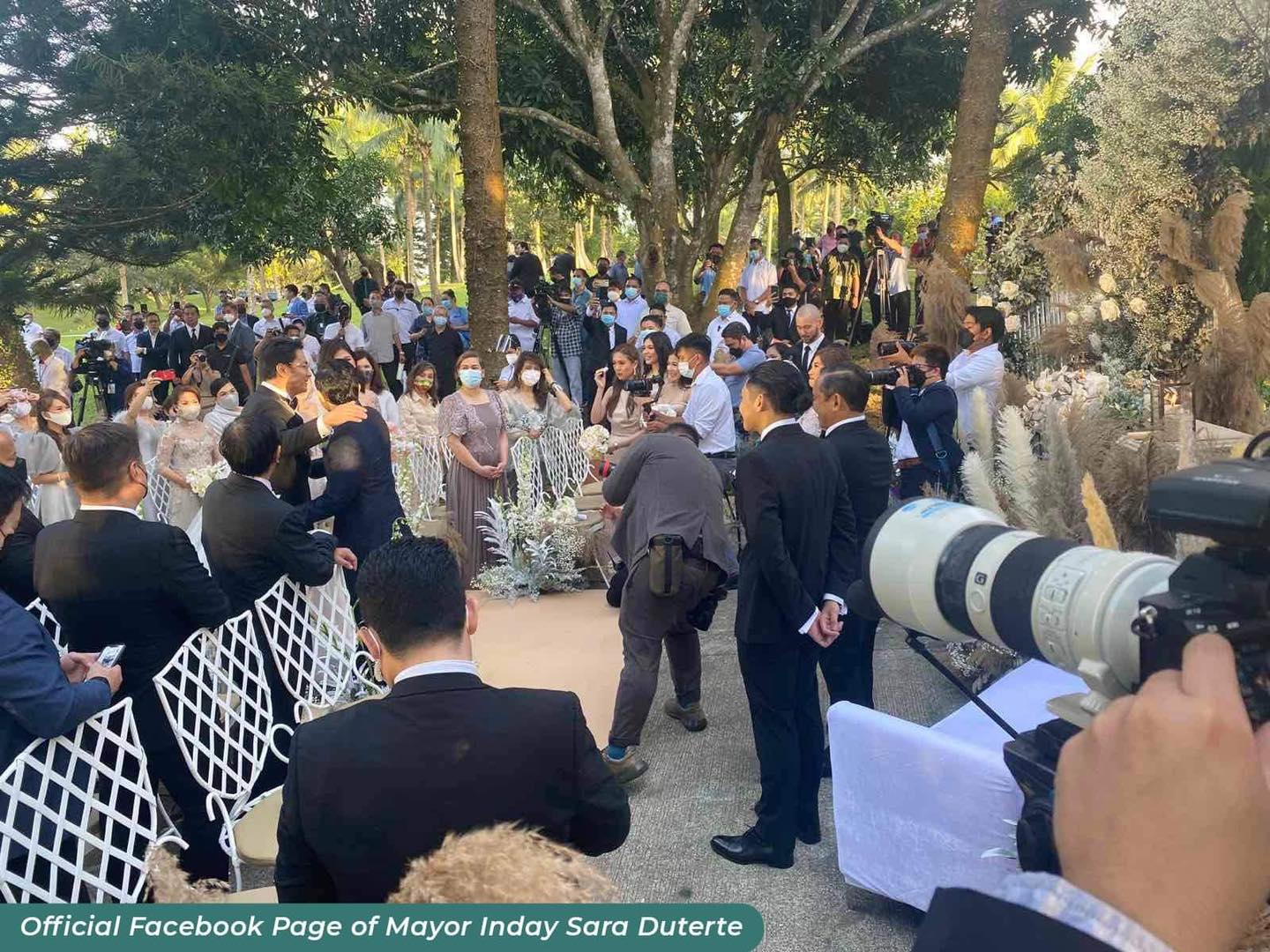 The three weren't the only big names in politics at the wedding. Other principal sponsors for Gianna and Jed included Loren Legarda, who's mounting a Senate comeback.
"'Yung mga hindi kandidato, 'di na kailangan (Those who aren't running in 2022, no need)," joked Legarda when Revilla, who went live on his Facebook page, went around to introduce to his 2.5 million followers his daughter's ninongs and ninangs.
But back to the three – Marcos, Dela Rosa, and Duterte.
Sara had long insisted that she would seek reelection as Davao City mayor.
But a side-event at the Revilla Farm seems to hint otherwise: wearing the same outfits they wore to the wedding, Lakas-CMD president and Majority Leader Martin Romualdez and Lakas-CMD chairman Senator Bong Revilla officially welcomed Sara Duterte into the party.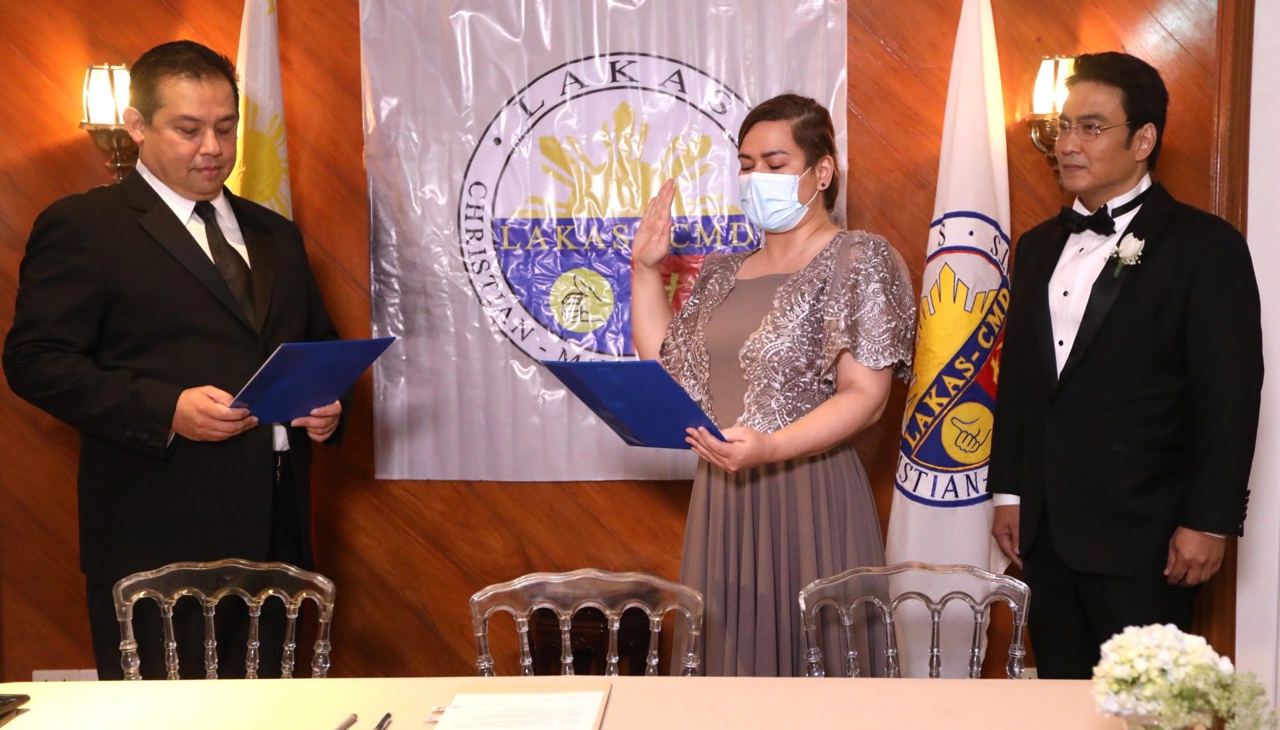 Lakas-CMD, as they waited for Sara to make a choice or change her mind, fielded two relatively obscure members as presidential and vice presidential candidates.
While neither the party nor Sara Duterte herself would say what her new membership means, there's almost no doubt left over whether the President's daughter would seek a national post in 2022. Revilla, going live on his Facebook page right before the start of the wedding party, said they have yet to speak to Sara about their 2022 plans.
Romualdez, in a chance interview in Silang, also wouldn't say what post Sara would seek, only emphasizing that the party had long been inviting the Davao mayor to join its ranks.
The permutations ahead of November 15 – the deadline for substitution of candidates who withdraw – are a-plenty. For many political observers and insiders, one possibility they're seeing is an alliance between Sara Duterte and Romualdez's cousin, Marcos.
Strange things have happened in Philippine politics. But if an oath-taking as a side event to a wedding is possible, then anything is.
Marcos, the son and namesake of the late dictator, said in Silang that he wouldn't be sliding down to run for vice president. Does that mean a Duterte-Marcos tandem is out of the question? Does it strengthen the case for a Marcos-Duterte ticket?
Dela Rosa, of course, has always been vocal about being willing to slide down for Sara Duterte – whether he meant that solely in the context of PDP-Laban or in other ways is yet to be seen.
Monday, November 15, the deadline for substitution, will finally put a clear ending to the intense drama of the last few days. – Rappler.com