Training, coaching, competing, and actively advocating for children's rights – how does Meggie do it all?
Editor's Note: This Women's Month, we listen to strong, independent women who are at the forefront of the most important issues we are facing today. In this piece, we get to know Meggie Ochoa, a decorated athlete, a woman of faith, and a voice for many.

They say big things come in small packages, and that's exactly how Meggie Ochoa came into the world of Brazilian jiu-jitsu in 2014. She was a petite, athletic woman who wanted to prove she could make it in a male-dominated sport.
She not only succeeded with numerous medals under her belt, but in her years as an athlete, she found her faith, purpose, and advocacy.
Meggie found that her voice reverberates most when she talks to and for children. Maybe this was because of her own struggles as a child – desperate to find her own thing and her place in the world. She ended up working full-time as an athlete and a coach to young children.
But one day, while browsing the internet, she found that a disturbing reality existed in the same world where she was honing the hopes and dreams of young children – some of them were suffering from sexual violence.
Meggie vowed to fight against this by becoming an ambassador of the Fight to Protect community. She gives talks and shows young children how empowering the community and sportsmanship of jiu-jitsu can be.
Learn all about how Meggie gets ready to fight for a better world.
FIRST GRAB. I usually set 3 alarms and I only stand up on the last alarm. The first thing I do is brush my teeth, then I get coffee and water and start with my morning prayer and Scripture reading.
SKINCARE ESSENTIALS. Because I didn't really have too many skin problems before the quarantine, I used to just use facial wash and that's it. But somehow my skin started acting up when the quarantine started. So I asked my friends for advice and one of them shared her skincare routine. It's what I follow now.
In the morning, I use the COSRX Low-pH Good Morning Cleanser, then either the COSRX Centella Water Alcohol-Free Toner or the AHA/BHA Clarifying Treatment Toner. I then apply The Ordinary Niacinamide 10% + Zinc 1% and The Ordinary Ascorbyl Glucoside Solution 12% as serums. Lastly, I apply the Biore UV Aqua Rich Watery Essence Sunscreen for extra hydration and SPF. When I have acne, I use the AC Collection Ultimate Spot Cream.
At night, I do the same cleanser and toner routine and then just apply moisturizer instead of SPF. I use either the COSRX Ultimate Honey Overnight Mask or the COSRX Ultimate Nourishing Rice Overnight Spa Mask.
BEFORE I START. My ultimate workspace essential is my OneNote app because my entire life is in it. When I have ideas, I reach for my phone or laptop and I jot my notes down in the app. My day-to-day lists are also found there so without the app, I wouldn't know where to start. As long as I've had my morning coffee and water, done my morning prayer and Scripture reading, I am good to go.
IF I MUST GO. It's usually a choice between 3 outfits: a jiu-jitsu-related Hyperfly shirt as a top, Under Armour workout clothes all the way down to my shoes, or Uniqlo basics with my plain white Keds. It depends where I'm going.
My safety essentials include my Under Armour Sports Mask, an acrylic face shield, a small alcohol spray bottle, and tissues.
IF I'M STAYING IN. I usually wear my jiujitsu-related shirts with Under Armour cotton shorts, or the brand's UA Recover line when I am at home.
FAVE DELIVERS. My favorite is definitely The Six Pack Chef! Their meals are super high quality in all aspects, and they are able to provide my daily nutrition needs. For other purposes, I usually use either Grab or Lalamove because they're really reliable for deliveries.
ROUTINE REMINDERS. The quarantine actually sort of organized my life. Since I couldn't really travel, I had a chance to fix my sleeping habits. From being a night person, I am now becoming a morning person. I used to sleep at 1-2 am regularly no matter what time I needed to wake up. Now, I sleep between 9:30-11 pm and wake up between 6:30-7:30 am.
I used to do my work after 11 pm because my training was until 10 pm, but now I get to do my work in the morning and throughout the day. Before, my Scripture reading and studies were unpredictable and would be done anytime during the day, but now I am able to intentionally do it every morning before my day-to-day tasks begin.
I get to workout 6 times a week, sometimes in Segovia Strength, sometimes at home. Aside from that, I teach online classes for Jiujitsu Manila and Fight to Protect. I also have regular online Bible studies 3 times a week, a weekly mentorship session, and some meetings and online events here and there. Thankfully, I am able to spend the Lord's day faithfully in church every Sunday, which I was not able to do before due to my erratic schedule.
It takes a lot of discipline for me to keep this routine, but the thought that keeps me going is the quality time I get to spend with the Lord every morning. At night when I am tempted to work more, I think about the next morning and that if I sleep late, my time with Him will be affected.
CELEBRATING WOMEN'S MONTH. It wasn't easy getting to where I am now. One of the challenges I experienced along the way was burnout, and I think that was because of my difficulty saying "no" to people. This is a part of me I would really like to let go of. I think 2018 was one of the years I burnt out the most when I had way too many commitments and pressured myself so much to perform and fulfill expectations.
But I know that I am here because God allowed me to be here. He set up everything in my life in the past to be where I am now. He blessed my life with people who helped me get here and allowed me to know Him so I can be guided every step of the way.
So to young girls who have big dreams, my advice is to know God first. Because the more you know Him, the more you will know yourself and what He made you for. When you know Him, you'll know what is pleasing to Him, and in pursuing that, you fulfill your purpose which is both for His glory and your good. That is what I am always seeking to do.
Meggie's items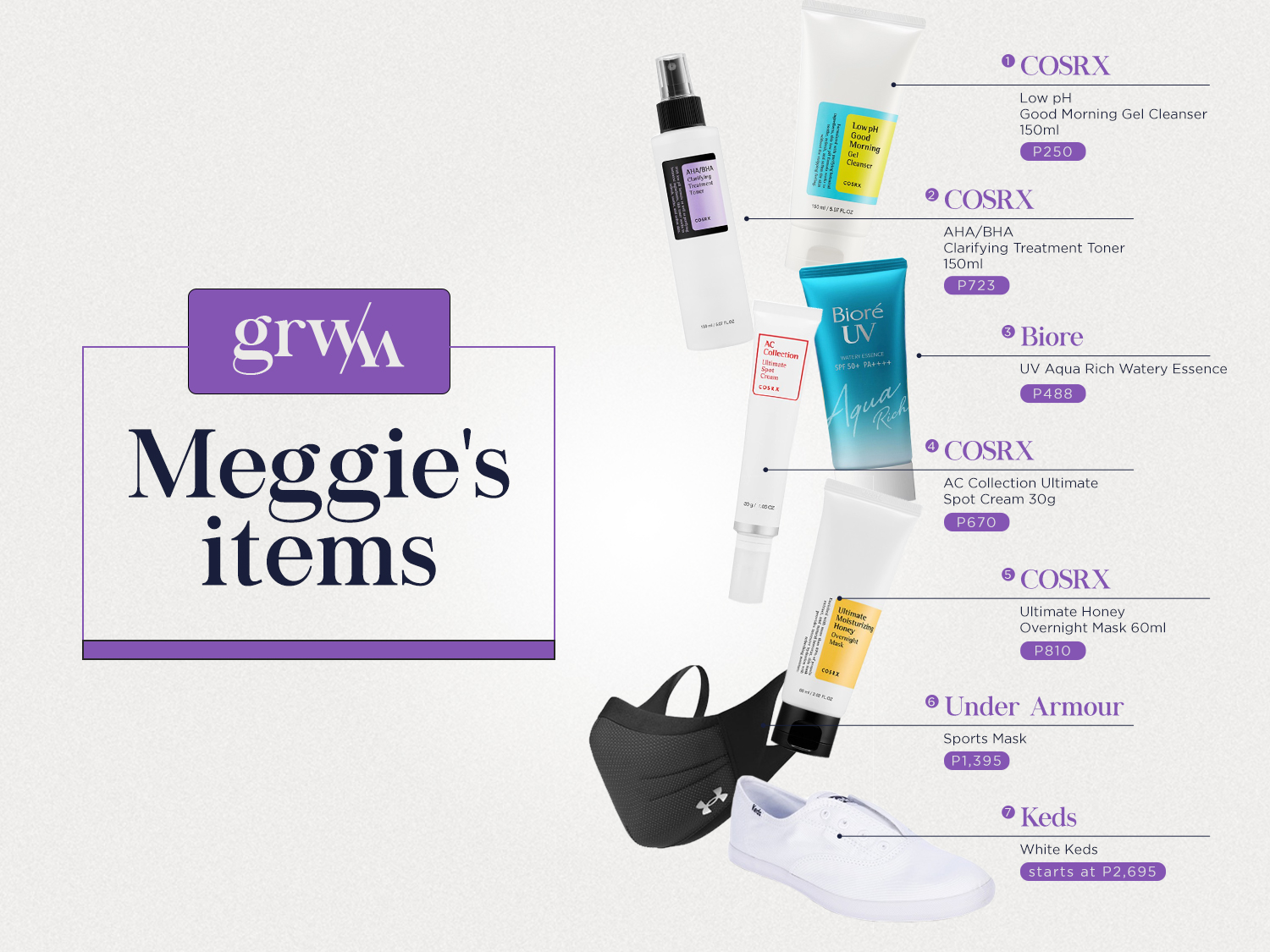 GRWM recommends
– Rappler.com