Instead of buying land for agricultural expansion, Manny Pangilinan is looking at partnerships with local governments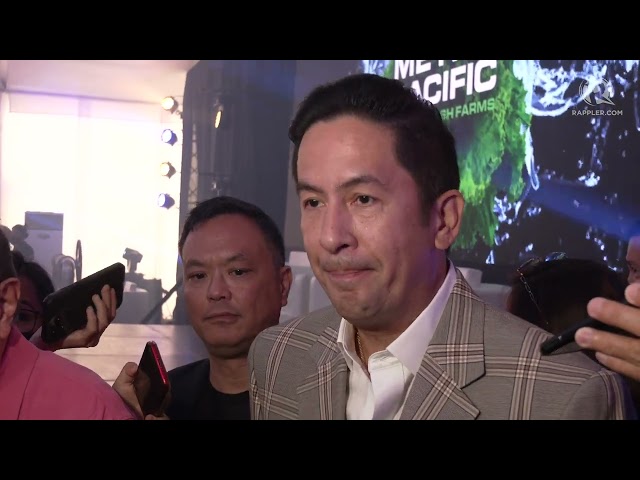 BULACAN, Philippines – Manny Pangilinan's Metro Pacific Investments Corporation (MPIC) is building the Philippines' largest vegetable greenhouse facility in San Rafael, Bulacan.
On Monday, February 20, MPIC subsidiary Metro Pacific Agro Ventures and Israel-based company LR Group held a groundbreaking ceremony for Metro Pacific Fresh Farms (MPFF), which aims to produce over 1,200 metric tons of high-quality vegetables all year round.
The 22-hectare facility will feature a complex of greenhouses using modern farming technologies, which would need 90% less water, 90% less land, and 90% to 99% less fertilizers and pesticides. At the same time, these methods would trim crop cycle time, according to MPIC.
Manny Pangilinan's Metro Pacific Agro Ventures and Israeli-based company LR Group launch sustainable farming venture Metro Pacific Fresh Farms in San Rafael, Bulacan.

At 22 hectares, this will be the biggest vegetable greenhouse facility in the Philippines @rapplerdotcom pic.twitter.com/3vZe5s1ApN

— Ralf Rivas (@RalfRivas) February 20, 2023
MPFF, which has an investment of close to P1 billion, aims to push for training, advanced farming techniques, and employment opportunities for surrounding communities in Bulacan.
Pangilinan hopes the investment will reduce inflation, as the facility's produce adds to the supply chain and reduces dependence on imports.
The facility is targeted for completion in 12 months.
More agricultural ventures
Pangilinan noted that the land in Bulacan was initially targeted to be part of MPIC's logistics center. But following their failed bid in the logistics space, the tycoon found that the land could be used for agriculture.
With a growing agriculture portfolio in mind, Pangilinan said the "main challenge" is going into large-scale farming.
"[Large-scale farming] means we need plenty of hectares, thousands of hectares…. Certain plants can't be grown in greenhouses like sugarcane. But that's what you need for the sugar situation, the rice situation," he said.
Despite the need for more land, Pangilinan is not keen on buying properties for his agricultural venture and instead wants to partner with local governments to expand.
"We actually don't want to buy land. We got to put the money in the factors of production…. In Indonesia, government leases the land to producers. Malaysia, the same thing, [and] Thailand. The money is put into production inputs for agri products and that's the model we're looking into," he said.
In December 2022, MPIC entered into a strategic partnership with LR Group to form Metro Pacific Dairy Farms, and expand operations of its dairy farms and other dairy products. Earlier that same year, it acquired a majority stake in the maker of Carmen's Best ice cream.
This February, MPIC acquired a 35% stake in coconut products maker Axelum Resources Corporation. – Rappler.com