(4th UPDATE) Benjamin Diokno intends to keep 'most' of the Department of Finance undersecretaries, as well as National Treasurer Rosalia de Leon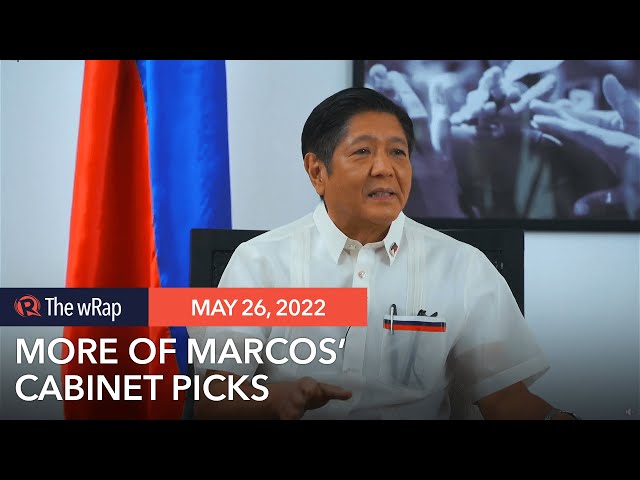 MANILA, Philippines – Central bank chief Benjamin Diokno is president-elect Ferdinand Marcos Jr.'s pick to lead the Department of Finance (DOF).
Diokno was supposed to serve as governor of the Bangko Sentral ng Pilipinas (BSP) until July 2023, covering the remaining term of former governor Nestor Espenilla Jr., who died of tongue cancer in February 2019.
"It is an honor to serve the Filipino people in my current and any future capacity. I am grateful and humbled by the trust given to me by the president-elect to help his administration manage the country's fiscal affairs," Diokno said in a statement on Thursday, May 26.
"As finance secretary, I will strive to continue prudently and carefully balancing the need to support economic growth, on one hand, and to maintain fiscal discipline, on the other."
BSP Monetary Board Member Felipe Medalla, meanwhile, was chosen by Marcos to lead the central bank.
Diokno and Medalla join Arsenio Balisacan, Marcos' socioeconomic planning secretary, in the incoming administration's economic team. Former University of the Philippines (UP) president Alfredo Pascual was also named trade secretary.
"The appointment of these experienced, well-known leaders should boost the confidence of local and foreign businesses, from MSMEs to big players, that the new administration will promote liberalizing but inclusive policies that will accelerate job creation, competition, and economic recovery," said Makati Business Club executive director Coco Alcuaz in a statement on Thursday.
"As the first economic czar who has headed the two other big economic agencies – DBM (Department of Budget and Management) and BSP – Governor Diokno will have rare insight on how the government and private sector work together to boost jobs and growth," added Alcuaz.
Continuity
In a briefing on Thursday, Diokno said he intends to retain "most" of the finance undersecretaries, as well as National Treasurer Rosalia de Leon.
Diokno declined to comment in detail on the proposals of outgoing Finance Secretary Carlos Dominguez III, particularly slapping new taxes and slashing value-added tax exemptions.
"We will certainly look at the fiscal consolidation plan that was handed over by the outgoing administration," Diokno said.
"I think the post of finance secretary is equally challenging as governor of the central bank because we'll be shooting for the same objective of attaining an upper middle income economy soon. I think we are almost there," he added.
Before he heads to the DOF, Diokno said, he will likely leave the BSP with another interest rate hike of 25 basis points by June 23. The central bank had raised interest rates last May 19 for the first time since 2018.
Sought for comment regarding his position on the Philippines' current debt levels, Diokno said the levels are not really that much of a concern, provided that the country's economy continues to grow.
"My position in the moment is that while our debt-to-GDP (gross domestic product) ratio is slightly above the 60% limit, I don't think that is really cause for concern because as long as we continue to grow at around 6% to 7% on a sustainable basis, we can easily outgrow our debt," he said.
Diokno is no stranger to handling the Philippines' economic issues, having served three presidents.
Prior to being appointed as the fifth BSP governor, he served as the DBM secretary under two administrations. He served as the budget secretary of President Rodrigo Duterte from 2016 to 2019 and former president Joseph Estrada from 1998 to 2001.
He was also involved in policy reforms under the administration of former president Corazon Aquino.
Diokno is professor emeritus of the UP School of Economics. He taught subjects like public sector economics and macroeconomics.
At the BSP, Medalla will serve Diokno's remaining term until July 2023.
Similar to Diokno, Medalla served under the Estrada administration, heading the National Economic and Development Authority from 1998 to 2001.
He was first appointed to the Monetary Board in July 2011, and then reappointed in July 2017.
He is also a former dean of the UP School of Economics and former vice president for planning and finance of the UP System.
Medalla previously served as president of the Philippine Economic Society and chairman of the Foundation for Economic Freedom as well. – Rappler.com