We look back at the four Filipinas who were crowned Miss Universe
Most Filipinos – whether they mean to or not – know a thing or two about the Miss Universe pageant. And why wouldn't they? In the Philippines, beauty pageants are a big deal. For the biggest fans, it's something of a passion.
Each year, a select group of Filipinos vie for the chance to represent the country at the annual pageant. Each year, she carries with her both the honor and pressure to do well.
Ahead of the crowning of yet another new Miss Universe winner, let's take a look back at the Filipina beauty queens who've brought home the crown and those who did not – but left an indelible mark in Philippine pageantry nonetheless.
Gloria Diaz, 1969
The country's first ever Miss Universe is Gloria Diaz, who won the crown when she was only 18. Diaz, in the book The World of Miss Universe, said she didn't expect to win.
"I joined the pageant for the fun and experience – I never thought I would win – not even my primary pageant in Manila," she said then. Diaz could be considered a dark horse in the race – the beauty queen would look back at her Miss Universe run and recall that in the lead-up to the coronation, she didn't get much attention, even from the press.
The first Filipino Miss Universe queen happened to win the crown during a historic time for humankind: As the Miss Universe pageant took place, the Apollo 11 mission was just about to land on the moon. Of course, Diaz was asked about it during the Q&A: "In the next day or so, a man will land on the moon. If a man from the moon landed in your hometown, what would you do to entertain him?"
The coy Diaz answered: "Oh, just the same things I do. I think if he has been in the moon for so long, I think when he comes over he wants to change, I guess."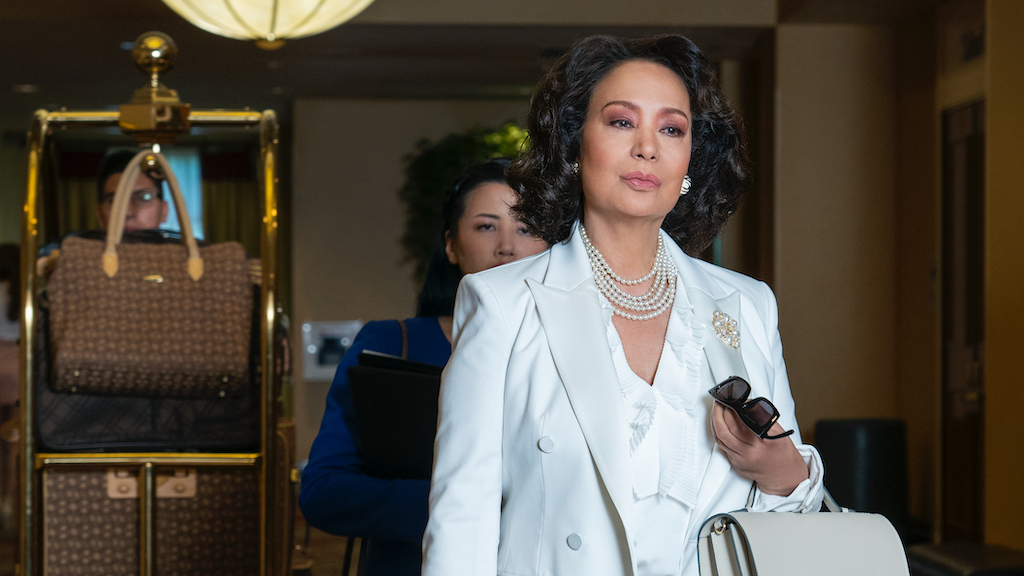 Her win was even referenced by then US president Richard Nixon, who happened to visit the Philippines after her win.
"I think it is significant to note that the first world capital that I am visiting, after having greeted the first men to have set foot on the moon, is Manila, the capital of the Philippines…. And I am not unaware of the fact that a very lovely lady from the Philippines, Miss Gloria Diaz, has been named Miss Universe," he said in a speech.
Like many beauty queens before and after her, Diaz joined show business after her reign and went on to receive several acting awards throughout her career. To this day, Diaz is a working actress.
In 2019, Diaz had a guest role in Netflix's Insatiable, a series about a bullied teen who later enters the pageant scene. She recently starred in the sitcom Oh My Dad!
Margie Moran, 1973
Four years later, another teenaged Filipina beauty would bring home the Miss Universe crown. Margie Moran, then only 19, won the title in Athens, Greece.
Moran, already a working model in high school, didn't really plan on joining pageantry, but the designers she was working with egged her on. Her grandmother, a former Pangasinan Carnival Queen, acted as her guardian when she finally joined her first pageant.
"I joined it without any plan to win. But when I was there already, [I told myself], 'Of course I was going to win this,'" Moran said in a 2017 interview with Rappler. Her father, a lawyer, didn't even know about her pageant career until after she won Binibining Pilipinas.
Moran, during the Miss Universe Q&A, was asked: "Let's make believe that all of a sudden you had a million dollars. What's the first thing you would buy and why would you buy it?"
Her winning answer was: "A house and lot, because it's the most expensive thing and I can't afford it. If I had a million bucks, I'd buy a house and lot and live by myself, and other people of course."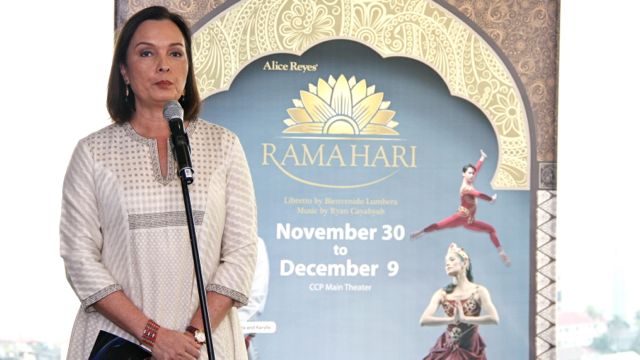 Arguably more iconic than her answer, however, was her reaction right before the winners were announced. As Moran and Miss USA waited at the center of the stage, she caught a glimpse of the host's cue card and rolled her eyes. She'd later clarify that she wasn't actually sure who won and that the eye roll was borne out of both excitement and uncertainty.
Years after her reign, Moran finished her college degree and later on, a master's degree. In the '80s and '90s, Moran focused on growing their businesses while also hosting Margie on Mindanao, a magazine TV show that featured different parts of the island group. It was also through that show that Moran would find herself pursuing a new advocacy: peace in Mindanao.
Moran was president of Ballet Philippines for nearly a decade until she was appointed a member of the board of trustees of the Cultural Center of the Philippines by President Rodrigo Duterte. She currently chairs the board.
Pia Wurtzbach, 2015
It would be a long and painful wait before the Philippines could again claim to be home of the most beautiful woman in the universe. Unlike the two queens before her, however, Pia Wurtzbach's journey to the Miss Universe stage was anything but easy.
Wurtzbach joined the Binibining Pilipinas pageant thrice before finally earning the right to wear the Philippine sash at the Miss Universe pageant. The longtime actress, then 26, was crowned in the most unconventional of manners, following a live, on-air mistake by Steve Harvey.
The veteran TV host had mistakenly called out Colombia's Paulina Vega as the winner before shocking the pageant world. He apologized and announced that Wurtzbach, in fact, was Miss Universe that year.
Wurtzbach's win would end 42 years of a Miss Universe title drought.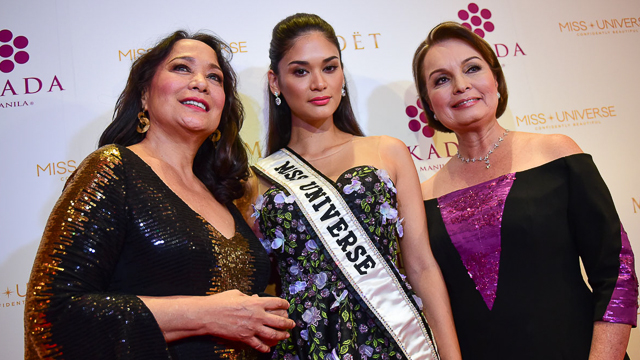 She handled with ease what was arguably a tricky and politically-loaded question about US military presence in the country. The beauty queen said she welcomed their presence, citing the "good" relationship between the Philippines and the US, longtime military and political allies.
But it was her answer during the last Q&A that would really make a mark on pageant fans both here and abroad. Asked why she should be the next Miss Universe, Wurtzbach said she'd use the title to raise awareness on causes like HIV awareness. She then concluded, "I want to show the world – the universe rather – that I am confidently beautiful with a heart."
After her reign, Wurtzbach would continue to be a celebrated personality in the Philippines. She pursued an acting career and is among the top endorsers in the Philippines. She continues to support several causes and charities, including Save the Children, WWF Philippines, Love Yourself, and UNAIDS. She's an ambassador for both WWF Philippines and UNAIDS.
In 2020, Wurtzbach launched the podcast Queentuhan, which she hosts alongside fellow Binibining Pilipinas alumnae Bianca Guidotti and Carla Lizardo. The trio later launched another podcast, Between Us Queens.
Catriona Gray, 2018
Thankfully, the Philippines didn't wait too long for its next queen.
Catriona Gray was crowned Miss Universe during the pageant finals in Thailand. She was easily a favorite heading into the competition, even as her batch is remembered by fans as one jam-packed with strong contenders.
Gray is the first Filipina to win both Miss World Philippines and Miss Universe Philippines; the two pageants are considered to be among the most prestigious in the world.
Her first foray into pageantry was in 2016 via Miss World Philippines. She went on to compete in Miss World, ending her journey as the 3rd runner-up. Despite the heartbreak from her Miss World run, Gray would go on to join Binibining Pilipinas in 2018.
Her Binibining Pilipinas run is one for the books, which ended with her iconic pageant finals look: a Mak Tumang gown, styled with a 3 Stars and the Sun ear cuff. Mak Tumang and standout jewelry would become her signature look at the Miss Universe.
But it was her Miss Universe campaign that truly amazed even the most veteran of pageant observers. Gray and her team – a mix of designers, trainers, and hair and make-up experts – produced videos that highlighted the beauty of the Philippines, curated an impeccable wardrobe, and released one pasabog photoshoot after another on social media even as she was charming fans from all over the world while in Thailand.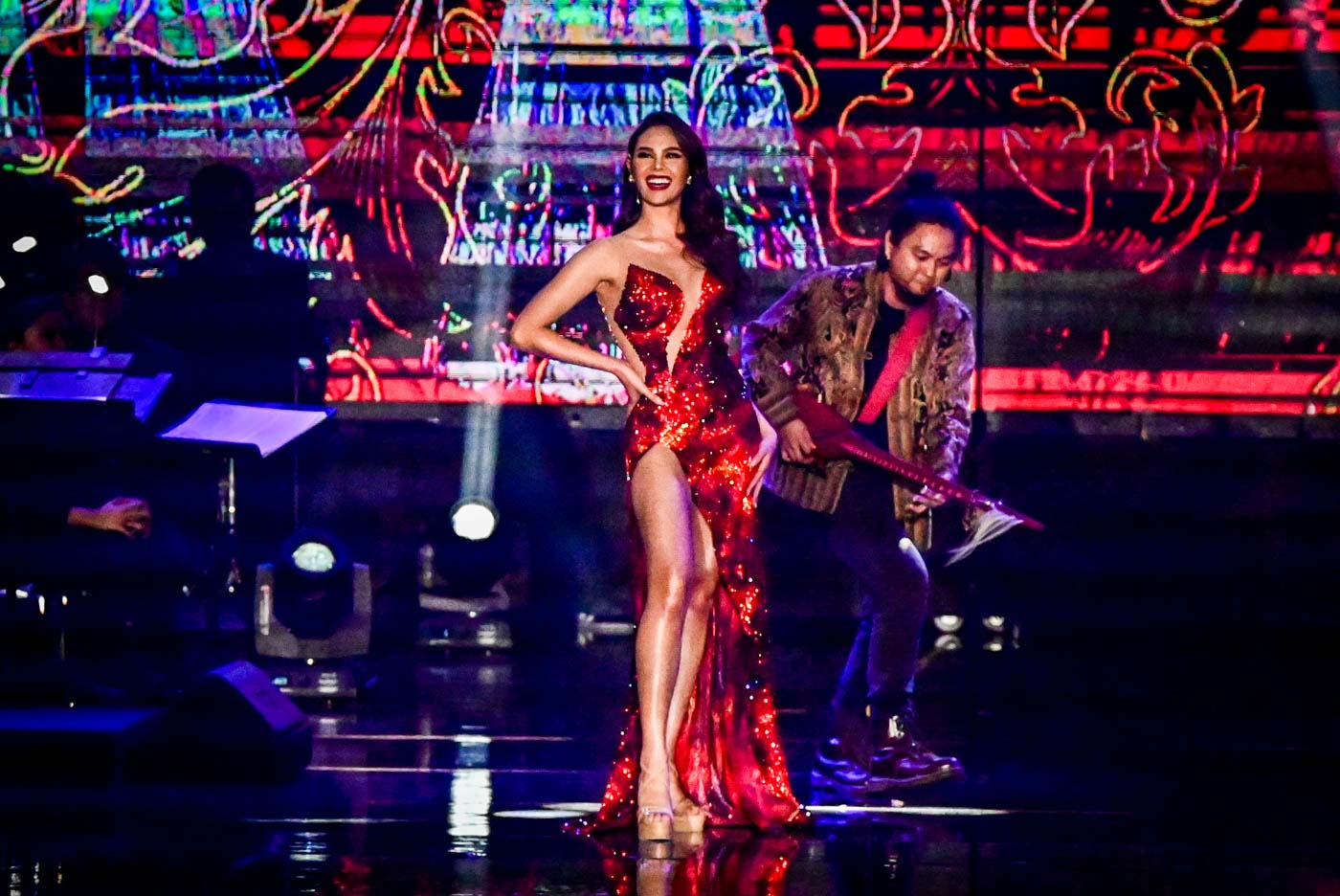 There are a lot of highlights from Catriona's Miss Universe campaign – the slow-mo turn, the Mak Tumang gowns, an original song that was released in the lead-up to the finals – but it was her answer during a casual tête-à-tête with Steve Harvey that really hyped fans up.
Asked to give a title of a song to describe her pageant experience, she said: "Well, you know what, Steve, as a Miss Philippines, I've always felt the love and the support of the Filipino people, and I think I brought half of my country here tonight. So, I would name the song 'Raise Your Flag' because I stand here not as one, but as a hundred and four million Filipinos."
"Raise Your Flag" would later become the title of Catriona's homecoming song which, in turn, she'd cover herself.
After her reign, Catriona pursued a career in entertainment. She's been busy hosting shows both in the Philippines and abroad and has launched a music career in between.
Paving the way
While the Philippines "only" has four Miss Universe crowns to its name, the other women who represented the country between those wins no doubt deserve special mention. Among the most memorable Philippines representatives include Miriam Quiambao, whose 1st runner-up finish in 1999 was the closest the country got to the crown in a long time.
Of course, in 2010, Venus Raj as 4th runner-up would break a decade-long dry spell – years when the Philippine representative wouldn't even place in the pageant. After Raj, all of the country's representatives have finished their Miss Universe stints as finalists, helping establish the country as a powerhouse in international pageantry.
The full list of recent Miss Universe Philippines representatives and their placements is as follows:
Miss Universe 2011 3rd Runner-up, Shamcey Supsup
Miss Universe 2012 1st Runner-up, Janine Marie Tugonon
Miss Universe 2013 3rd Runner-up, Ariella Arida
Miss Universe 2014  Top 10, Mary Jean Lastimosa 
Miss Universe 2016  Top 6,  Maxine Medina 
Miss Universe 2017  Top 10, Rachel Peters
Miss Universe 2019 Top 20, Gazini Ganados 
Miss Universe 2020 Top 21, Rabiya Mateo 
Miss Universe 2021 Top 5, Beatrice Luigi Gomez
– Rappler.com