Here's a glimpse of how Filipinos showcased the power of a community working together during a difficult year
From leading relief initiatives following the Taal Volcano eruption to storming the streets to protest the anti-terror law, Filipinos showed how their bayanihan spirit remains intact even as they faced their own personal challenges.
A Filipino trait defined as working together towards a shared cause, the bayanihan spirit was on full display in the country in 2020, when it was needed most.
As the pandemic forced people to stay at home, many turned to social media to find ways to help, crowdsource information, hold government accountable, and mobilize online communities to take action. Others staged campaigns nationwide to make their voices heard and also to aid fellow Filipinos.
Here are some of the instances when Filipinos showcased the power of a community working together in 2020.
Responding to disasters
On the second week of 2020, Taal Volcano erupted, marking the first of several disasters witnessed by the country this year. Many families were displaced and also lost their livelihood.
This triggered an outswelling of support and relief from various groups who led donation drives, organized feeding initiatives for displaced families, conducted psychosocial debriefing for traumatized victims, and led volunteer efforts for stranded animals.
Help came from people from all walks of life, including street vendors in Sto Tomas, Batangas, who gave up a day of their income to feed evacuees at Polytechnic University of the Philippines. Others assisted using social media and digital platforms to organize information. They created a basic map and web application to show locations of active evacuation centers to help donors see where to bring relief, among others.
This outpouring of bayanihan efforts from Filipinos was not only seen in the aftermath of the Taal Volcano eruption but also in subsequent disasters, particularly when the Philippines faced the wrath of 5 tropical cyclones in a span of just 3 weeks from late October to November.
Parts of the country were still reeling from Super Typhoon Rolly, when When Typhoon Ulysses struck the Philippines in November. At the height of Ulysses, several Filipinos posted desperate calls for rescue and relief on social media as flood waters rose as high as the second floor of houses in parts of Marikina and Rizal.
Targeting to organize these calls for help for quicker response, Rappler's civic engagement arm MovePH called for online volunteers to help scour and verify these pleas on social media. With at least 1,000 volunteers responding to the call, MovePH amplified verified reports on its social media platforms and brought them to the attention of the Office of Civil Defense, and Red Cross Philippines, among others.
Two days after calling for volunteers, MovePH, with its network, was able to monitor more than 1,600 reports for rescue and relief from Marikina, Rizal, Bulacan, Cagayan, and other parts of Luzon.
Other Filipinos were also quick to come together online and consolidate relief efforts, following the successive disasters. With the outpouring of initiatives, several youth organizations banded together, also through social media. to consolidate rescue efforts, load requests, and relief drives for hard-hit communities.
The aftermath of Typhoon Ulysses showed the gaps in the government's disaster response especially as local governments appealed for rescue boats, and photos of submerged houses went viral on social media. This sparked online discussions on the need for better, coordinated disaster response from the national government.
Trudging through the pandemic
When President Rodrigo Duterte's administration lagged behind in cushioning the blow of the pandemic on the economy and aresting the spike in coronavirus cases, citizens worked together and looked for solutions. These included relief drives for those in need and online campaigns calling for mass testing and setting up temporary bike lanes.
Though well-intentioned, these initiatives were sometimes struck down by the very government whose efforts the groups were trying to augment.
At the onset of the community quarantines in the Philippines, for instance, groups turned to social media to gather donations for vulnerable communities' needs and frontliners' personal protective equipment (PPE). The groups responded to the shortage of PPE and the struggles of affected sectors in Cagayan de Oro City, Leyte, and Batangas, among areas.
Restaurants, bakeries, and even retail stores donated food, relief packs, and health kits to frontliners and affected families. 
Seeing this, the Department of Social Welfare and Development in April initially urged those leading donation drives to get a permit and pay fees prior to launching their efforts. The department withdrew the reminder after a massive backlash and said it will review the guidelines on public solicitation and make the process "more responsive to the emergency situation."
There were also those who used digital platforms to lead free ride-sharing initiatives using hashtags #pickupCOVID19PH and #INeedARide after the suspension of public transport made it difficult for health workers, hospital staff, and employees to go to work.
Initially starting out as a Facebook group for people to share tips on running errands during the pandemic, Quarantine Tribute Tips quickly grew into a thriving community of action. Throughout the pandemic, it had used its strong following to gather donations and bring relief to marginalized groups such as jeepney drivers, after coming across their viral stories online.
Various organizations and individuals also sought to help in pandemic response by volunteering their skills to crowdsource reports online, organize information and data, and make innovative programs. Information hub Help from Home, for instance, sought to compile initiatives helping frontliners and communities in one platform.
To help people be more informed about the Philippines' budget allocation and spending for pandemic response, a group of volunteers took the initiative to collate and visualize government data through the Citizens' Budget Tracker website.
Inspired by their idols, K-pop fans in the Philippines have also used their huge fan following to help disaster victims as well as those affected by the pandemic.
Students speak up
Throughout the pandemic, young Filipinos have brought to light sexual harassment in schools, called out red-tagging officials, and the flaws in the country's shift to distance learning.
Student governments of 4 major universities in Metro Manila even submitted to the Commission on Higher Education in March a petition calling for the suspension of online classes nationwide after several student groups aired their concerns about transitioning to e-learning in the middle of an pandemic.
Forced to keep up despite their circumstances, many students were left to fend for themselves and ask for donations under online campaign #PisoParaSaLaptop. In a bid to help these students, MovePH took on the campaign in August and helped promote the stories of students in need using its wide-reaching platforms.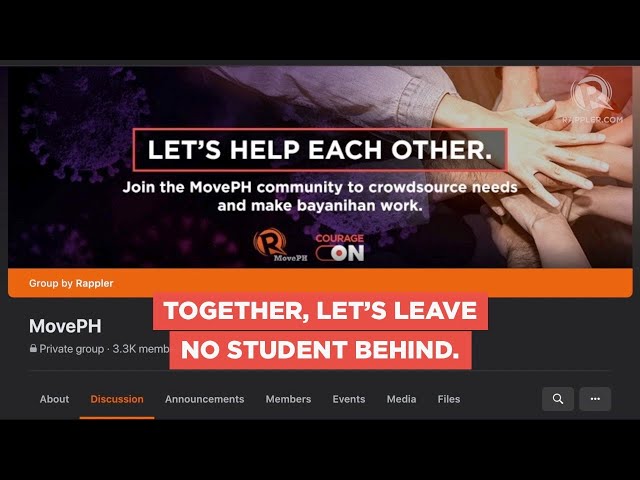 With the help of generous donors and our partners, MovePH raised at least P1,074,502.19 and supported more than 70 students by October 1. Although affected by the flaws in distance learning as well, several students have also sought to help each other through internet and radio initiatives they've led themselves.
Going beyond these donation drives, students across the country came together to demand a national academic break in the wake of several disasters that wrecked people's homes and hampered their access to internet connection and electricity.
Students did not only mobilize for matters involving distance learning in 2020. Taking off from the viral hashtag #HijaAko where netizens called out victim blaming, students coined hashtags for their respective schools to expose sexual misconduct they experienced in their campus and demand safer learning environments from their administration.
The online campaigns have pushed school administrations to act on sexual harassment in schools and draft policies to further protect students.
Being outspoken, however, has made student activists especially prone to red-tagging.
Online campaigns
The enactment of the anti-teror law heightened concerns over the dangers of red-tagging. Students were at the helm of the protest movement against the law, which many fear will clamp down on Filipinos' basic rights.
Seeking to fight the controversial measure, many led online campaigns such as a Change.org petition calling to #JunkTerrorBill that has so far collected more than 940,000 signatures. Others also showed their opposition through an email protest to senators, Department of Justice officials, and Malacañang officials. These efforts are on top of rallies held nationwide.
Despite the people's clamor, lawmakers passed the anti-terror bill in July.
When lawmakers kept dragging their feet on renewing ABS-CBN's franchise, Filipinos sought ways to keep the embattled media network on air. The National Union of Journalists of the Philippines (NUJP) even held weekly Friday protests and submitted a 200,000-signatory petition to the Senate and House of Representatives in February to call on the government to renew ABS-CBN's franchise. Celebrities and online personalities have voiced their thoughts on the matter.
Lawmakers' delay in tackling the franchise renewal led to ABS-CBN shutting down radio and television operations on May 5, following a cease and desist order from the National Telecommunications Commission (NTC). The media network's congressional franchise had expired the day before.
Days after ABS-CBN was forced to go off air for the first time since Martial Law, several campus publications and organizations worked together in launching a Change.org petition to bring back ABS-CBN.
MovePH, meanwhile, led an online campaign encouraging Filipinos to tag their representatives and use the hashtag #CourageON. Across social media, many Filipinos jumped on the trend to urge lawmakers to tackle the matter and bring ABS-CBN back on the air.
While some representatives took note of the request, an overwhelming majority of the House committee on legislative franchises rejected the bills seeking to grant ABS-CBN a fresh franchise in July.
These are just some of the many moments where Filipinos tapped into their bayanihan spirit to make real change in communities. Throughout 2020, many used social media and hashtags to bring attention to and start smart discussions on national issues such as #FreePride20 and #ReleaseCebu7. Another is #Halalan2022 which Filipinos used to encourage people to register for the 2022 elections.
Filipinos have long shown that they are capable of innovative solutions and aiding the marginalized, especially in the face of crises. While commendable, it also bears noting how many have had to rely on their fellow citizens to address their own needs. 
The bayanihan exemplified by Filipinos to help fill in big gaps in the government's response to the pandemic and disasters shows that more can be done in making these solutions sustainable and for government to learn from, and listen to, its own people. – Rappler.com