(UPDATED) Antonio Parlade Jr., also a former AFP lieutenant general, is known for red-tagging organizations, individuals, and even celebrities
Retired Lieutenant General and former National Task Force to End Local Communist Armed Conflict (NTF-ELCAC) spokesperson Antonio Parlade Jr is seeking the presidency for the upcoming 2022 elections.
On Saturday, November 13, Katipunan ng Demokratikong Pilipino (KDP) presidential aspirant Antonio Valdez put Parlade as his substitute. Valdez filed his withdrawal of candidacy at the Commission on Elections (Comelec) office in Manila, and indicated that Parlade would be his substitute.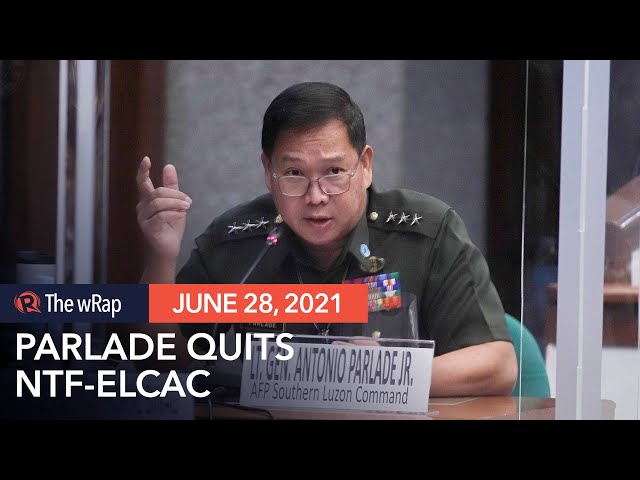 In a phone interview with Rappler, Parlade said he has yet to talk to the KDP regarding the substitution.
Valdez, a former undersecretary of the Department of Education, filed his candidacy for president in October as an independent. However, under the Comelec rules, independent aspirants are not allowed to be substituted.
This rule was reiterated by Comelec spokesperson James Jimenez in a tweet on October 8.
Parlade is known for his notoriety of red-tagging organizations, individuals, and even celebrities. In early 2021, senators recommended removing Parlade as the NTF-ELCAC's spokesperson.
On March 10, the Senate adopted a committee report recommending the removal of Parlade due to "potential conflict between the policies of NTF-ELCAC and the mandate of the security sector by engaging a spokesperson who does not hold concurrent mandates in the security forces."
Days before Parlade's retirement from military service, he resigned as anti-insurgency spokesperson. Parlade also served as the commander of the Armed Forces of the Philippines Southern Luzon Command.
However, in September, President Rodrigo Duterte appointed Parlade as the deputy director-general of the National Security Council.
There were at least two red-tagging complaints filed against Parlade before the Office of the Ombudsman. One of the complaints invoked the anti-graft law, while the other one invoked the International Humanitarian Law.
Parlade claimed that the KDP already moved to settle its records with the Comelec, which listed KDP's aspirants as independent in its tentative list of candidates in October. – with a report from Dwight de Leon