Manila Mayor Isko Moreno, former senator Bongbong Marcos, and senators Grace Poe and Manny Pacquiao round up the top 5 possible presidential bets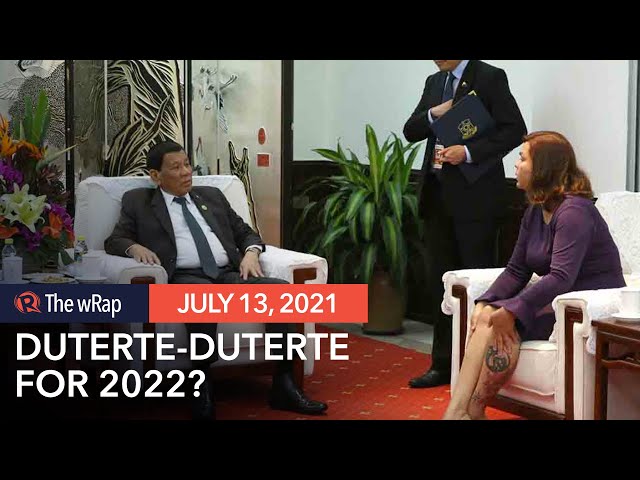 President Rodrigo Duterte and his daughter Davao City Mayor Sara Duterte lead the pack among possible 2022 vice presidential and presidential candidates, according to a Pulse Asia Research, Incorporated survey released on Tuesday, July 13.
Conducted from June 7 to 16, the poll showed that 28% or more than a quarter of Filipino adults would vote Sara for president. Meanwhile, 18% of Filipinos would vote President Duterte for vice president.
Sara's rating is virtually the same as her rating in Pulse Asia's November to December 2020 survey, which was 26%.
In second place was Manila Mayor Isko Moreno, with 14% of Filipinos saying they would vote for him as president.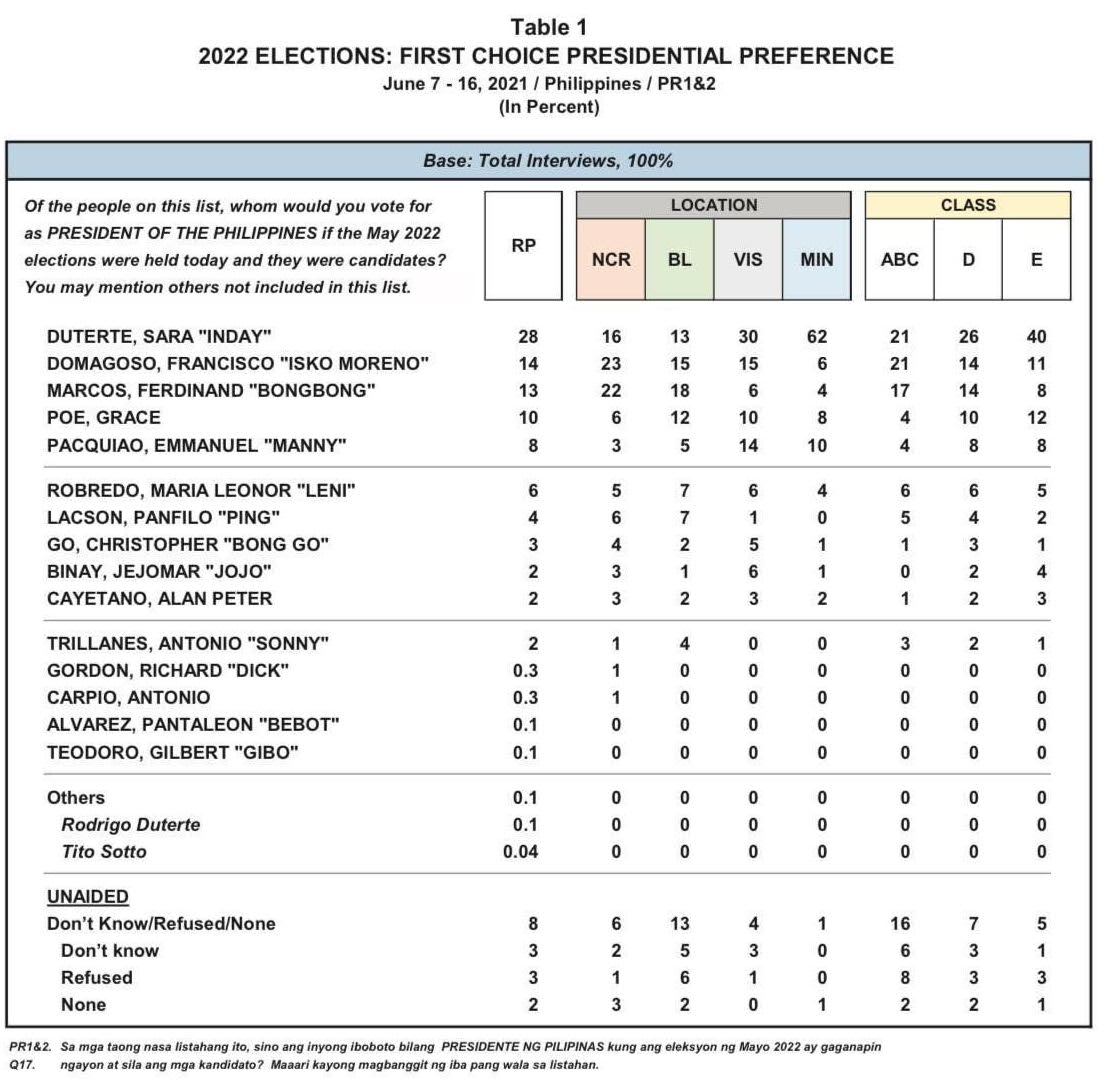 Closely behind Moreno are Ferdinand "Bongbong" Marcos Jr. (13%), Senator Grace Poe (10%), and Senator Manny Pacquiao (8%). These are also the same probable candidates who made it to the top five in December last year.
Vice President Leni Robredo of the opposition placed sixth with 6% of respondents saying they would vote for her. She is closely followed by Senator Panfilo Lacson (4%), Duterte's longtime aide Senator Bong Go (3%), former vice president Jejomar Binay (2%), and Taguig-Pateros Representative Alan Peter Cayetano (2%).
Former senator Antonio Trillanes IV, so far the only politician to openly declare his 2022 plans, is the preferred bet of only 2% of respondents.
Sara dominates in Mindanao, with 62% of respondents there supporting her possible presidential bid. No other possible contender comes close to Sara's figures here, the Dutertes' regional bailiwick. In Metro Manila, however, Moreno and Marcos are neck-to-neck, scoring 23% and 22%, respectively in a region where Sara's rating is 16%.
The President's daughter is also the top preferred candidate of the poorest Filipinos. Among Class E, 40% would vote for her.
Vice president
This is the first 2022-related Pulse Asia survey that included President Duterte as a possible vice presidential bet. It shows Duterte leading the race with a slim lead over Moreno.
To Duterte's 18%, Moreno scored 14%, followed by Senator Vicente Sotto III (10%), Marcos (10%), and Pacquiao (9%).
However, unlike among presidential bets, there was a more even distribution of voter preference among vice presidential contenders.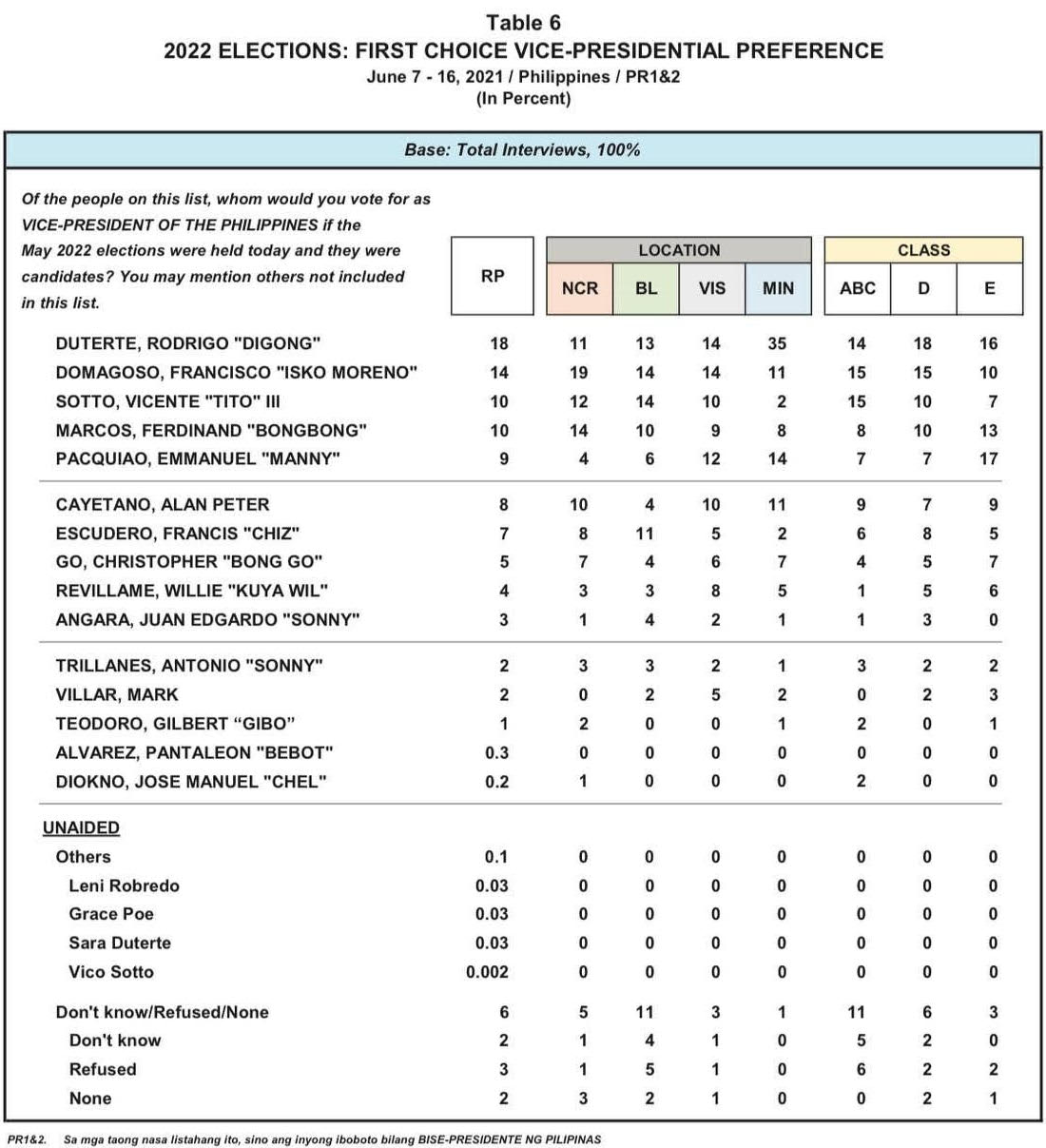 Duterte was only clearly dominant in Mindanao, where 35% of respondents said they wanted him as vice president. In Metro Manila, Moreno scored higher, with 19% of respondents choosing him over others, compared to 11% for Duterte.
The Pulse Asia survey was conducted in the weeks right after the ruling PDP-Laban publicly declared its call for the Chief Executive to run for vice president next year.
Duterte has said that he was seriously considering his partymates' appeal to ensure he can continue his government advocacies. Sara, meanwhile, has said she is "open" to running for president, even while her father is publicly against her presidential bid.
Robredo has also not yet made up her mind about the 2022 elections. – Rappler.com