'A foe told me what happened to me is a lesson because we journalists always use politicians as a punching bag. Now, I am the punching bag,' says embattled journalist Frank Cimatu
MANILA, Philippines – Defendants in libel cases face a long and winding road with a cloud of uncertainty hanging over them.
This reality is placed front and center in a Move PH webinar joined by embattled journalist Frank Cimatu, National Union of Journalists of the Philippines (NUJP) chairman Jonathan de Santos, and Senator Risa Hontiveros, with Rappler reporter Lian Buan acting as moderator.
The Baguio City-based Cimatu, who was convicted of cyber libel by a trial court in December 2022, lamented the inconvenience that comes with the court verdict: expensive, multiple travels to Metro Manila to appeal the case, and the continued harassment on social media.
"I have friends who defended me who until now are still being attacked by trolls. It's not only a lonely battle, your friends are also affected," he said.
"A foe told me what happened to me is a lesson because we journalists always use politicians as a punching bag. Now, I am the punching bag," Cimatu added.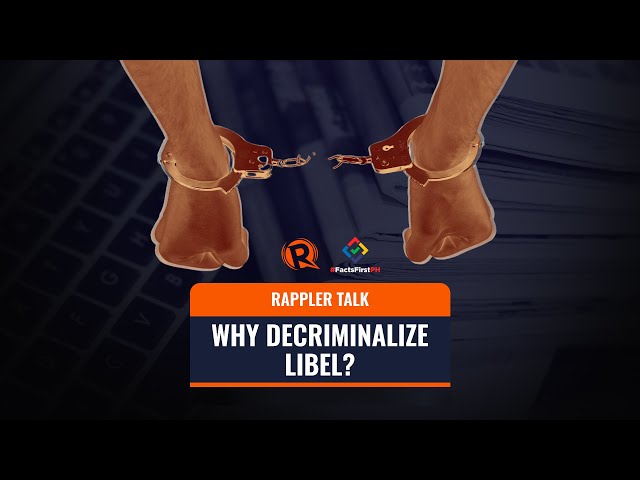 De Santos, whose organization assists media colleagues in legal distress, said the jail sentence that comes with libel laws causes extreme stress to journalists, who are sometimes unaware of how to navigate these cases.
"There have been times when colleagues receive demand letters. They didn't know they had to respond within a certain number of days, so the case prospered," he shared.
"We've seen so many cases where their expression online is taken as a sign of a crime," he added. "That's an extra hassle, and most of the time, you should be protected because it's your expression, free speech."
Hontiveros, author of a bill that seeks to decriminalize libel, said that her advocacy would help preserve the country's democratic rights.
If her measure passes into law, those found guilty of libel will still face repercussions, but in the form of monetary penalty, which is a punishment that she hopes would be a bargaining chip for lawmakers who are reluctant to support her bill.
"You in the media are called the fourth estate, so you are expected to check on us, correct our wrongdoings, fact-check us. We've often been told we should not be onion-skinned, and that's true," she said.
"As a politician, I am also a [Filipino] citizen. I hold on to the press freedom that you exercise and protect," Hontiveros added.
While calls to decriminalize libel have endured for years, the leadership in the 19th Congress has yet to show enthusiasm towards proposals on the matter. It is not listed among the legislative priorities of President Ferdinand Marcos Jr.
Globally, around 160 countries still criminalize libel. – Rappler.com
* All quotes in Filipino were translated into English and some were shortened for brevity.