The Presidential Electoral Tribunal uses a formula and determines that even if they annul elections in Lanao del Sur, Basilan, and Maguindanao, Vice President Leni Robredo would still lead by 15,130 votes
The Supreme Court (SC) sitting as the Presidential Electoral Tribunal (PET) refused to fully investigate the claims of Ferdinand "Bongbong" Marcos Jr that there was widespread fraud in 3 Mindanao provinces during the 2016 elections, but said that even if the elections there were annulled, Vice President Leni Robredo would have still won.
"There is prima facie showing that protestee would still maintain her lead even if we proceed with the third cause of action," the PET said in the 93-page decision written by Associate Justice Marvic Leonen, promulgated in February, but a copy of which was released only on Monday, April 19.
The vote was a unanimous 15-0 to junk Marcos' vice presidential electoral protest against Robredo, but there was a delay in the release of the decision because 8 justices concurred only with the result and some needed time to write separate opinions. Concurring with the result means not necessarily agreeing with all the reasons for dismissing the protest.
The PET used a formula and determined that even if they annulled the elections in Lanao del Sur, Basilan, and Maguindanao, Robredo would still lead by 15,130 votes.
No evidence of fraud
The first phase of the protest was to recount ballots in Marcos' 3 chosen provinces which were Camarines Sur, Iloilo, and Negros Oriental. Revision was finished in October 2019, wherein Robredo widened her lead by 15,093 votes.
Using the result of recount, the new baseline became Robredo at 14,436,337 votes nationwide against Marcos' 14,157,771 votes.
Marcos had a second allegation, or known to be the third cause of action, which is that because there was widespread fraud in Lanao del Sur, Basilan, and Maguindanao, the elections there should be annulled.
Solicitor General Jose Calida wanted to apply simple math, just eliminating all the votes there from the national count, which would result in a Marcos win.
But PET refused to fully go into the third cause of action based on two reasons: PET rules do not allow it and Marcos failed to provide evidence of fraud.
PET pointed out that Rule 65 says provinces should "not be more than three." The decision said Marcos could not choose a new set of provinces for his 3rd cause of action.
"The chosen pilot provinces are expected to cover all the causes of actions on these grounds. To allow a different set of pilot provinces for every cause of action would be to contravene the mandatory ceiling of not more than three pilot provinces," said PET.
"Failing to make out his case through his designated pilot provinces – Camarines Sur, Iloilo, and Negros Oriental – protestant cannot now insist on the annulment of the election results in Lanao del Sur, Maguindanao, and Basilan. The Rules explicitly direct the forthwith dismissal of his Protest 'without further consideration of the other provinces mentioned in the protest.' A resort to his third cause of action can no longer be had," said PET.
Besides, PET said, Marcos could not substantiate his claims of fraud.
"This Tribunal extensively scrutinized protestant's allegations and assessed the evidence he presented. Even then, we find that he failed to show prima facie evidence of his claims that terrorism, intimidation and harassment of voters, pre-shading of ballots, and substitution of voters attended the elections in Lanao del Sur, Maguindanao, and Basilan," said PET.
The formula
Still, the PET demonstrated through mathematics how Robredo would still win even if they were to annul elections in those provinces.
First, they were guided by jurisprudence that annulment of elections must follow a very high threshold so as not to disenfranchise voters. In a previous case of Harlin Abayon against Raul Daza for a congressional seat in 2013, the Supreme Court said illegality of ballots must affect more than 50% of the votes cast.
The general formula that PET used is this:
Current national total votes – votes subject to annulment = New national total votes
How to get the votes subject to annulment?
Votes earned by candidate – votes deducted due to Comelec's prior finding = Votes subject to annulment
"Votes deducted due to Comelec's prior finding" are the votes in towns, cities, or municipalities where petitions for failure of elections were filed but were junked by the Commission on Elections (Comelec).
The PET said the votes in such areas must not be part of the baseline because they are no longer disputed, following the principle of finality of judgment.
"The votes cast in these areas should no longer be included in the votes to be annulled lest we run afoul of the rule on conclusiveness of judgment. These votes have been upheld and the results of the elections can no longer be questioned," said PET.
As you can see from the tables below, the PET calculated the total ballots subject to annulment (above table) and then subtracted those from the total national votes of Robredo and Marcos after recount (table below).
The result was a Robredo win by a very, very slim margin of 15,130.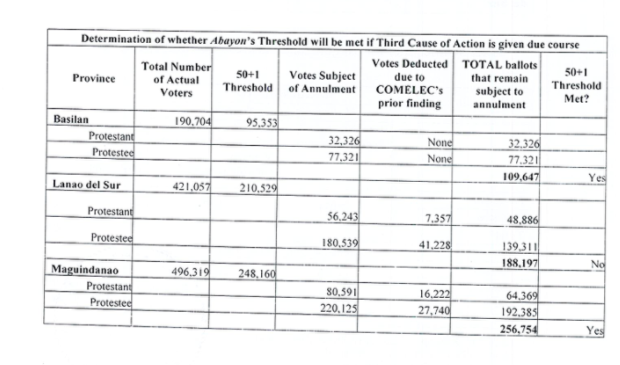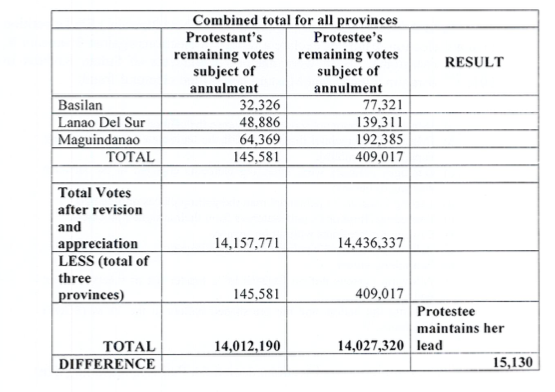 A special case
This is the first electoral protest case handled by PET that was dismissed on merit, as the 4 before it had been junked due to mootness because new elections had taken place.
It is also the first PET case to end the long, arduous process of recount.
When Robredo widened her lead in 2019 after revision, retired justice Antonio Carpio and Justice Benjamin Caguioa wanted to junk the protest outright because Rule 65 of PET Rules says the case may be dismissed outright if there's no "substantial recovery."
They were outvoted and the case proceeded.
"This case is undoubtedly politically delicate, as it involves the second highest position in the land," said the decision, explaining why it reached the extent it did, when the Robredo camp had been saying it should have been dismissed as early as 2019.
"The case has immense repercussions not only for the parties, but also for future election protests brought before this Tribunal. We have granted the parties every opportunity to make and defend their arguments before this Tribunal, the proper forum to hear this case," said the decision.
"However, protestant still failed to substantiate his allegations of massive anomalies and irregularities in protestee's favor. Instead, he chose to make sweeping allegations of wrongdoing and submitted incomplete and incorrect data. His abject failure to support his claims leaves this Tribunal with no other recourse but to dismiss his Protest," said the decision.
Leonen's ponencia was concurred in fully by Chief Justice Alexander Gesmundo, Senior Associate Justice Estela Perlas-Bernabe, Caguioa, Associate Justices Ramon Paul Hernando, Rosmari Carandang, and Amy Lazaro Javier.
Newly-retired chief justice Diosdado Peralta, Associate Justices Henri Jean Paul Inting, Rodil Zalameda, Mario Lopez, Edgardo delos Santos, Samuel Gaerlan, Ricardo Rosario, and Jhosep Lopez concurred only with the result.
Their separate opinions are discussed further in this story. Read the full decision and separate opinions here. – Rappler.com