The Philippine president navigates the country's middle power on the international stage
MANILA, Philippines – It was a cold and very windy Wednesday morning at the Pentagon in Washington DC as the military band played a snappy rendition of the Philippines' "Lupang Hinirang," followed by the US' "Star Spangled Banner."
President Ferdinand Marcos Jr., dressed in his usual piña barong, stood at attention beside the towering Lloyd Austin, the US defense secretary.
Malacañang, citing the US Department of Defense, said he was the first head of state to get full military honors under the Biden administration.
Inside the Pentagon, away from the prying eyes of the media, Austin made a promise to Marcos and the Philippines, similar to what his boss, US President Joe Biden, had made a few days prior.
"Our commitment to the defense of the Philippines is ironclad. And let me tell you once again that our Mutual Defense Treaty applies to armed attacks on our armed forces, Coast Guard vessels, public vessels, or aircraft in the Pacific, including anywhere in the South China Sea. So, make no mistake Mr. President, we will always have your back, in the South China Sea or elsewhere in the region," said Austin. 
Marcos said he looked forward to a "very bright future" between the Philippines and the United States.
The Pentagon visit was one of several stops for the jet-setting Philippine president who had a five-day official working visit to Washington DC, accompanied by Cabinet members, allies, and friends and family who are also political figures.
The visit, the first of its magnitude from a Philippine president in over a decade, was the "welcoming back" not just of the once-disgraced Marcos name into international politics, but also of the Philippines into the "mainstream" of foreign policy: that is, back on the side of its long-time defense ally, the US.
"It's been incredible how quickly it has turned," said Brian Harding, senior expert for Southeast Asia and Pacific Islands at the United States Institute for Peace.
Harding said the question now is, "Can it be sustained?"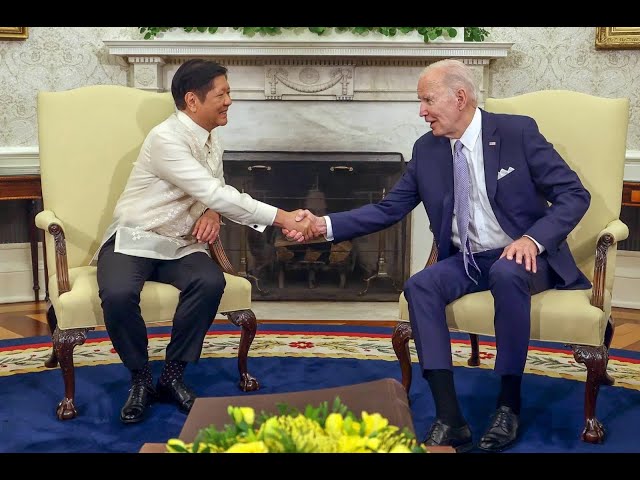 Pivot one, pivot two 
Following the Pentagon meeting, the US announced several agreements: to "swiftly operationalize" new military sites under the Enhanced Defense Cooperation Agreement (EDCA), help upgrade Philippine maritime assets, and institute new defense guidelines.
Marcos first spoke of his desire for Philippine-US relations to "evolve" in late September 2022, the same month he first stepped foot on US soil as Philippine chief executive. In the weeks before the Washington trip, he had gone into specifics – he wanted the Philippines-US MDT, signed in 1951 and ratified by the Philippine Senate in 1952, to "evolve" because the world had evolved, too.
Alma Salvador, assistant professor at the Ateneo de Manila University's political science department, observed: "What Marcos is doing is to build on the existing security and strategic security partnerships that were earlier constructed under the Aquino administration. It's the Aquino administration, because of its hard balancing foreign policy approach vis-a-vis China."
It was during the administration of Benigno Aquino III that the first pivot – away from bilateral talks with China – happened. 
On top of taking China to court, Aquino leaned heavily on the existing alliance with the US while also forging partnerships with "middle powers" then in the region.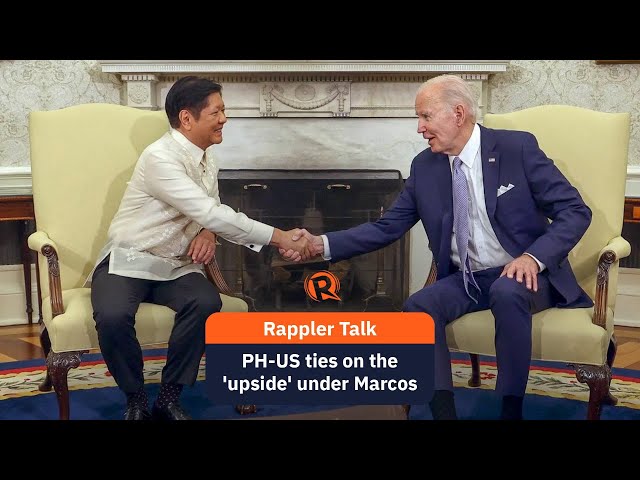 "At the first level…it is to maintain and to bandwagon with the United States, and to activate and cultivate the alliance…. But the second layer is forging strategic partnerships, the so-called middle powers. During the time of Aquino, we built [ties with] Japan, South Korea, Australia," said Salvador.
Then another pivot happened when Rodrigo Duterte won the presidency in 2016.
With the potty-mouthed Duterte in Malacañang, there was a shift – away from the US and closer to China, while still keeping close ties, both economically and militarily, with Japan, Australia, and South Korea.
Under Marcos, all those ties are moving forward: long-standing commitments with the US are being fulfilled, a visiting forces agreement with Japan – which occupied the Philippines in World War II –  is a possibility, military ties with South Korea are progressing, while Manila is eyeing joint patrols with Australia in the South China Sea. 
At the same time, Marcos is keeping China close by.
"My sense is that the US has been waiting for this moment. And President Marcos' visit to Washington sealed the deal, so to speak. There's still a lot more left to discuss, but Washington is very welcoming of this revitalization of the alliance relationship," said Elina Noor, senior fellow at the Carnegie Institute for Peace's Asia Program.
All in the family 
The last time Ferdinand Marcos Jr. was a White House guest, he was part of his dictator-father's delegation for a state visit in 1982. Then a disinterested Ilocos Norte vice governor, Marcos Jr. joined a state dinner, which the Washington Post described as a scene that "fell somewhere between a Christmas image and a South Seas fantasy." 
Forty years ago, US access to Philippine bases was also top on the agenda. 
Then-US president Ronald Reagan said in his toast that "a strong defense alliance is a major factor in contributing to the security of the Philippines and to the maintenance of peace and security in Asia." He was referring to the review of an agreement to allow the US use of Clark Air Base and Subic Bay Naval Base, then the largest US installations overseas. The five-year, $900 million deal would be signed in 1983. 
Reagan's closeness to the Philippine dictator was criticized by certain personalities in US politics, including then-senator Joe Biden. The Washington Post, reporting this time on Marcos Jr.'s 2023 visit, said Biden "suggested that President Ronald Reagan's willingness to support the Philippine dictator was in part based on his desire to maintain US leases on military bases."
Forty years later, himself now president and with a commitment from Marcos Jr. for US boots to have access to Philippine bases in Cagayan, Isabela, and Palawan, there was no mention of that sordid past.
Talk of bases wasn't the only similarity between the late dictator Marcos' last visit to the White House and his son's first visit as commander-in-chief.
During that 1982 state dinner, "there was dancing in the grand foyer of the White House…and chanting on the sidewalk outside, each out of step with the other," reported the Washington Post, referring to protests against the elder Marcos and then-first lady Imelda Marcos.
Marcos Jr.'s visit and military agreements in the US revive both horrid memories of Martial Law and the abuses associated with American military bases.
Just outside the White House at Lafayette Square, a modest group of demonstrators protested both EDCA and Marcos Jr.'s visit.
Chants of "Marcos is not welcome here!" hounded him around Washington DC – from private dinners at Georgetown to a semi-public gathering of supporters at the posh Ritz Carlton.
The 1982 visit would be Marcos Sr.'s last while in power.
The next time he would find himself on US soil would be in February 1986, via a US Air Force plane following the 1986 People Power Revolution that finally removed the dictator and his family – Marcos Jr. included – from Malacañang. The same movement thrust Cory Aquino, widow of prominent Marcos critic Ninoy Aquino, into power.
Then-president Cory Aquino, in her first official working visit to Washington in September 1986, called on the US to join the Philippines as it "[builds] a new home for democracy, another haven for the oppressed, so [the Philippines] may stand as a shining testament of our two nations' commitment to freedom." 
From Marcos to Aquino, with Manila in the middle 
So there is, perhaps, a tinge of irony that Marcos Jr. now follows the path carved and fortified by the late president Benigno Aquino III, the only son of Cory. 
It was Aquino who was "the only Philippine president since Martial Law who has given unprecedented attention to the military's capability upgrade," wrote Carmela Fonbuena in a 2016 Rappler report. All in all, the Philippine government released over P60 billion ($2.8 billion then) to complete 68 military modernization projects under the second Aquino president, driven mostly by China's aggressive moves in the South China Sea. 
Until Obama's visit to Manila in 2015 for the Asia-Pacific Economic Cooperation Summit, when he pledged his country's "ironclad" commitment to defending the Philippines, the US was painfully vague if it would come to the Philippines' defense in the event of an attack from China.
That's surely no longer the case. Geopolitics and a realignment of priorities have changed much in the region.
Marcos now benefits from the AFP upgrades and a change in the geopolitical landscape.
"The Philippines has a different role now. It has a different positioning," observed Salvador.
"Now we bring with us the fact that we cultivated our strategic security partnership with the middle powers – from Aquino, pursued by Duterte, and pursued vigorously by Marcos. And it also works both ways," she added.
What does Washington get from Manila? Access, said Harding.
"The US is not interested in new bases. It's about presence and access," he explained. The presence of US boots and assets – though neither side has specified what equipment would be prepositioned in Philippine bases – means Americans get to familiarize themselves with terrain fronting the South China Sea and close to Taiwan.  
Americans on Philippine military grounds are also a means to deter China, a threat to US dominance. It's also the "basis for closer ties" in the future, said Harding.
In exchange, Manila also gets to deter China, whose harassment has become a "daily situation" in the South China Sea. Manila's strength as a middle power in the region, after all, is driven mostly by its defense networks – in particular, its treaty-ally, the US.
A strategy of peace
Marcos has called his foreign policy "simplistic" and one "based on the pursuit of peace."
Yet the situation Manila finds itself in is anything but simple, particularly in the South China Sea and amid tensions in Taiwan.
Even as China's harassment in the West Philippine Sea happens daily, the economic giant remains the Philippines' top trading partner – as of March 2023, 22.4% of imports are from China, while 21.8% of exports go to China. 
It doesn't help that there seems to be a "disjuncture in rhetoric and reality" when it comes to China's relationship with the Philippines – a laser-pointing incident in the West Philippine Sea on the heels of Marcos' state visit to Beijing, for instance.
"Beijing is probably surprised at how quickly the US and Philippines relationship has deepened," noted Harding.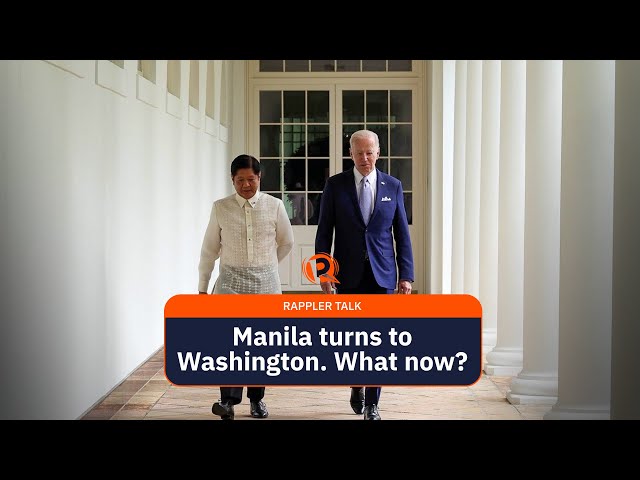 Biden has pledged to send a "first [trade and investment] of its kind" to the Philippines, featuring "the highest caliber for US business leaders." Manila is also set to co-host the 6th annual Indo-Pacific Business Forum (IPBF), "the United States' marquee annual commercial event in the region."
The US has also promised partnerships, funding, and agreements that cover infrastructure upgrades, education, clean energy, digital infrastructure, water and food security, and disaster resilience, among others.
These are pledges on top of the defense commitments from the Pentagon – covering defense modernization, "real-time information sharing," and "cyber defense and cyber security cooperation," among others.
The Philippine Coast Guard under Marcos has also developed a "new" role: "exposing the unlawful activities of both the China Coast Guard (CCG) and alleged Chinese Maritime Militia (CMM)," according to Jay Tristan Tarriela, a commissioned officer of the Philippine Coast Guard.
Harding sees this as a "lesson from the Duterte years." He said, "Toning down differences does not lead to good results."
That Manila and Washington agree in their desire to grow closer, both militarily and economically in the face of China's aggressive moves in the South China Sea, means Beijing must rethink its own strategy.
"Beijing is going to have to come to terms with this recalibration in Malacanang's policy…. Beijing is going to have to figure things out and get a little more comfortable with how things pan out. And obviously it's not, which is why it's acting the way it is," said Noor.
The ASEAN question
There's another character in the regional play: the Association of Southeast Asian Nations (ASEAN), a bloc of 10 (11, once Timor-Leste becomes a full-time member). Six countries in the bloc, including the Philippines, are "middle powers," based on the Lowly Institute's latest Asia Power Index.
For over two decades, the bloc has been trying to finalize a Code of Conduct (COC) in the South China Sea with China. It is unlikely to be completed any time soon.
"Part of the reason is because of the asymmetrical relations and the power dynamic involving ASEAN as a whole and the fragmented situation that ASEAN is at, and of course China," explained Salvador.
When yours is a state that's behind your neighbors both economically and politically, it's harder to put national interests behind that of the region's, said Salvador. It's not just on the South China Sea – ASEAN has not made a clear stand on junta-ruled Myanmar, and its "Five-Point Consensus" appears to have no teeth.
That ASEAN members' stake in the South China Sea also differ – between maritime countries and those with only land borders, for instance – make it difficult to find consensus, said both Noor and Salvador.
"What else could [ASEAN] do? It could come together in a more cohesive way when it comes to pronouncing on some of these political security issues. Is it going to do that? Probably not because of the differing interests," said Noor.
In the latest ASEAN Summit in Labuan Bajo, Indonesia, regional leaders expressed concern over "land reclamations, and serious incidents in the area, including damage to the marine environment, which has eroded trust and confidence, increased tensions, and may undermine peace, security, and stability in the region." There was no mention of who the aggressor was.
But in dealing with China, the US, and complexities in the region, Marcos again looks to those partnerships – in ASEAN and the rest of the Asia Pacific, including South Korea, Australia, and Japan.
Discussions on the COC may be long and seemingly far from any conclusion but, as Noor pointed out, "what other alternatives are out there?"
Marcos and his administration, similar to neighbors in Southeast Asia, project their foreign policy as one that doesn't have to pick sides. But those choices have already been made via the treaty alliance, pointed out Noor.
There is pressure, too, on Washington, as it seemingly attempts to shore up economic ties with Manila. According to Noor, it must avoid the failed hype of China under Duterte, or face "a possible recalibration."
With Manila as a crucial middle power comes a more crucial task: figuring out a middle ground that works best for both the superpower and its former colony.
"Both Manila and Washington are trying to figure out where the comfort zone for the both of them is going to lie, especially with the geopolitical overlay of Taiwan coming into play," Noor said. – Rappler.com