The police call it an encounter. The survivor says it was an execution. Forensic evidence says he may be right.
This compilation was migrated from our archives
Visit the archived version to read the full article.
The Fifth Man
The police call it an encounter. The survivor says it was an execution. Forensic evidence says he may be right.
---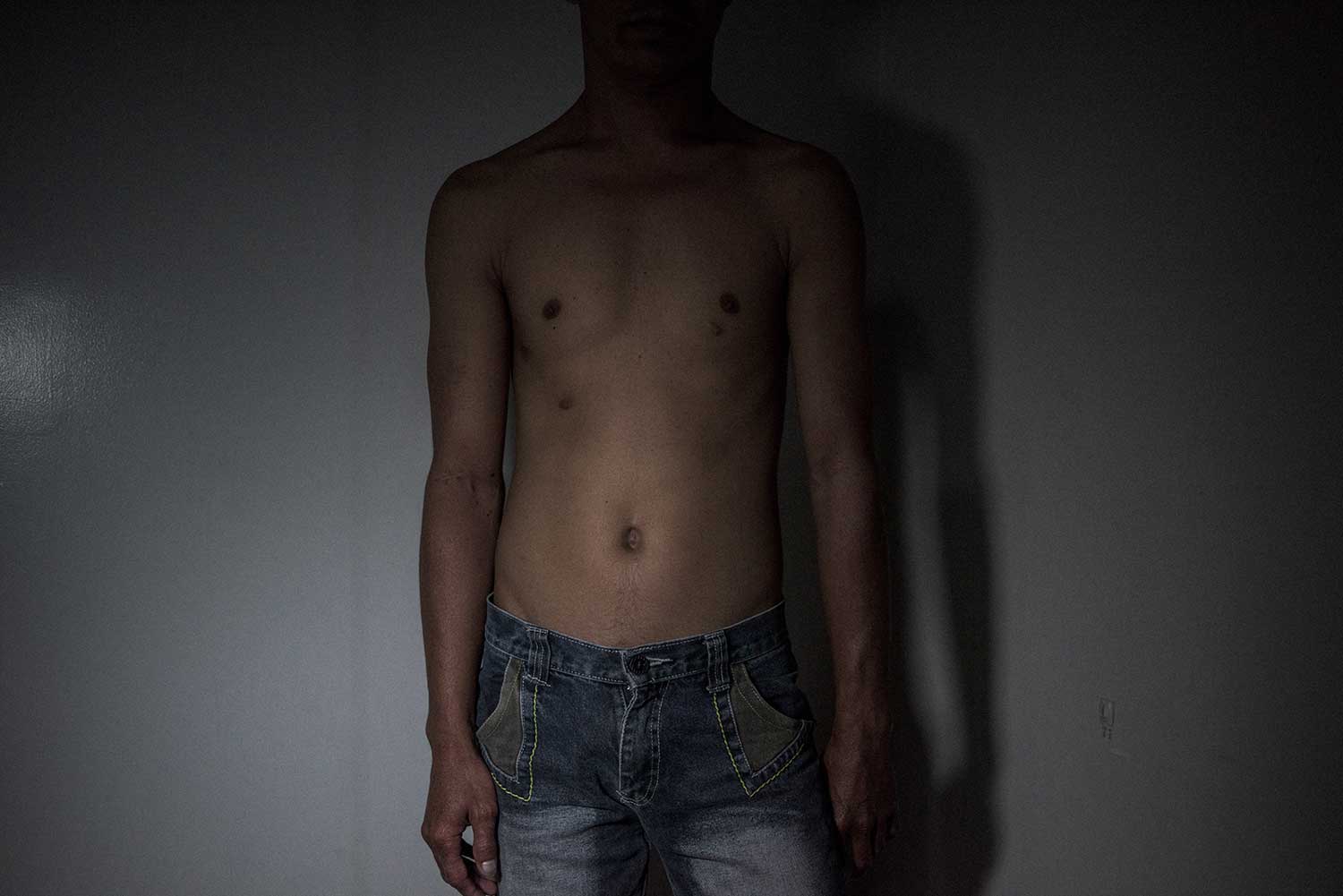 Five men were shot by police on August 21, 2016 in an alleged encounter during a Tokhang operation in Payatas Village. Four bodies were carried out. The survivor, Efren Morillo, accused by the police of direct assault, filed charges of murder against policemen of Quezon City Police Station-6 and the first case against the government's war against drugs.
One year later, forensic analysis, as well as contradicting police testimony, show the fifth man survived what may have been a massacre in the hills of Quezon City.
---
---
READ: The Quezon City drug war
(Part 1: This is where they do not die)

(Part 2: The red mark)
---
W
hen the bullet plowed into his chest, Efren Morillo decided not to die.
He made the decision in the split second between the gun's firingand the sudden flood of blood soaking his underwear. He forced his breathing to slow. He lay limp on the packed earth floor inside a shack with torn tarpaulin walls, as the cop in the red sweatshirt shot Efren's best friend Marcelo Daa once, twice, thrice in quick succession.
There was more shooting from the backyard.
Efren prayed through the gunshots. He prayed through the screaming. He prayed, hard, as the cop walked away. 
You know what to do, he heard the cop instruct the gunmen outside. Call the crime scene operatives. Leave the evidence behind. Say they all fought back.
Efren waited. He listened until he was certain he was alone, then staggered to his feet. He took a minute to talk to the dead. Help me, he asked them, before he threw himself down a ravine.
More than an hour later, he walked out of the hills and into the highway, a bloody figure clutching leaves to his chest. 
In the fifteen months since Efren Morillo, 29, was shot in Payatas, Quezon City, the narrative of the police has evolved in statement after statement: the number of operatives, the names of team leaders, all the way to who shot the fatal bullets that killed Marcelo Daa Jr, Jessie Cule, Rhaffy Gabo and Anthony Comendo.
Forensic experts who studied available evidence gathered by the police have thrown the weight of their support behind Efren Morillo's eyewitness account. 
There are many stories told about that Sunday afternoon in August. Almost every fact is disputed, except for one.
Five men were shot. Four men were killed. The fifth man lived.
Batasan Police Station (PS-6) After Operation Report, from Station Commander Lito Patay, August 23, 2016
MISSION: Conduct OPLAN-TOKHANG
TDPO:At about 3:40 P.M. of August 21, 2016
AREA OF OPERATION: Group 9, Brgy. Bagong Silangan, Quezon City
PARTICIPATING ELEMENTS: PCP-4 Brgy. Bagong Silanga, Batasan Hills, PS 6, QCPD Personnel led by PSI EMIL DE LOS SANTOS GARCIA, PO3 Allan Formilleza, PO1 James Aggarao. PO1 Melchor Navisaga
BRIEF NARRATIVE: On stated TDPO, personnel from PCP-4 led by PSI EMIL GARCIA conducted OPLAN TOKHANG against drug personalities particularly at the house of suspect Marcelo Daa Jr at Group 9, Area B, Brgy Bagong Silangan Quezon City. 
The Tokhang operation, its name derived from the Visayan words "toktok" and "hangyo" – knock and plead – is one of the key features of President Rodrigo Duterte's drug war.
According to Quezon City Police District Director Guillermo Eleazar, Project Double Barrel attempts to address the drug scourge in two ways.
The upper barrel functions to enforce police operations, and covers the administration of warrants and the pursuit of high-value suspects through drug raids and buy-busts. 
All arrests, said Eleazar, fall into the upper barrel.
The lower barrel "is all about Operation Tokhang," when policemen, accompanied by representatives from the village hall, knock on doors of the houses "where people on our watch list live."
The intent is to convince drug suspects "to stop what they're doing" and "go into reformatory and rehabilitation so that they can be reintegrated into the community." 
"I've been in the police service a long time," said Eleazar. "Back then, we had the drug problem, but it wasn't as bad as it is now. When we had information, we went straight to case build-up. No Tokhang, no pleading, we work the case then and there. Only in this administration is there a chance for rehabilitation. And that is Oplan Tokhang."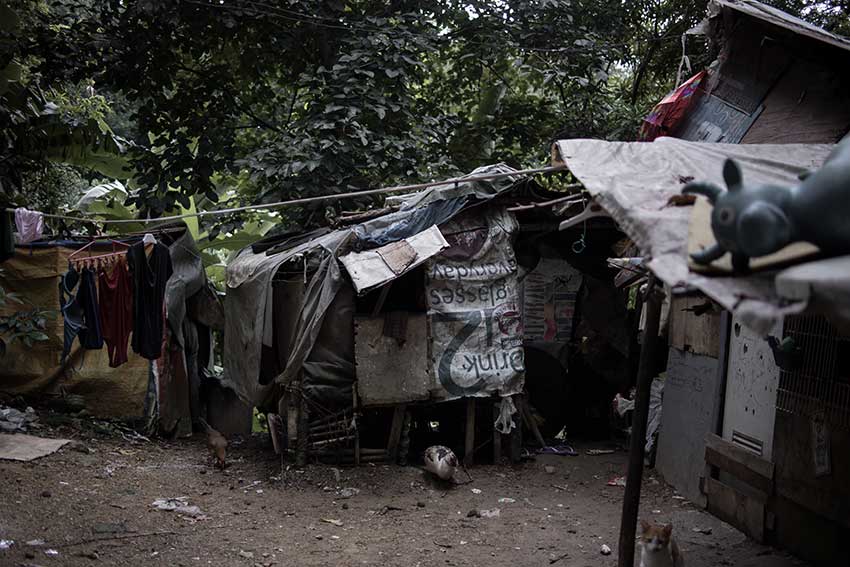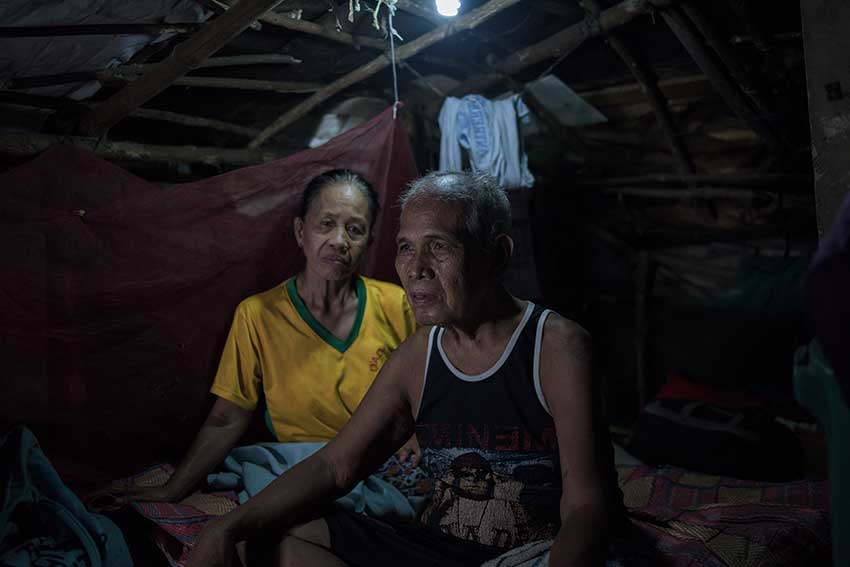 In spite of the intentions behind Operation Tokhang, under Eleazar's watch, Rappler counted at least 15 who were killed during the first seven months of the drug war in Quezon City. The narratives were similar: each of the dead suspects allegedly drew guns on personnel of the Philippine National Police. The 15 include the four men shot by personnel of Quezon City Police Station 6 (PS-6) on August 21, 2016 in the slums of Payatas Village, where Marcelo Daa Jr's home sits on a clearing in a patch of forest.
On that Sunday morning, Efren Morillo, Marcelo's best friend, made his way from his home in Montalban. He rode a jeep that deposited him at the mouth of an alley along Road 9.
Marcelo owed Efren a thousand pesos – what amounted to 20 US dollars – and it was that debt that Efren decided to redeem when he took the ten-minute walk downhill, the stench of the massive dumpsite rising past the thick canopy of trees. He went through the rusted chain link gate and down a short set of stone steps.
The Daa home is a makeshift huddle of wooden shanties with tin roofs, held down by rocks and a chipped Blues Clues doorstop on its side. A 60-foot ravine curves around the edges of the clearing.
Efren, a short skinny man who had grown up in Payatas, found Marcelo playing pool with a neighbor named Jessie Cule. 
Marcelo told Efren the money was coming, and offered Efren a cue stick.
The minutes ticked by slowly. It was a hot afternoon. The children chased spiders in the wild grass. The women sat watching television inside. Two other young men, Anthony Comendo and Rhaffy Gabo, slept the afternoon off in hammocks in the backyard, occasionally rousing themselves for a game of cara cruz.
The pool table sat under a shed in front of the house, in full view of the front gate. 
It was where Efren and Jessie and Marcelo stood when the armed group first walked in.
Direct Examination of PO3 Allan Formilleza, October 10, 2017, Metropolitan Trial Court, Branch 42
Prosecutor Eugene Kho: So going to that place, what happened next, Mr Witness?
PO3 Allan Formilleza: Upon ambling towards the place, we saw the two male persons standing and without any sufficient reason, they drew their respective firearms.
Prosecutor Kho: So without any sufficient reason, they drew their firearms?
PO3 Allan Formilleza: Yes sir, the men were clad in a yellow and blue T-shirts.
Prosecutor Kho: Any words to that effect that was accompanying their action when these men drew their guns?
Formilleza: After firing their guns sir, one of them shouted, "Hindi kami papahuli ng buhay." (We will not be caught alive).
Prosecutor Kho: Do you recall, Mr Witness, who was this the person who uttered those words, "Hindi kami papahuli ng buhay?"
Formilleza: Eventually sir, we positively identified the suspect Efren, as Efren Morillo.
In the story Efren Morillo tells, five men and two women entered the gate, all in civilian clothes.
"Nobody run," said the man aiming the gun.
The children screamed. The women ran to the windows. Efren, Jessie and Marcelo raised their arms in surrender.
The three were cuffed together, one arm to the other, before their pockets were turned out. 
Rhaffy and Anthony were dragged out of the house. One of the armed men reached up the shed roof to snap off a length of electric wire. The two were bound at the wrists.   
The men with the guns were cursing. Drug-pushing sons of whores, they called Efren and his friends. They began punching and hitting. They aimed for the tattoos.
Efren watched as a man tapped the point of a knife against someone's neck.
"I'll kill you all now," the man with the knife said. "I'll knife you, you menaces."
The three women, Marcelo's wife, aunt, and sister, said the armed men and a number of informants ransacked the house for drugs.
By the time they were done, they had pocketed a mobile phone, a tablet, a pair of hearing aids, a lighter, a bong, pieces of aluminum foil, a weighing scale, and, oddly enough, a new bottle of rubbing alcohol.
Marcelo Daa's 20-year-old sister Marla ran out the house and knelt before her brother. Marcelo yanked off his rings and bracelet and pushed them to Marla. Go, he told her. 
One of the armed men stepped outside the house. "We didn't find any drugs." 
Spot Report, Batasan Police Station-6 (PS-6), August 21, 2016
RECOVERED EVIDENCES:
two (2) 38 pistol

two (2) caliber .45 pistol

two (two) small heat sealed plastic sachet containing suspected shabu substance

drug paraphernalia and

one (1) weighing scale
Marcelo Daa Sr, 69, was down in the valley working on his patch of banana trees when the armed men walked in. He hauled himself up the hillside and saw his son and his four friends sitting cuffed and bound in a line along a bench by the side of the house.
In the story Marcelo Sr tells, the yard was crawling with people.
One of them, who called himself the commander, shoved Marcelo Sr and tried to grab him by the arm. He called the old man a criminal mastermind.
"They told me they had a mission," Marcelo Sr. said. "They told me they were cops."
Marcelo Jr, cuffed and terrified, called out to his father.
"I'll take care of this, 'Tay," said Junior to Senior. "I'm at fault here. Go."
He went. 
Efren and the four others were forced to their feet and uncuffed. They were led to the back of the house. The cop in the red sweatshirt took charge of Efren and Marcelo. Both were pushed into a shack at the back of the house, just off the backyard.
The two were told to sit. Marcelo sat on the wooden chair, Efren sideways on its arm.
Police Officer 3 Allan Formilleza raised his gun and aimed for Efren.
Efren talked fast, the words tumbling over each other.
He said he knew nothing. He said he was clean. He said he had nothing to do with anything and that he was a vendor from Montalban.
"Really?" asked Formilleza. "Really?" 
The bullet slammed into Efren's chest, just under his heart.
<
div
class
="box-container">
<
div
class
="box-header">
<
p
>Police Joint Affidavit of Arrest, sworn to on August 28, 2016 before Assistant City Prosecutor Raymond Oliver S. Almonte in Quezon Cityp>
div>
<
div
class
="box-text">
<
p
>That, upon arrival of our team at the said area, suspect Marcelo Daa Jr and four (4) of his male cohorts (later identified as Raffy Gabo y Mabini, Anthony Comendo y Mirabona, a certain "Jess" and Efren Morillo y Mendoza), eventually sensed our presence, prompting them to drew their respective firearms and fired successively towards us;p>
<
p
>That, at that instance, our team took cover and introduce ourselves as Police Officers, and one of them shouted "HINDI KAMI PAPAHULI NG BUHAY". With no recourse, our team retaliated which resulted in the neutralization of the said suspects on the process causing the instantaneous death of Marcelo Daa Jr and three of his cohorts…p>
It was more than an hour before the policemen discovered a body was missing.
By then, Efren had dragged himself across a stream and through stands of bamboo, the star apple trees looming overhead. He followed a circuitous route down rocky footpaths and around the gorges he had travelled as a child, repeating the names of the dead in his head. He thought maybe he had been shot twice. 
The gunshots had echoed up the hill. Rowena Cordero, Marcelo's aunt, was at home when the armed men marched by her garden. She ran downhill at the sound of gunfire and followed the line of trees bordering the Daa property. She found herself just short of the backyard.
In the story Rowena tells, she saw Rhaffy and Anthony on the ground, riddled with gunshot wounds. She saw Jessie, on his knees, his shoulders heaving, still alive. 
She stepped forward. Her way was blocked by an armed man. She began shouting, screaming, until she was pushed out the gate.
The gate was less than four feet high, made of recycled wire mesh. Rowena watched the armed men inside. 
She heard one of them say, "Sir, one of them is still breathing."
Within minutes, there were two more gunshots.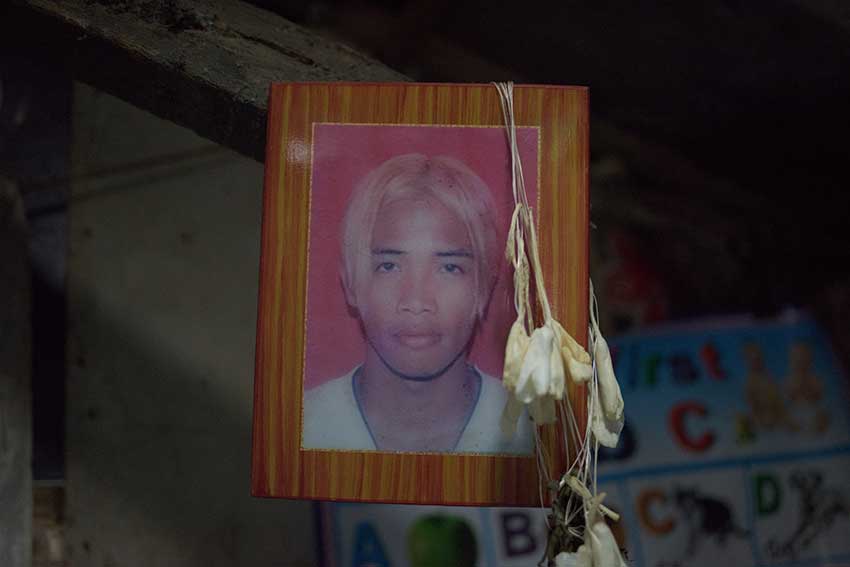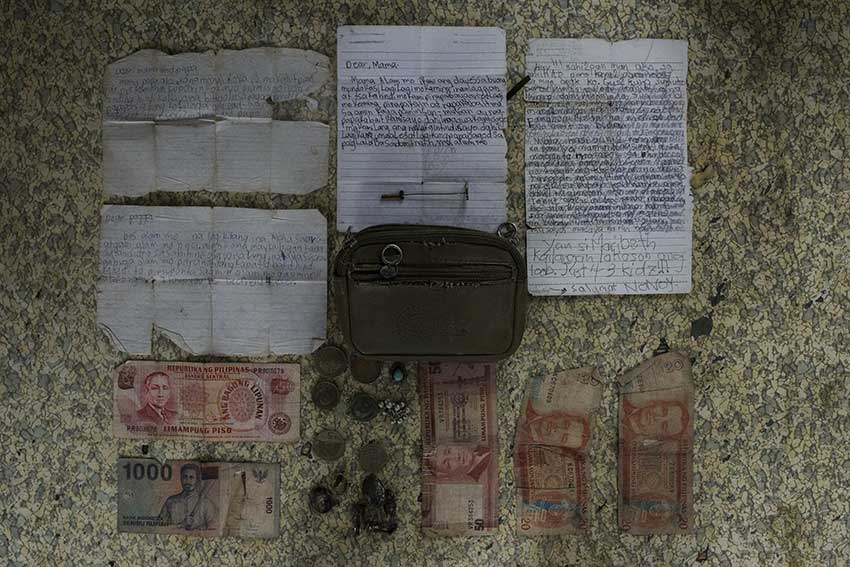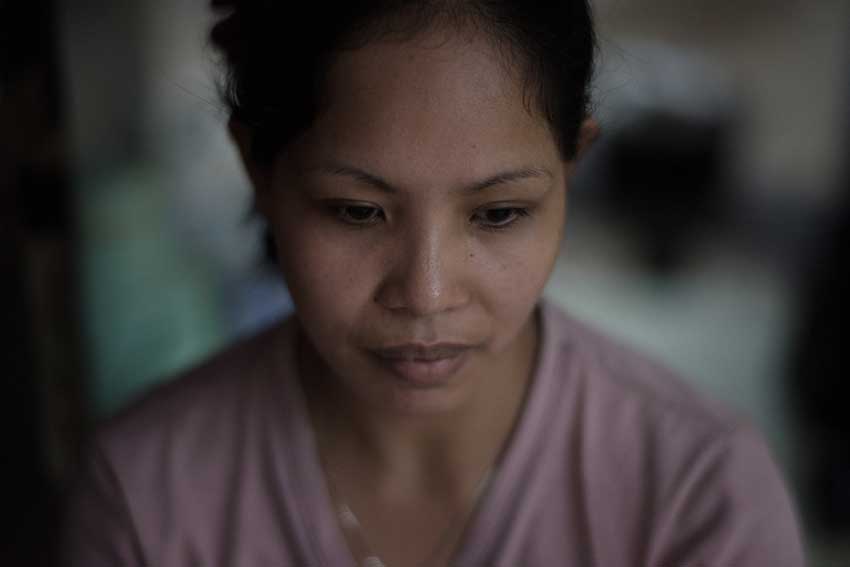 Marcelo's wife Maribeth ran into the backyard. She saw three corpses: Rhaffy, Anthony and Jessie. She did not see her husband.
She was back in the front yard when the cops began taking food and cigarettes from the small store she kept beside the house. She was still there when the rain began falling, when the men walked to the pool table to eat off the family's plates.
In the story Maribeth tells, one of them was PO3 Allan Formilleza. 
Judicial Affidavit of PO3 Allan Formilleza, sworn to by Affiant Jay T. Borromeo, on February 7, 2017 at Camp Karingal in Quezon City
QUESTION: In the petition, you were alleged to have eaten from the pool table using the family plates and utensils of the Daa's, is there any truth if any, to this allegation Mr Witness?
ANSWER: No sir. The truth is that I asked Richard Riñon, one of our companions, to buy food along the highway which is more or less 50 to 70 meter distance from the place of incident. At that time, I was so hungry because I have not eaten my lunch. I was the only one who ate, but never used the plates and utensils of the Daa's as alleged except for a glass where I drank water.
QUESTION: In the petition, and you allegedly solicited from Maribeth Bartolay food and drinks from her sari-sari store, is there a truth, if any, to this allegation, Mr. Witness?
ANSWER: There is no truth to that sir.
On the year Marcelo Daa Jr was born, his mother Belen planted a tamarind tree beside the shanty where she gave birth.
Thirty-one years later, Belen came running down the hill and up to her own gate. She had met her daughter Marla by the road. Marla said Marcelo was dead. 
The cops refused to let Belen inside. She argued with the police. She said it was her home. She said it was her son. They let her in eventually, her husband Marcelo Sr in tow. 
In the story Belen tells, they passed the pool table with the scraps of food the cops had tossed to the ground. They passed the ransacked house where mattresses had been turned over and ripped apart. They passed the sprawled bodies of Rhaffy Gabo and Anthony Comendo. They passed Jessie Cule, on his knees, his chest slumped into the wet grass, his forehead resting on his clasped hands.
They ran, husband and wife, into the shanty where Marcelo Daa, Jr was born, where he sat leaning against the tamarind tree, his left leg crossed over his right, a bullet buried over his left eyebrow and blood streaming out of his open mouth. 
They slept at home that night. 
"Why would we leave?" Belen asked. "They got what they wanted, didn't they?" 
Broadcast Interview with PSI Emil Garcia conducted by Abs-cbn outside the Daa home on August 21, 2016 and aired over Umagang Kay Ganda on August 22, 2016
Police Superintendent Emil Garcia: When we were approaching the room at that place they suddenly fired at us.
Reporter on site: So they were armed?
Police Superintendent Emil Garcia: Yes. They were armed with a revolver and caliber 45.
Marilyn Malimban had been with Jessie Cule for seven years. He wasn't particularly handsome, but he was nice to her and never hit her and made dinner when she came home from working as a cutter in an underwear factory.
Jessie went from job to job: junkshop caretaker, tricycle driver, dump truck assistant.

"I admit he used drugs before," she said. "I won't lie about it. He told me once he wanted to leave Payatas, that he didn't like it here anymore. I told him no, because we hadn't paid off the house yet. I said, 'Let's wait for December.' Only we didn't have until December, because of what happened to him."
She got a call at four in the afternoon of August 21. Emergency, said the neighbor.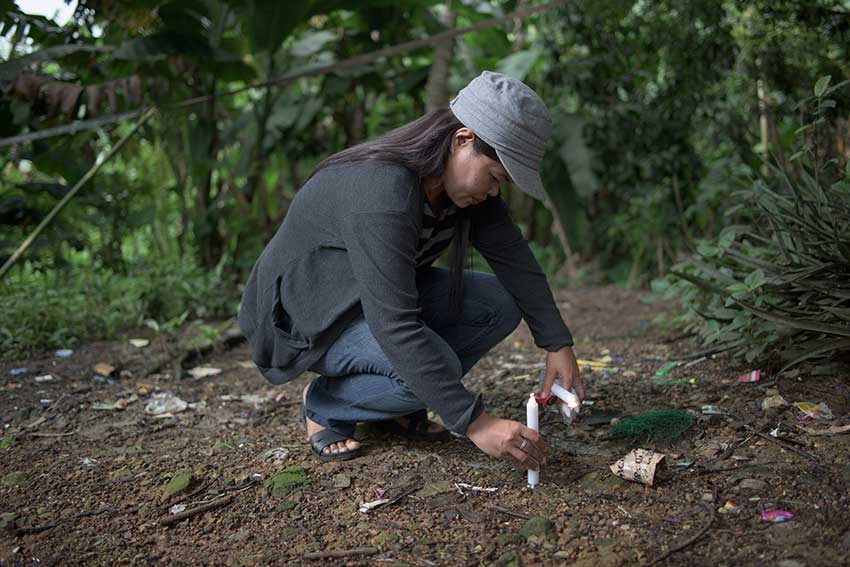 There was a 14-year-old boy who met Marilyn by the Daa house.  He had been in the yard when the men came, and climbed up a tree before the shooting began. 
The boy told her that Jessie was the last to die. He said he saw Jessie on his knees. He had thrown his arms around the legs of the cop who held the gun.
"That's what I can't accept," she said. "He knelt. He hugged the police. If he sinned, he sinned against the law. He didn't sin against the police, for them to kill him like that. He was crying. It meant he didn't want to die. Because he wanted to live. He was begging."

She saw the cops in their uniforms come marching in just before the corpses were carried out.
She heard Police Superintendent Emil Garcia interviewed. He said four men were dead. He said they were notorious drug dealers. He said they had pulled out their guns as he and his men approached the shack.
Jessie wasn't on the drug watch list, said Marilyn. He had just gotten his police and village clearance for his new job.
In the story Marilyn tells, the man she lived with for seven years couldn't have been notorious. The police didn't know who he was. It was Marilyn, on the night of the shooting, who gave a reporter Jessie Cule's name.
"[The police] didn't even know it." Marilyn said. 
Batasan Police Station (PS-6) Spot Report filed on August 21, 2016 by PS-6 Station Commander Lito Patay
SUSPECTS:
A certain Jess (Deceased)

ANTHONY COMENDO y MIRABONA, 36 years old, with live-in partner, painter, native of and residing at Group 13 Bgy Payatas B, Quezon City (Deceased)

RAFFY GABO y MABINI, 23 years old, single, jobless, native of Quezon City and residing at Area D, Phase 3, Brgy. Payatas-B Quezon City

MARCELO DAA JR. y CORDERO, 31 years old, with live-in partner, truck helper, native of Manila and residing at Group 9,, Brgy. Payatas-B, Quezon City. (Deceased

EFREN MORILLO y MENDOZA, 28 years old, married, vendor, native of Quezon City (confined at EAMC)
Efren Morillo found the highway at four in the afternoon, more than an hour after he was shot.
He didn't dare go to a Quezon City hospital. He was afraid the cops would find him and finish him off. He asked help from passersby, men and women he knew from childhood. He said they were too afraid to speak to him. 
He found an old friend and begged a ride to a clinic in Montalban. The friend, terrified, agreed anyway, and helped Efren up the back of a jeep. 
There was no doctor present when Efren arrived. The nurse attempted to bind his wounds, but the blood was pumping out in a fountain, soaking through gauze and tape.
Efren stayed conscious. He asked a gas station attendant to run to his house and get his mother.
It was hours before she arrived weeping at the clinic. She had been told he was dead and went to Payatas for his body.
The clinic sits beside the Montalban police station. Soon the cops were inside. They asked Efren about the gunshot. They told him they would help.
Efren told them everything. They called the QCPD.
"The Montalban cop told me the Quezon City police would come get me," Efren said. "I said, 'Sir, I'm not going.'"
The cops promised to escort him to the hospital. The ambulance left with Efren and his mother at 11 in the evening and parked outside Quezon City Police Station 6. Cops stepped up to the window to look inside.
Efren began moaning in pain.
"I kicked up the drama," he said. "I heard one cop say, 'That kid's strong. He was shot at 3 pm – and he's still alive."
The ambulance sat outside the station for close to half an hour. It was midnight when Efren was wheeled into the East Avenue Medical Center emergency room. The QCPD police cuffed him to his bed and told him he was being charged for direct assault a full hour before doctors discovered that there was a single gunshot that had pierced through his chest.
The bullet exited between his ribs, just under his lungs.
He spent ten days in the hospital with his left wrist locked to the hospital bed. 
The Commission on Human Rights arrived to assist the family. The Morillos sold their house to pay for bail and hospital expenses.
Efren is still angry.  
"I'm the one who almost died," he told Rappler. "I'm the one who spent all that money, and I'm the one at fault. It's not true." 
Joint Verified Position Paper for Respondents PO3 Allan Formilleza, PO1 James Aggarao, Jr., and PO1 Melchor Navisaga filed at the Office of the Ombudsman, sworn to on September 14, 2017
…the allegations found in the complaint-affidavit of Maria Belen Daa, Lydia Gabo, and Marilyn Malimban were all based on the interweaving statements of herein complainant Efren Morillo's cinematic, thespian, histrionic, dramaturgical interlocking script of narration of events with the clear intent of alibis of his crime committed…
On the first day of his hearing, Efren Morillo climbed the stairs of the city hall and found himself beside the man who killed his best friend. 
Police Officer 3 Allan Formilleza, in full uniform, pulled out his gun. 
Efren braced himself. This time, he promised himself, he would fight.
Formilleza laid down the gun on the security table. Firearms were banned inside the city hall. 
The charge was direct assault: the People of the Philippines against Efren Morillo, accused of drawing a gun against uniformed personnel of the Philippine National Police.
"The way they looked at me," said Efren, "it was as if I were a small man they couldn't believe had lived. As if I would be tasty to eat." 
No words were exchanged between Efren and the police. 
Efren's lawyer told him there was no reason to be afraid. He had survived a massacre. The cops could glare at him all they liked, but they couldn't kill him with their eyes.
Batasan Police Station (PS-6) After Operation Report from Station Commander Lito Patay filed on August 23, 2016
FOR: The District Director, QCPD
(Attn: CIDU, Chief, Investigative Bureau)
FROM: Station Commander
SUBJECT: After Encounter Report Re: Encounter between PCP 4 Pesonnel of Batasan Police PS-6, QCPD and Five (5) Male Persons Resulting in the Death of Four (4) Male Persons and One (1) Injured…
ASSESMENT: For awards and commendation.
On January 26, five months after he was shot, Efren Morillo and the relatives of the deceased filed the first petition against the government's Operation Tokhang. The Center for International Law (CenterLaw), on his behalf, asked the Supreme Court to issue a writ of amparo.
The writ, as defined by the High Court, is a remedy "available to any person whose right to life, liberty and security is violated or threatened with violation by an unlawful act or omission of a public official or employee, or of a private individual or entity." The writ covers incidents of extralegal killings, enforced disappearances, or threats. 
It was the first granted under the administration of President Rodrigo Duterte, and covered Morillo, his family, and the families of the four dead men. 
The Court of Appeals later made the protection order permanent. The CA ruled that all four policemen present at the August 21 operation were prohibited from entering within a one-kilometer radius of the petitioners.
Formilleza, Garcia, Aggarao, and Navisaga were transferred out of the Quezon City Police District.
In March, Morillo filed before the Office of the Ombudsman administrative charges for grave misconduct, as well as criminal charges of frustrated murder, murder, robbery, and planting of drugs and firearms against QCPD PS-6 personnel Garcia, Formilleza, Aggarao, and Navisaga.
Rappler's review of QCPD spot reports finds that PS-6 is responsible for the highest number of drug suspects killed during police encounters in the first seven months of the drug war. The cases against the four PS-6 personnel are undergoing preliminary investigation. 
Four months later, in July of 2017, the QCPD charged Formilleza for the killing of a 39-year-old security guard named Isagani Pagud in his home along Everlasting Street in Barangay Payatas. Formilleza was identified as the gunman who shot and killed Pagud. 
In the aftermath of the shooting, Quezon City Police Director Guillermo Eleazar told reporters that Formilleza was "nowhere to be found." Eleazar said that Formilleza had failed to report to his new commander, and was considered absent without leave (AWOL). 
In spite of his absence, Formilleza appeared three times in court. He explained to Rappler that "it is normal to a human being to take any vacation, leave, like any normal person, even a civilian." 
On November 8, under cross-examination, Formilleza admitted he was AWOL, and was no longer on active-duty status. 
He said it while wearing his full uniform, carrying the patch of the Eastern Police District. 
Direct Examination of PO3 Allan Formilleza, October 10, 2017, Metropolitan Trial Court, Branch 42
Prosecutor Eugene Kho: So as you were saying you drew your gun in exchange of the fire of their guns that were also discharged by these two men and then subsequently these three men, correct?
PO3 Allan Formilleza: Yes sir.
Prosecutor Kho: So after that incident, Mr Witness, what happened next?
PO3 Allan Formilleza: The three malefactors fell on the ground.
Prosecutor Kho: And then?
PO3 Allan Formilleza: And then Efren Morillo was able to escape.
Prosecutor Kho: Efren Morillo was not one of those three?
PO3 Allan Formilleza: No sir.
Prosecutor Kho: He happened to be one of those who was encountered with you?
PO3 Allan Formilleza: Yes sir.
Prosecutor Kho: So Efren Morillo ran away?
PO3 Allan Formilleza: Yes sir.
Prosecutor Kho: And what to the four?
Defense Counsel Gil Aquino: Your knowledge is misleading sir. The witness said three men.
Court: Sustained. Reform your question, Prosec.
Prosecutor Kho: So you made mention that the three men apparently were neutralized. Correct?
PO3 Allan Formilleza: Yes sir.
Prosecutor Kho: So you made mention that the first two consisting of Efren Morillo and the other one, Morillo ran away. Correct?
Formilleza: Yes sir.
Prosecutor Kho: What happened to his companion?
Formilleza: He entered into, into… he ran towards into the shanty.
Prosecutor Kho: And then?
Formilleza: (Pause) And we learned eventually it was in trouble already.
Prosecutor Kho: It also appeared that the other one was also neutralized, correct?
Formilleza: Yes sir.
Allan Formilleza's career in the police began with his father. It was a simple proposition. His father wanted him to be a cop, so the young Allan became a cop. All boys, he said, want to be policemen. It was the adventure that he wanted.
It was only after he went into service that he discovered that cop work was hard work.
It was okay, he said. "This is what we chose."
Formilleza has been a cop for 17 years. The gunfight in Payatas was not his first. He admitted that while the slew of charges occasionally gives him "low morale," he is optimistic over the verdict.
His presence in court is "just part of the job."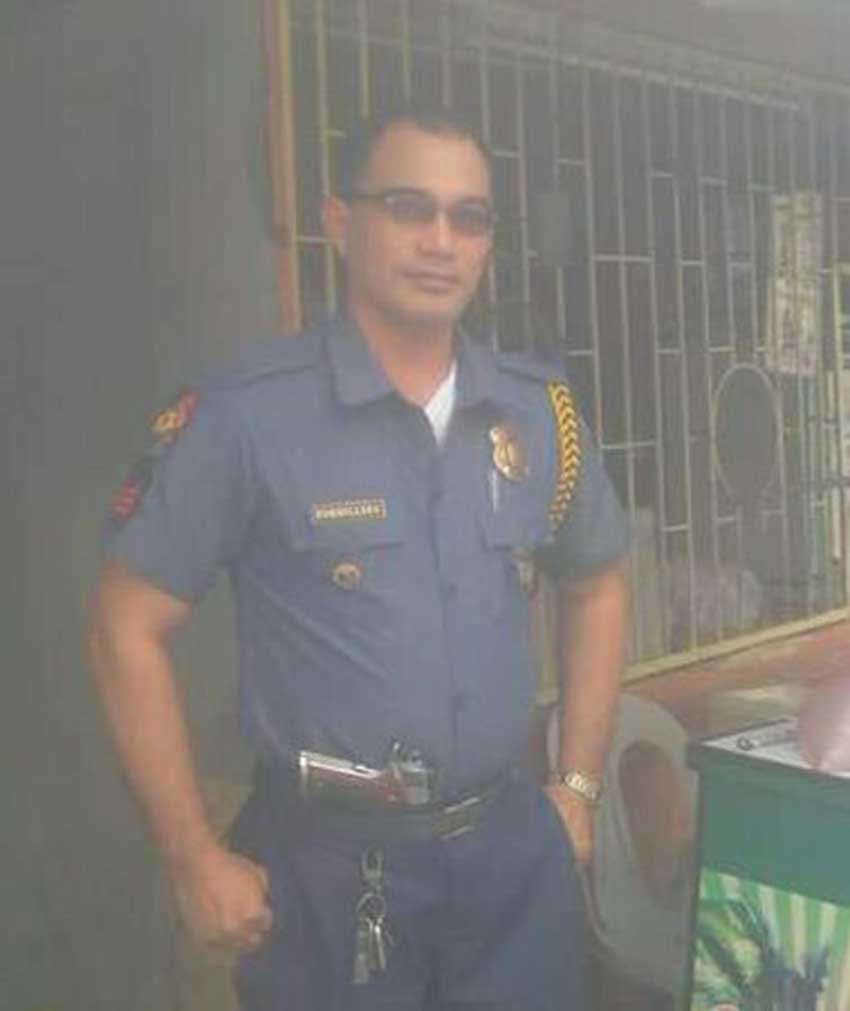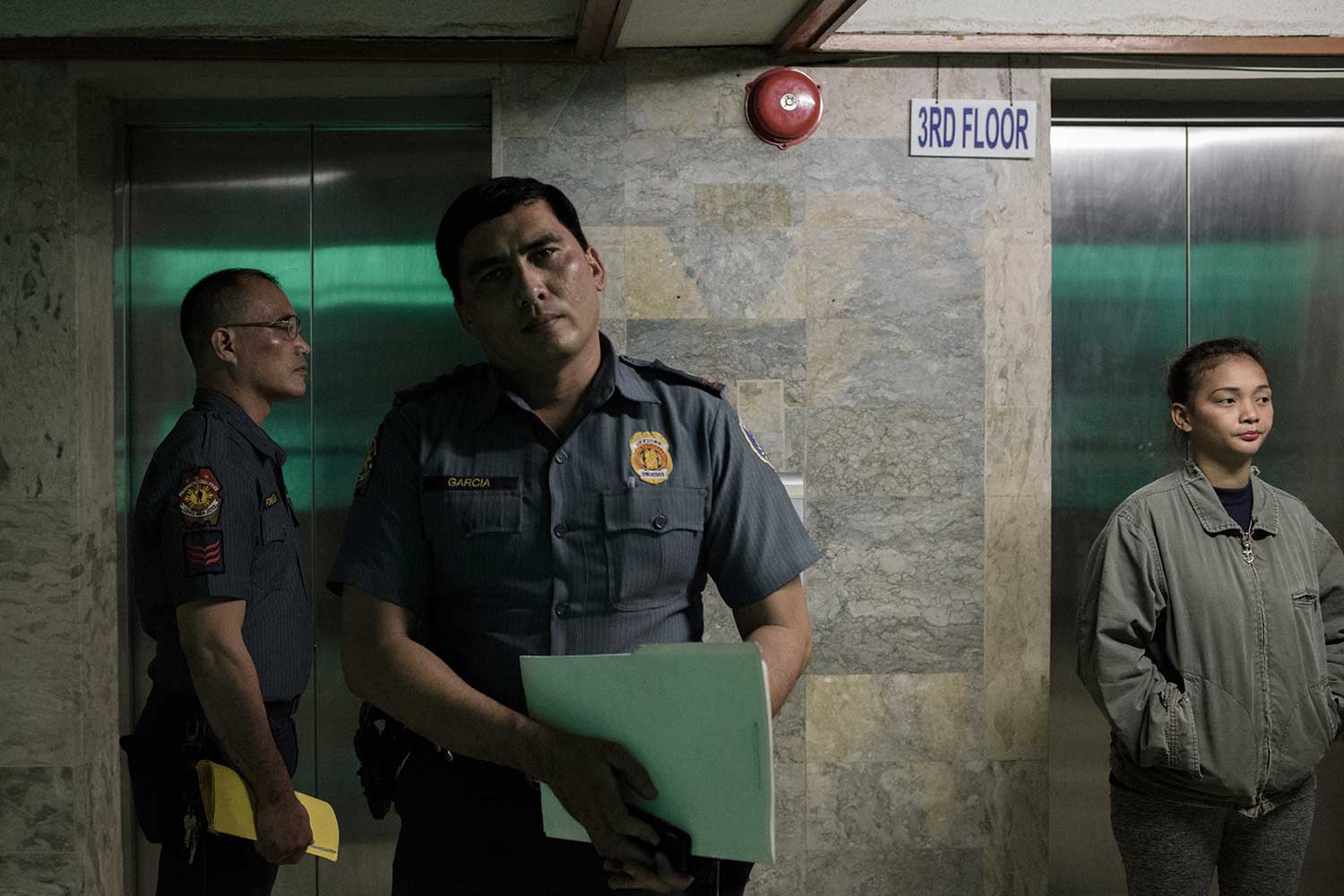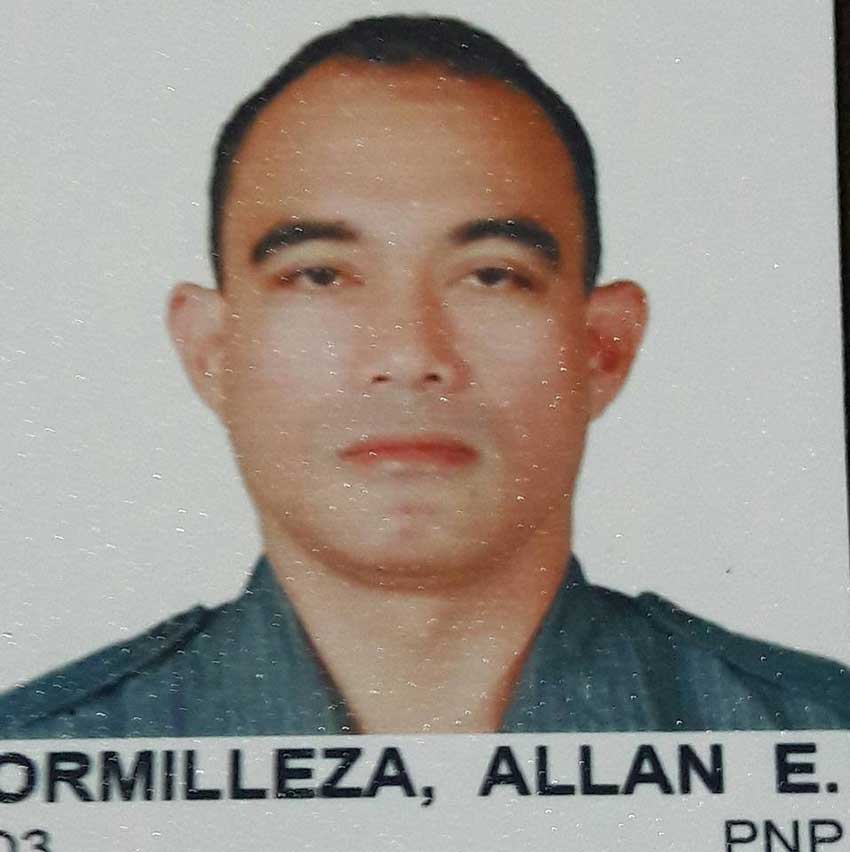 In person, Allan Formilleza is a quiet man, unlike his more vocal former commander Emil Garcia, who appealed to media "to tell the real story." 
There is a different man over social media. An account under the name of Allan Formilleza is crowded with his many selfies, in uniform and out, as well as photos of a variety of armed action stars. Videos of President Rodrigo Duterte are shared over the account, along with a collection of memes celebrating the police as brave and "badass." Other posts portray the Commission on Human Rights as defenders of criminals who "kill, rape, steal."
In comments and status messages, drug addicts are often referred to as animals. The account was particularly vehement on the days after Morillo et al won a permanent protection order.
"…but the brave man say… nobody is going to jail as long us they are doing their job…" 
"Nag t****###nakasuhan…naaning sa sobrang stress hahaha" 
"you damn!!!included all inocent people for a crime in which you committed first…see me in hell!!!"
"you know whom im referring to.you are not saving human,,,but an animal!"
In March, after criminal and administrative charges were filed, the account posted a meme describing the Philippines as a "country where the police are being investigated and criminals defended." 
All of this may explain why Formilleza told Rappler it was unsurprising that Efren Morillo and Marcelo Daa Jr suddenly drew guns without provocation.
"That's how addicts are," he said. "Always off their heads."
In crime scene photos, Formilleza can be seen wearing a yellow bonnet and a red sweatshirt. He said he arrived at the Daa home in full uniform. He explained the civilian clothing by saying he was soaking wet from the rain that had fallen in the late afternoon. He claims to have carried the sweatshirt all the way from his police precinct. 
"No policeman is afraid of criminals," he said. "We enforce the law. They should be the ones running. They should be the ones surrendering. They shouldn't be having shootouts with cops."
Joint Verified Position Paper for Respondents PO3 Allan Formilleza, PO1 James Aggarao, Jr., and PO1 Melchor Navisaga, sworn on September 14, 2017
That the allegations in [the families'] complaint affidavit that they were apprehended and later removed their handcuffs was baloney and a complete lies…
A year after the encounter, the non-profit global organization Physicians for Human Rights (PHR), at the request of CenterLaw, began performing independent forensic analysis on evidence secured by police after the shooting deaths of Marcelo Daa Jr, Jessie Cule, Anthony Comendo, and Rhaffy Gabo. 
PHR shared the Nobel Peace Prize in 1997 for critical research on landmine injuries. In the past decade, PHR has provided evidence for international tribunals, as well as criminal investigations into torture and extrajudicial executions in countries like Colombia, Honduras, Libya, Mexico, Peru, and Sierra Leone.  
Dr Homer Venters, PHR's Director for Programs, sent the final report on the Payatas incident to CenterLaw on November 8, 2017. Venters has conducted forensic assessments of more than a hundred survivors of torture and persons injured during interactions with security forces. His work also involves training health care personnel on assessing and documenting injuries relating to human rights abuses.  
Venters compared autopsy findings as well as medical records to eyewitness testimony, including Efren's claim that they were shot "while kneeling, sitting, or otherwise not posing any threat or resistance." 
"Based on the available data," wrote Venters, "I find that the account of Mr. Efren is consistent with the available evidence and that there was a lack of evidence to support the accounts of police officers that Mr. Morillo or the four men who died were shot and killed in a gunfight."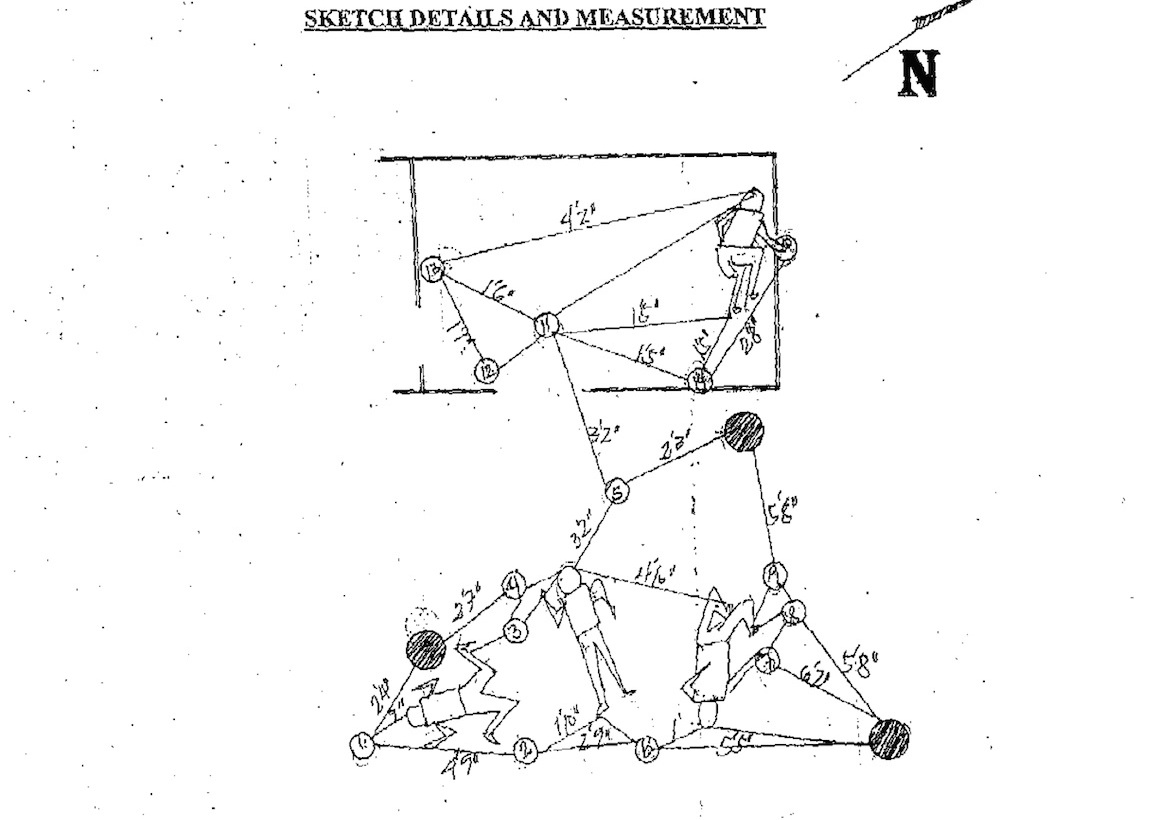 A second, independent analysis was prepared by Dr Nizam Peerwani, an expert forensic consultant for PHR and a fellow of the American Academy for Forensic Sciences. He reviewed autopsy reports, death certificates, parrafin tests, the crime scene diagram, eyewitness accounts, as well as the position papers and counter affidavits of the police.
Peerwani concluded that the QCPD "failed to provide empirical evidence to substantiate their allegations that the four victims were shot when they drew their weapons on the police."
Peerwani, who also serves as the chief medical examiner for four counties in Texas, is a pathologist with 35 years of experience performing thousands of forensic examinations, many of them involving injuries caused by firearms. He has investigated wrongful deaths and genocides in various countries, and testified at the War Crimes Tribunal for charges of genocide in Rwanda.
His findings on the killings in Payatas include the opinion that the positive parrafin test performed by the PNP Crime Lab "has no forensic value."
Paraffin tests, he added, "is one of the crudest methods" to detect gunshot residue and can lead to false accusations.
The extensive PHR report pointed out mistakes in SOCO protocols, including the "highly unusual" failure to perfom "comprehensive postmortem toxicology" on the bodies, "especially since the encounter between the operatives [of] Batasan Police and the Da-a family was an alleged 'drug raid.'"
Peerwani also noted how police examiners failed to offer descriptions of the entry gunshot wounds, gunpowder tattooing, or whether muzzle imprints were present – "Hence the range, or the distance from where the victims of shot cannot be predicted."
Peerwani's findings listed the trajectories of many of the bullets as downward. Rhaffy Gabo, according to Peerwani's report, was shot twice in the back. 
Dr Peerwani concurred with Dr Venters. "It is my opinion that the autopsy findings support the eye witness narrative provided."
Cross Examination of PO3 Allan Formilleza, November 8, 2017, Metropolitan Trial Court, Branch 42
Defense Counsel Gil Aquino: So Emil Garcia was not part of the operation?
PO3 Allan Formilleza: No sir.
Counsel Aquino: He was nowhere in sight at the time of the incident?
PO3 Formilleza: No sir.
Counsel Aquino: Only after?
PO3 Formilleza: After the incident.
Counsel Aquino: In fact you said he was the last to arrive even after the CIDG and the SOCO, yes?
PO3 Formilleza: Yes sir.
Counsel Aquino: Mr Witness, I would like you to read the information. Can you read the substantive part of the information?
PO3 Formilleza: "That on or about the 21st day of August 2016, in Quezon City Philippines, the abovenamed accused, without any justifiable cause, did then and there willfully, unlawfully, feloniously assault, attack, and employ personal violence or intimidation upon the following persons, to wit, PSI Emil de los Santos, PO3 Allan Formilleza, PO1 James Aggarao, and PO1 Melchor Navisaga, bonafide members of the Philippine National Police assigned at Police Station 6, IBP Road, Batasan Hills, this city."
Counsel Aquino: Mr Witness, is that same PSI Emil de los Santos here the same PSI Emil Garcia that is your PCP Commander?
PO3 Formilleza: Yes sir.
Counsel Aquino: Is this the same PSI Emil Garcia that was supposedly not in the incident?
PO3 Formilleza: Yes sir.
Counsel Aquino: That was supposedly not part of the operation?
PO3 Formilleza: Yes sir, he was not.
The case for direct assault against Efren Morillo is still in court.
There are a number of inconsistencies between the police affidavits filed in the immediate aftermath of the shooting and the series of sworn testimonies the personnel of PS-6 offered a year after the encounter.
The first of the police narratives claim the operating team was composed of Allan Formilleza, James Aggarao, and Melchor Navisaga, led by precinct commander Emil Garcia. They arrived at the Daa household for a Tokhang operation, and were forced into a fatal encounter that killed four drug suspects and wounded one.
Under oath, more than a year later, the police claim there were three policemen present at the shootout, instead of the original four.
They said that Garcia was absent during the encounter on August 21. Garcia is the same precinct commander who gave an eyewitness television interview describing the incident, and who was named repeatedly in police reports as team leader, including reports he signed himself. 
Garcia called it "a small mistake." Formilleza said he was the team leader instead. 
The most recent narrative has seven suspects present at the Daa home, instead of five. It also added that two other suspects had escaped with Morillo – possibly, Formilleza told Rappler, with a large cache of drugs.
Police now claim only Formilleza was part of the gunfight. The two other policemen, Navisaga and Aggarao, who were "several meters away," did not fire their guns.
All of this means, based on autopsy reports and the police's own narrative, that PO3 Allan Formilleza, alone, shot 14 bullets into five moving targets, 12 of them hitting the suspects in the head and trunk, all before Formilleza walked away unscathed. 
There are many stories told about that Sunday afternoon in August. Almost every fact is disputed, except for one. Five men were shot. Four men were killed. The fifth man lived. – Rappler.com
Editor's note: Unless stated otherwise, all data referring to total number of Quezon City fatalities resulted from a review of spot reports of deaths under investigation and armed encounters between July 2016 and January 2017 that the QCPD allowed Rappler to access. All quotations have been translated into English. 
---