This is AI generated summarization, which may have errors. For context, always refer to the full article.
Japeth Aguilar and Gilas Pilipinas will try to pull off an upset against a Dominican Republic side powered by NBA star Karl-Anthony Towns
MANILA, Philippines – Beating Dominican Republic requires more than just a perfect performance from Gilas Pilipinas.
Japeth Aguilar is well aware of the daunting task at hand as the Philippines tries to pull off an upset against a Dominican Republic side powered by NBA star Karl-Anthony Towns in the FIBA World Cup opener on Friday, August 25.
"We need to execute the game plan. But at the end of the day, even if we play a perfect game, with the caliber that Dominican Republic has, it is still a 50-50 game," Aguilar said after the team practice on Wednesday.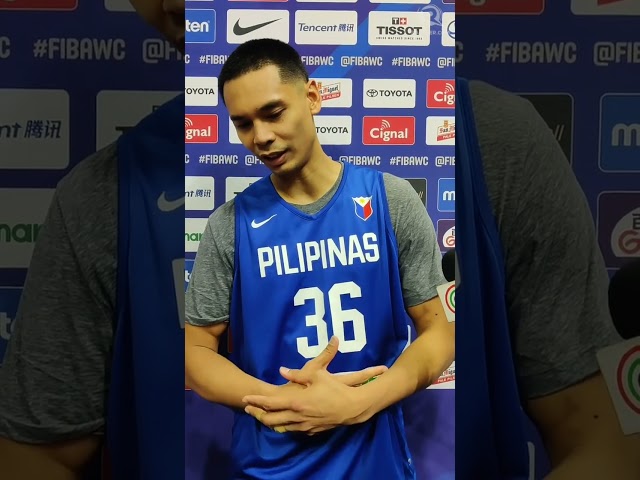 The Dominicans have been favored to secure a top-two finish in Group A and advance to the second round since the inclusion of Towns, who will represent the Caribbean country for the first time in a decade.
Undoubtedly one of the best players in this edition of the World Cup, Towns owns career averages of 23 points, 11.2 rebounds, 3.2 assists, and 1.3 blocks in eight seasons with the the Minnesota Timberwolves.
Towns, though, is not the only Dominican Republic player with NBA experience.
Lester Quiñones plays for the Golden State Warriors on a two-way contract, while big man Angel Delgado suited up for the Los Angeles Clippers.
Veteran guard Victor Liz is also expected to give the Filipinos problems owing to his offensive expertise and experience as he sees action in his third straight World Cup.
With a beefed up roster, the Dominicans have proven they can go toe-to-toe with the best, hacking out a 94-88 win over Canada and absorbing a narrow 86-77 loss to defending champion Spain in their last two tune-up games.
But Aguilar and Gilas Pilipinas look to even the odds with their home court advantage.
The Philippines can make history as it tries to break the FIBA attendance record of 32,616 set in 1994, with the Filipinos-Dominicans clash to be played at the 55,000-seater Philippine Arena in Bulacan.
"We draw inspiration from the crowd," said Aguilar. "This is more than basketball so hopefully, they inspire us and we inspire them also."
A win over Dominican Republic will boost Gilas Pilipinas' bid to finish as the highest-placed Asian team, which merits an outright berth in the Paris Olympics next year. – Rappler.com