It's appalling that some supposed volleyball fans cannot appreciate Tricia Tubu's phenomenal performances, just because she doesn't fit some people's stereotype of how a female athlete should look like
It's heartbreaking to see what Trisha Tubu has to go through in her young sporting career.
Here's a super rookie in the UAAP, delivering all the goods for the Adamson women's volleyball team, yet some people chose to zero in on her looks.
What's even more terrible, one tabloid jumped in this social media chatter, and splashed it in red, all caps headline that Tubu looks and sounds like a man.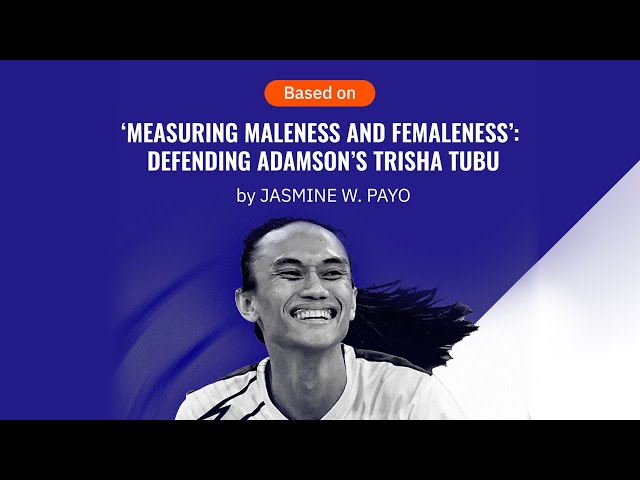 The piece even noted how Tubu can put Philippine volleyball star Alyssa Valdez to shame because the 5-foot-8 freshman plays like a man – "parang lalaki rin kung tumalon at dadaigin pa ang isang basketbolista (jumps like a man and can even one up a basketball player)."
So how should girls jump, anyway?
Has anyone said that female athletes can't jump as high or perform just as well – or even better – than their male counterparts?
It's clear, though, where the piece is headed as it eventually mentions Nancy Navalta, the controversial Philippine athletics star in the 1990s revealed to have hermaphroditism – a condition where an individual can have both male and female reproductive organs.
But how could a media publication make this huge assertion (more of bullying, really) with nary a proof, and without even talking to Tubu herself or any school or league official?
Is it because she doesn't fit the supposed standard of female beauty?
Is it because she's not the stereotype "volleybelle" who's slender and girly?
What's being girly, anyway?
Serena Williams is supposedly girly – often getting all dolled up, if that's what you mean by it. And yet, the greatest tennis player of all time still gets bashed for being built like a man and playing like a man.
It's good to hear in some interviews, though, that Tubu has taken all the social media vitriol in stride. Sure she got hurt, but she already learned to tune out.
Tubu deserves none of the hate. So it's great that she flourishes not only in her on-court battles but also off it – showing poise beyond her years, both physically and mentally.
In a New York Times column by Jennifer Finny Boylan in 2008, she mentions how some sports competitions "measure maleness and femaleness by the wrong yardsticks, and in the process ruin the lives of the innocent."
Hopefully, it doesn't happen to the promising Tubu.
It already painfully happened decades ago to Mona Sulaiman, Asia's fastest woman in the 1960s, way before the legendary Lydia de Vega.
Sulaiman – who was reportedly "masculine-looking" – reigned in the sprint events in the 1962 Asian Games, winning gold medals for the Philippines in the 100m and 200m events.
The Filipina athletics star totally dominated that by the Games' next edition in 1966, she was asked to undergo a gender test.
Solaimain reportedly was so infuriated that she left the athletes' village, abruptly ending her career – as well as the Philippines' hopes of even more sporting glory.
It's a grim episode in Philippine sports that should never happen again. Even more so now when a transgender woman has already competed in the Olympics.
New Zealand's Laurel Hubbard made Olympic history when she competed in the women's weightlifting event at the Tokyo Games in 2021 – 18 years after the International Olympic Committee (IOC) created a policy allowing transgenders to compete.
The IOC even has a continuous effort to revise its guidelines on transgender athletes to make sure they're fair and inclusive.
Boylan, a trans woman herself, wrote that people perhaps would have preferred "maleness and femaleness were firm and unwavering poles."
"People can be forgiven for wanting to live in a world as simple as this, a place in which something as basic as gender didn't shift unsettlingly beneath our feet," she said.
"But gender is malleable and elusive, and we need to become comfortable with this fact, rather than afraid of it."
So it's no surprise that Trisha Tubu makes some people uncomfortable. But if you're still afraid of her, it better be right there inside the volleyball court. – Rappler.com