Senators say that having a full-time agriculture secretary will help address the 'agricultural crisis,' amid high prices, mismanaged imports, and rampant smuggling
MANILA, Philippines – Some senators are now beginning to ask whether it is about time to find a full-time agriculture secretary, as volatile onion prices now threaten to stifle the livelihoods and lives of farmers.
Department of Agriculture (DA) senior officials faced the Senate on Monday, January 16, after miscalculations in onion demand and supply, late imports, unchecked smuggling, and a lack of cold storage facilities all worked to push onion prices skyrocketing to historic highs.
Yet, while soaring onion prices have dominated headlines, an onion shortage is not the only problem the DA faces. Recently, prices of eggs have shot up 45%. The country is also weathering shortages in salt and sugar.
As these issues surfaced during Monday's Senate committee hearing, Senator Grace Poe asserted that it was time to have an agriculture secretary that would address the "agricultural crisis" head on.
"Panahon na rin siguro talaga na magkaroon ng DA Secretary na aako sa kawalan ng action sa agricultural crisis na ito. Asukal noong una; sibuyas naman ngayon. I-hehearing ata natin lahat ng kailangan sa kusina," she said. (It's probably time to have a DA Secretary who will take responsibility over the lack of action in this agricultural crisis. Before it was sugar; now, it's onions. We'll end up having a hearing for everything in the kitchen.)
President Ferdinand Marcos Jr., who has left the country for his eighth foreign trip in seven months, is the incumbent department secretary.
Senate Minority Leader Koko Pimentel also agreed with the idea of looking for a new secretary. He said that the country would benefit from having an expert sit as secretary of the department, something that would not prevent Marcos from still focusing on agriculture.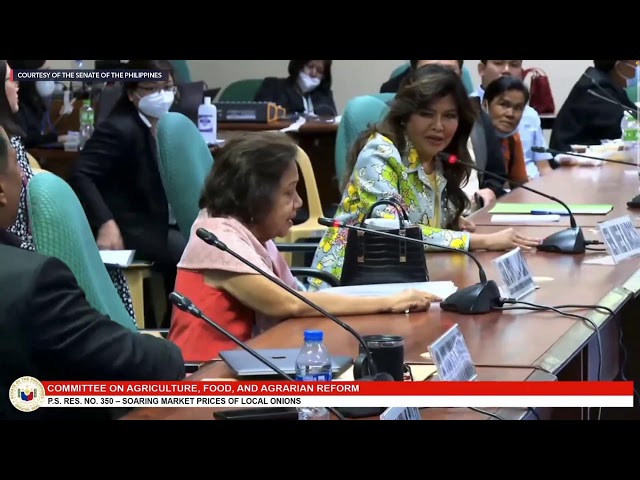 "There is nothing which prevents the President from making agriculture his priority, even if he has a full-time secretary," Pimentel said in an ANC Headstart interview on Tuesday, January 17.
"It has long been time. I have been calling for the need for a regular agricultural secretary to be appointed. Nothing to lose – it's an additional expert person to help the President focus on agricultural issues and problems," he added.
Pimentel worried that leaving crucial decisions, such as when to import onions, up to lower level bureaucrats may make it more difficult to get conclusive answers for agricultural issues.
Late imports, price manipulation
Earlier in January, the DA had allowed the importation of 21,060 metric tons of onions, months after industry groups had called for the move. And while the DA defended the decision as a way to stop soaring prices, farmers' groups claim late imports may only aggravate the situation – driving price manipulation and exploitation of onion farmers by traders.
Romel Calingasan, the municipal agriculturist of San Jose, Occidental Mindoro, said that any imports implemented now come far too late. He asserted that the DA should have imported onions in late 2022 to ease prices at the market while also not clashing with the local harvest season.
"Dapat September pa lang, nag-issue na kayo ng importation permit para 'yung presyo sa merkado, nagkaroon ng kalaban 'yung local at ang imported. Pinagsamantalahan na patungan ng almost 1,000%. Tapos ngayon na mag-aani na si Juan na magsasaka, sasabayan ng importation," Calingasan said.
(You should have issued importation permits as early as September so that there would be a balance of forces between local and imported. They took advantage and marked up prices at almost 1,000%. And now that farmer Juan will be harvesting, [the government] also starts importing.)
Pimentel was also astounded that the DA failed to foresee the consequences of allowing late imports.
"How old is the Department of Agriculture? It's more than a hundred years old … It should have institutional memory na the world has seasons, farming has seasons," he said in the Headstart interview. "Alam na dapat nila that these are lean months, but the world supply is there. But they did not allow importation."
During the Senate hearing, AGAP Representative Nicanor Briones also highlighted how the recent high prices were a result of manipulation.
"Mapapansin po ninyo ang anihan ng sibuyas ay January to April. Talagang minamanipula ng importer. Tiniming nila na malapit na ang anihan, nagimport sila ng marami na ibagsak ang presyo ng sibuyas," he said. (You'll notice that the onion harvest is from January to April. Importers are really manipulating it. They're timing it such that they can import a lot just as the harvest starts so that the price of onions will crash.)
He said that once prices fall and no new imports are allowed in, traders swoop in to take advantage.
"Noong mapabagsak nila ang presyo, mamimili sila, ilalagay nila sa cold storage, hindi muna sila mag-iimport. Kaya naging P600 – P700 ang kilo ng sibuyas, dahil hawak nila ang lahat ng sibuyas. Napakalinaw na merong cartel." (When they manage to crash prices, they'll buy onions, place it in cold storage, and stop imports. The reason why onions reached P600 – P700 per kilo was because they hold all the onions. It's very clear that there's a cartel.)
Rampant smuggling
But even if the DA didn't allow imports for the latter half of 2022, onions from other countries still managed to slip in.
"Obviously, maraming imported onions sa market despite the fact na walang issue na import permits since July of last year. Malalaki yung pulang sibuyas (kumpara sa maliit na local onions) at maraming puting sibuyas ganung hindi pa naani ang mga puting sibuyas," said Jayson Cainglet, executive director of Samahang Industriya ng Agrikultura (SINAG) in a January 8 statement.
(There are a lot of imported onions in the market despite the fact that no import permits have been issued since July of last year. There are large red onions (compared to the small local onions), and there are many white onions even though white onions have yet to be harvested.)
Senators pointed to smugglers that were illegally hauling in onions by the tons. Senator Cynthia Villar, who presided over the hearing, had specifically tagged four alleged smugglers whose names had surfaced in a previous Senate inquiry in April 2022.
Of the four smugglers, none were prosecuted.
Villar suspected that corruption and a conflict of interest in the Bureau of Customs (BOC) were among the reasons why no big-time smugglers were convicted in the six years since the Anti-Agricultural Smuggling Act had taken effect.
"Walang nakasuhan kasi ang gumawa ng IRR [implementing rules and regulations], Bureau of Customs. Tapos nilagay nila sa IRR e sila ang magdedecide kung economic sabotage or not. So parang nagka-conflict because ang nag-decide kung economic sabotage or not is the one doing the crime," she said. (No one was charged because the one made the IRR was the Bureau of Customs. And then they placed in the IRR that they will be the ones to decide if it is economic sabotage or not. So it's as if there's a conflict of interest because the one who decides if it's economic sabotage or not is the one committing the crime.)
To make matters worse, the BOC chased down individuals with small amounts of undeclared fruits and vegetables while big-time smugglers went unpunished, Senator JV Ejercito said.
Earlier this January, ten Philippine Airlines (PAL) flight crew members were caught by the BOC after they brought in undeclared agricultural products – onions and fruits totalling $100.
"Ang nakakalungkot itong ating pinuntirya Philippine Airlines crew na tag-dalawang kilo, isang kilo. Pero 'yung mga container na nakakalusot e parang may pampabulag na tayo, pampalabo ng mata. Ano ba ang nangyayari sa atin?" Ejercito said. (It's sad to see the focus on this Philippines Airlines crew that had only one or two kilos each. But the container-loads of smuggled goods slipped past them as if they were blind or their vision clouded. What's happening to us?)
Tulfo also chided the DA for allegedly turning a blind eye on smugglers.
"Itong mga maliliit na pasalubong lang para sa kanilang pamilya, hinuhuli at papahiyain. Itong mga big-time, hindi pinahuhuli. Siguro kainuman niyo gabi-gabi, baka ka-coffee niyo. Siguro nandyan pa sa opisina niyo baka naka-dekwatro pa, nakataas pa siguro ang paa sa mesa habang kinakausap kayo tapos siguro may dalang sako-sakong salapi," Tulfo said.
(These small gifts for their family are being seized, and they're being shamed. But the big-time offenders, no one arrests them. Maybe you're out drinking with them every night, maybe you're meeting over coffee. Maybe they're at your office, cross-legged, or with their feet up your table while talking to you, and then they bring with them sacks of money.)
Poe also raised concerns about how these smugglers – whose names had long been floating around – seemed impervious to charges.
"'Yung mga matatagal na kumilos na nagsmusmuggle ng mga bagay na 'yan ay maikulong na sana kasi hindi pa rin po natututo. At tama 'yung sinabi ni Senator Tulfo, baka naman kabarkada ng mga DA ang mga 'yan," Poe said during the hearing. (Those smugglers should be thrown in jail, since they never learn. And what Senator Tulfo said was right, maybe they're all cozy with the DA.)
BOC Assistant Commissioner Vincent Maronilla defended the agency, saying they were taking actions. (READ: Customs seizes P171 million in agri products, including onions, smuggled from China)
"Meron po kaming 86 containers na nahuli recently (We caught 86 containers recently). These are onions. Dinaan po sa port ng (They passed through the port of) Mindanao Container Terminal, Subic, and Davao," he said.
But Villar laughed this off, saying that the 987 metric tons flagged by the BOC was "very small" and "irrelevant" compared to the actual number of smuggled goods. – Rappler.com